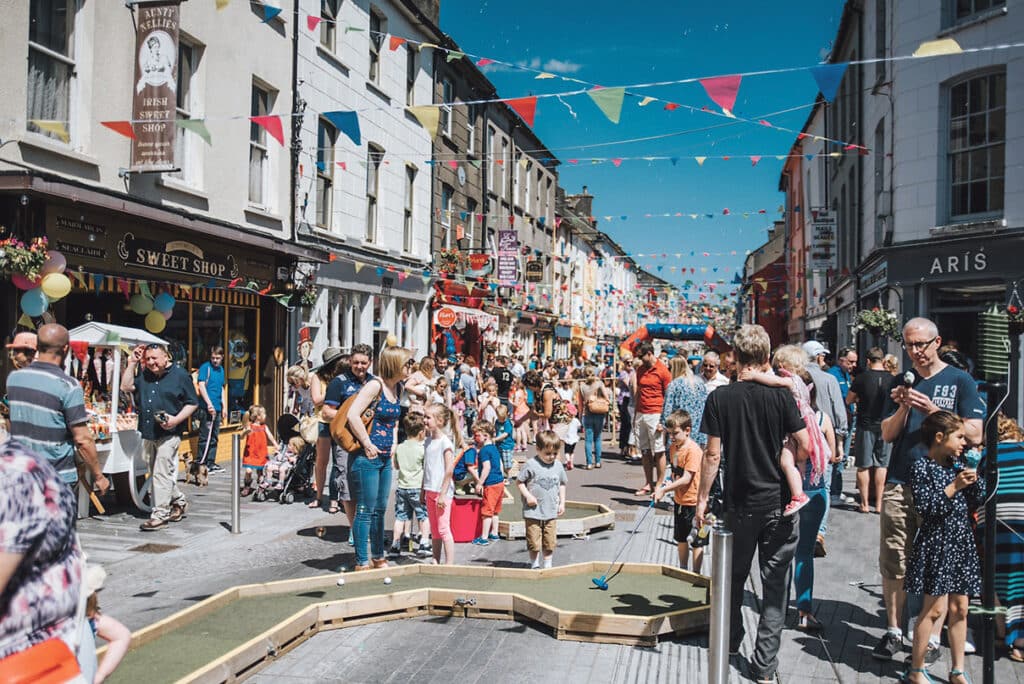 West Cork's renowned annual street carnival returns to Clonakilty on Saturday June 17, 2023 after a four-year break due to Covid restrictions.
Since its inception in 2016, the Clonakilty Street Carnival has seen huge crowds flock to the multi-award-winning seaside town. The colourful main streets are transformed into a foodie haven of culinary delights, and first-class dining is catered for by local restaurants and an array of excellent artisan producers.
The Carnival is delighted to announce Irish Yogurts Clonakilty as their main sponsor again for this year's event, an award-winning family-run company based in Clonakilty since 1994.
Diarmuid O'Sullivan, Managing Director at Irish Yogurts Clonakilty said; "We're excited to be involved once again in supporting the wonderful Irish Yogurts Clonakilty Street Carnival. It's a highly anticipated social event in the town's diary, and we are absolutely thrilled it's returning this year after being so sorely missed. It's sure to be an exciting day out and we can't wait for all the festivities to begin again."
This year's event will be officially opened by renowned chef Eunice Power, a regular on the RTE One Today Show, where she hosts live cooking demonstrations each week from the studio. Eunice Power Catering is one of Ireland's leading gourmet event caterers, offering first-class food made from scratch with the very best seasonal ingredients. As well, she owns an award-winning restaurant AndChips located in Dungarvan, Co Waterford.
Eunice said, "I am absolutely delighted and honoured to be opening the Carnival on June 17. This is such an important event for Clonakilty, where a spotlight will shine on all the wonderful local producers, chefs and businesses. I understand the commitment and hard work that communities put into these events, and I am looking forward to spending this wonderful day with the Clonakilty community."
The gastronomic day out promises a unique dining experience unlike any other! Rows of tables will line decorated streets to create Clonakilty's longest dinner party, as thousands of diners get to feast on mouthwatering dishes from street food stalls by the town's top restaurants, with meal tickets priced at €18 for adults and €7.50 for children.
Headline acts throughout the day will keep audiences dazzled with live music, activities, and dizzying carnival style antics. The popular Family Fun Zone will return with hosted activities and street entertainment including bouncy castles, giant games, face-painting, and an enclosed area to keep the smallies amused, as well as a sensory play area as part of Clonakilty's continued commitment to being an autism friendly town.
Kevin O'Regan, an organiser of the Carnival said; "We're excited to be back and we're hugely grateful to all our contributors, sponsors, and volunteers. Without them, we wouldn't be able to create such a magical and memorable experience for locals and visitors to the Irish Yogurts Clonakilty Street Carnival. Clonakilty is a thriving town and a top-class food destination, and we're thrilled to be able to showcase again the wonderful talents of our local food producers, businesses, and hospitality to everyone who comes to visit us on the day."
Dinner places are ticketed so to avoid disappointment please reserve your meal tickets in advance. Tickets include adult and children's meals with meat, seafood, vegetarian and vegan meal options, including drinks and desserts. All other festivities and event activities are FREE and accessible to all throughout the day as the town will be fully pedestrianised from 9am-9pm and open for business.
To keep up to date with the Irish Yogurts Clonakilty Street Carnival news and full schedule please follow Facebook
@Clonakiltystreetcarnival or visit www.clonakilty.ie
Tickets can be purchased at www.buytickets.at/
clonakiltychamberofcommerce