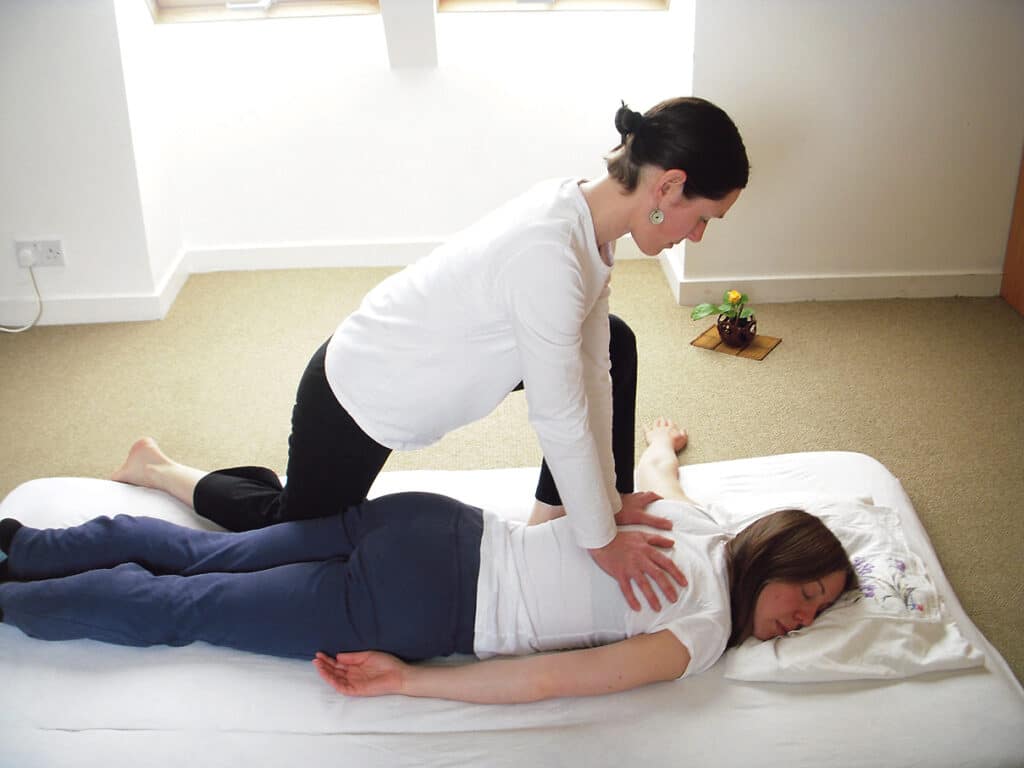 Shiatsu massage therapist and ear acupuncturist, Emma Fitzpatrick runs Nourishing Therapies, Wellness and Employee Wellness Service where she delivers in clinic, onsite and online treatments.
Passionate about health and wellness, a series of events and life circumstances inspired Emma to become a therapist. While working in Brussels after college, she simultaneously trained in holistic massage and started to train in meditation and Buddhism. This led her, in her 20s, to spending several years in various Buddhist monasteries. At the same time she enjoyed working in the community, training and practicing meditation. After leaving the monastery, Emma undertook an MA in UCC, during which time she started to experience high anxiety and insomnia. "I discovered a local shiatsu massage practitioner and regular sessions helped me to process my emotions, calm my mind, come back into my body and sleep! I was hooked," she shares.
Emma undertook a three-year training in shiatsu massage in Edinburgh and went on to assist at the school for a further three years. She also studied ear acupuncture over several years. "I began to practice part time while also working in community development, integrating my therapy into my work, by running wellness groups for clients. I worked with refugees, clients at risk of homelessness and those experiencing domestic abuse," shares Emma. "Despite putting in place safety measures for clients, a lot still experienced a large degree of fear from traumatic life experiences – their bodies were often still in shock, which affected their mental and physical wellbeing. I decided to move to self-employment full time to really offer nourishing body work to clients."
Emma trained in Polyvagal nervous system theory in order to understand and support clients experiencing trauma.
After moving back to Ireland with her family, in 2019 she launched a collaborative employee wellness service with a friend and colleague, 'Work Well Therapies', in response to the growing number of office-related ailments they were treating. The business moved online during the pandemic.
Once restrictions lifted, Emma was able to get back in clinic and onsite, so she upskilled and trained in ergonomic assessments – being able to offer these online and onsite – as well as supporting employees to work more comfortably at their workstations.
"I offer wellness tips and tools. Being in my 40s, I discovered that I was peri-menopausal – due to a return of anxiety and insomnia," she shares. "I designed a 'Peri-Menopausal Self-Care Program' using my wellness session model and using Chinese medicine to educate and work on the main peri-menopausal symptoms. If cortisol depletes our fluctuating estrogen levels, reducing stress is key – my program offered a deeply nourishing hour of self-care. During this time my friend relocated to her native Spain, so I decided to merge Work Well Therapies under Nourishing Therapies."
Emma's business had grown – now offering treatments in clinic, onsite and online. Her 'Mindful Movement and Self-Massage' Model was adaptable for in-house audiences. She delivered a collaboration with Susan O'Regan of Mindhaven in Myross Wood in 2022.
Emma's treatments include:
Shiatsu massage, which is fantastic for treating stress, anxiety, low mood, peri-menopausal symptoms, neck, shoulder, back pain, digestive issues and so on.
Ear acupuncture – a microsystem of body acupuncture where she inserts small needles into strategic points in the ear, which work remotely to address emotional and physical ailments.
A 'Mindful Movement and Self-Massage' Wellness Program, which targets stress and anxiety and promotes health and wellbeing and is ideal for team building.
A 'Peri-Menopause Self-Care Program' – a six week wellness program with stretches, self-massage and guided relaxation to address ailments, reduce cortisol and support relaxation.
Emma also offers seated massage and ear acupuncture onsite to businesses in the Cork and West Cork area – delivering deeply relaxing yet energising sessions targeting neck, shoulder, back ache, anxiety, stress, lack of energy and so on.
Her ergonomic assessments involve coaching employees on how to sit more comfortably at their work stations.
For more information or to contact Emma: email info@nourishingtherapies.ie or phone 086 1510046/023 88 38420.
www.nourishingtherapies.ie