by Elizabeth Walsh
Walking in my shoes – accessibility explained. Each and every day our lives impact on each person's life whose path we cross, metaphorically and physically, positively or negatively!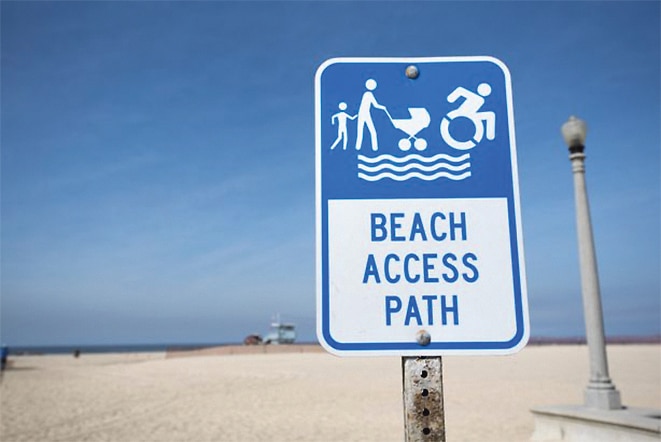 She is buzzing with excitement. Brimming over. She has no idea what her surprise event might be. Her friend has promised her an experience, an outing she has never had before, or thought she might have. She has tried to guess; however there have been no clues forthcoming, only giggles, "you'll find out, don't ruin your surprise!"
They get the bus to their destination. They need to walk a short way, but she takes her friend's elbow, carrying her cane, and her friend guides her. She can hear the bustle of people around them, a fine day, children shout, adults chat, traffic rolls by. Her friend negotiates their path easily to their destination. She still has no clue what her surprise might be. She can hear clanging and bells, sounds of laughter, someone cycles past.
Her friend calls someone on her phone and a man's voice speaks beside them. "So you two are the young ladies for the tandem," he says laughing with fun, at the disbelief and then the happiness flooding her face, as the true reality of her 'surprise' hits her. She is going cycling. She is so overcome with joy that she throws her arms around her friend's neck and hugs her. "A hundred million thanks, this is the most excellent, brilliant surprise".
Amid instructions, safety helmets, well wishes, good luck from other first time cyclists using hand cycles, electric assisted cycles, and enjoying trishaws, they get on their tandem and off they go. She can feel the breeze on her face, She laughs, and smiles, never wanting it to end. They cycle on and on. Her friend shouts back, "are you tired yet?" "Never" she answers. "I should never be tired of such a wonderful feeling". Freedom! Inclusion!
It has been a beautiful day, so hot and sunny. Everyone rang around to meet up to go swimming. "Sure", he said, "we will see you all there". They arrive. She looks deflated at the entrance. "I can sit here and wait, while you go swim with the others". "Forget it," he says. "Leave the bag, I'll come back for it." She picks up her sticks and he scoops her up and strides over the uneven, inaccessible terrain, to where the others are congregated. "You should have called us, we didn't think! Sorry. Let us help. It was a stupid choice. Better planning next time. Last time we will choose here, or any place you two cannot access!"
Their little daughter has gotten bigger, heavier, more difficult to lift. It is not so difficult when they are both there, but on her own with the other kids, well, her back is just not up to it. How that little girl pines to go into the sea. Today she is getting a surprise. She does not know yet, just in case anything goes wrong. She will not disappoint that precious little heart.
They arrive and, as the kids tumble out of the car, bags, mats, buckets flying, she gently eases her daughter into her chair. Down the ramp to where the beach buggy is to be picked up. The little girl squeals with delight when she realises what is happening. Her joy is palpable, and her laughter is contagious. When the buggy hits the water, the moment becomes meshed in a kaleidoscope of memories of that day, when one little girl gets to access the sea, living her precious dreams once again. Inclusion!
I'll tell you one thing; Mom packs a decent picnic, with something for everyone. Mouth-watering, tasty, some surprises, something unexpected, healthy, maybe a treat. More than enough. We love her picnics. Trouble is, I always have to eat mine off my knee balancing everything, everyone else either sits around a picnic table or on the ground. That's life. At least they hand me food!
Wow! My Mom practically gasps in amazement! I am elated! The rest are slagging that now there is no excuse for my lunch to be on my clothes. We have found an accessible picnic bench! First time I get to eat a picnic at the same level as everyone else, so great to be included!
What defines inclusion? Who is content to watch someone else have all the fun? People with disabilities (PWD) are not aliens who have fallen from the moon. They wish to take part in society, including in leisure sports and activities, just like everyone else. They eat, drink, socialise with family, friends, groups. They wish to be included, have the same rights to be included. Inclusion should mean inclusion in all aspects of life, not the crumbs, and not as an afterthought. Voice your views where you observe exclusion. Actions speak louder than words; your recognition of inclusion or lack of it now, may be your legacy, to your children, to your community.
To really appreciate what inclusion or lack of it, feels like, spend a day in their shoes!