Have you ever been at a wedding where you saw a table in convulsions laughing and wondered "What's going on there?" From getting ready to the 'craic' at a table, takeNplace Weddings is a West Cork-based photo service that enables guests to share their candid moments with the wedding couple to show them what they missed. Founder Valda Binding explains what her wedding business brings to the party!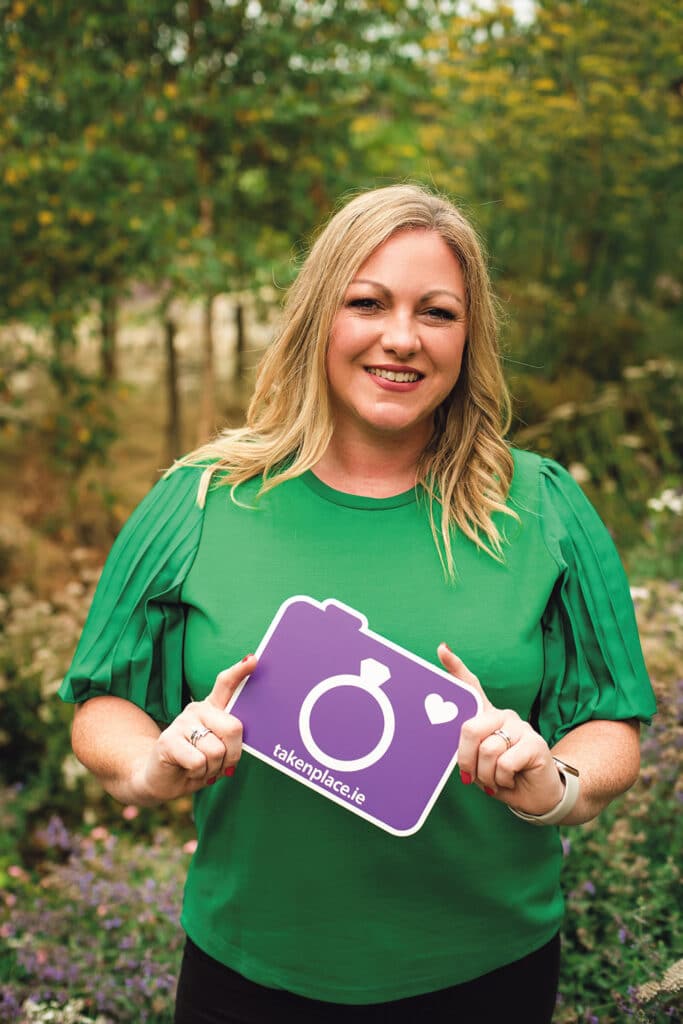 With over 18 years experience in customer service, most of those in the highly demanding aviation industry, Valda Binding has always focused on making people happy. Her position now in a Clonakilty wedding venue still allows her to do just that but also indulges her other passion…weddings. "I just love working with wedding couples. It's an honour to be a small part of people's big day."
Valda explains where her idea for a simple 'scan and share' service came from and how some unexpected time off in lockdown led to her launching takeNplace. "My husband Brad and I got married 10 years ago this September. Back then we wanted to collect all our guests photos and also have them on a big screen in our evening reception for a bit of entertainment. Guest photos can be outrageously funny while also quite endearing.
"Brad and his bestman made it happen by plugging in our tv from home at the venue to stream pictures from our digital camera, which my maid-of-honour made sure was getting passed around during the day.
"It was great in the evening as we had additional guests who got to see the day on the big screen and also got a chance to take a few selfies themselves on this camera!
"When we moved back to Ireland in 2020 we packed that very same digital camera, which started a conversation that eventually led to our lockdown project. We got a lot of support from the Local Enterprise Office and takeNplace Weddings officially opened for business!"
takeNplace is so attractive to guests because it is so simple to use. There is no need to download any apps or signup with email addresses.
The wedding couple first sets up an account to get instant access to their takeNplace Weddings portal. Here they can add a picture of themselves and a personal message to their guests. This is linked to a QR code that they can printout and pop on their guest tables or around their venue. All guests have to do is scan and share, but they can also add a message to the couple if they wish.
Uploaded photos are saved in a private portal for the wedding couple to download, keep and share.
"We even have the technology for these photos to be streamed live onto a screen in your wedding venue or at your Day Two event, which makes us unique in the market," Valda explains.
"I wanted the experience to be effortless. Our wedding couples to date absolutely love takeNplace and its simplicity. In a recent review Amy and Steve, who got married in July, wrote: 'It was so lovely on our honeymoon to see all our guest photos being uploaded, we could relive the day over and over. I would recommend takeNplace to anyone who wants a foolproof way of gathering photos from your guests, you won't regret it!'"
Whilst the takeNplace service is always great value at just €250, the company currently has an introductory offer of €175, which is even better.
For the moment Valda is focused on growing her business in Ireland first, although Irish couples getting married abroad can already also use the service. "Being an Irish supplier who can facilitate weddings abroad is fantastic. So the future will definitely be international eventually."
In the meantime Valda is drawing on the knowledge and support of other local women in business. "I am a member of Network Ireland West Cork and I really enjoy being part of this community of inspiring women. The Local Enterprise Office has also been so supportive along the way."
You can get in touch with any questions for Valda by emailing valda.binding@takenplace.com. She will also be at Southern Brides Wedding Show on September 4 and also in January next year, "If you going to that please come and say hi. And if you're local to Clonakilty I love meeting our wedding couples for a coffee."
Instagram
@takenplaceweddings