Hunter & Bloom provides a range of essential wedding staples such as floral arrangements, bespoke dried flower bouquets and installments. On the men's side, they supply luxury made-to-measure suits for sale along with a range of wedding ready suits, shirts, ties and accessories.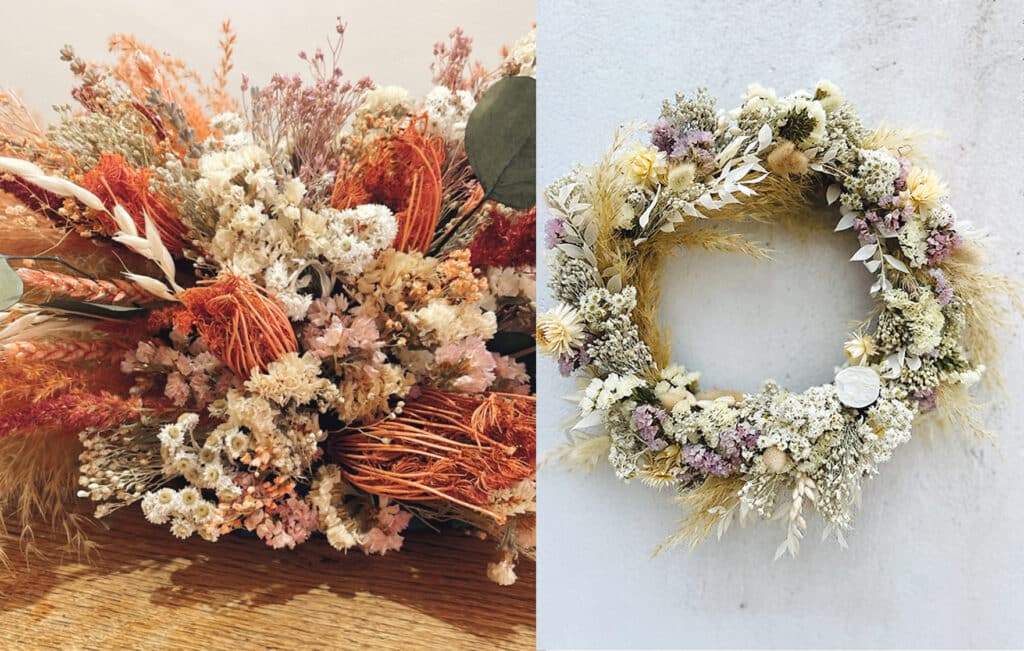 Hunter and Bloom was founded in 2022 when husband and wife Meg and Sean Treacy collaborated their businesses to make their dream of owning a shop a reality. The duo moved from Dublin to Clonakilty with aspirations of quitting the nine-to-five life and starting their own businesses in beautiful West Cork.
In-store Meg also offers a range of dried flower bouquets with the option of picking your own flowers from her exquisite flower wall display. She also displays boho homewares with so many beautiful dinnerware options, cushions and throws to choose from.
For this special wedding feature, Meg and Sean have combined their expertise to offer some practical tips for couples shopping for wedding flowers and suits with sustainability in mind.
Practical tips for
wedding flowers
1. Be prepared and do your research. Have an idea of what you're looking for before visiting your florist, as it makes the process a lot easier if you can offer some guidance as to what style you're looking for, Pinterest is great for this.
2. Factor your wedding venue in to your flower styles. Your wedding venue, as well as your table configuration, should greatly influence your choice of wedding flowers. Talk these through with your florist so you can have a design that blends well and won't look out of place.
3. Consider the long term investment and sustainability of your choices. Fresh Flowers last two to three days after your wedding and will more than likely go to the bin. Dried flowers last years after the event and are a lovely reminder of your big day when reused around the house.
4. Have a set budget in mind but be flexible. You need to have a ballpark figure in your mind of what you're comfortable spending but there always needs to be some flexibility, as some flowers cost more than others, if you've a particular look in mind then you need to be flexible to ensure your budget can accommodate it.
5. Give yourself and your florist plenty of time. Leaving things to the last minute for weddings is never a good idea and especially so when it comes to flowers you're talking about. Putting together wedding flowers takes a lot of work and time and back and forth, so be sure to give yourself a few months to get everything in time for the big day.
For 2022, dried flower bouquets and smaller pieces for the wedding party including boutonniere's have been really popular. Neutral tones are really big this year with a few pops of colour in terms of some statement flowers. The beauty of dried flowers is that you can source almost any colour of flower quite easily and of course, they last for years.
Practical tips for
wedding suits
When considering a made-to-measure suit or a ready-to-wear suit for your wedding, there are a couple of things to consider and this pretty much goes for purchasing any suit for any occasion.
1. The style of the suit: Think of it as an investment. We get a lot of enquiries about going for suits that are a bit out there, and that's totally fine but we always recommend thinking long term and going for something you're going to get value and wear out of, as opposed to just thinking about your wedding day. Our suits on average cost around €1,000 so you want to get return on that investment.
2. The fit of the suit: The biggest piece of the puzzle. Most men think that suits are these stiff, uncomfortable things that pull and prod in all the wrong places. A properly fitted suit should be as comfortable as a pair of pyjamas. Our made-to-measure suits are the closest thing to a bespoke suit in Ireland but at a fraction of the cost. We take around 30 different measurements to ensure an excellent fit and do two to three fittings to make sure you're happy with your suit.
3. Have an idea of style and fit in mind. Getting a suit made is a two-way street – there's only so much we can guide you on in terms of cut and style, you need to have a voice in terms of what you're looking for – even the colour you want makes a big difference as opposed to coming in without any idea of what you're looking to get made. Knowing how you like your clothes to fit is very advantageous also but we advise you here.
4. Having a budget is key. Made-to-measure clothing takes a huge amount of work, each item is cut and made to your exact measurements. Each shirt and suit is made by a master tailor and as such, cost more than your standard off the rack clothing and you need to be aware of this. Having a budget of what you're comfortable spending is really important, there's no point being uncomfortable spending more than you can afford because you'll always be worried about how it's going to turn out and if it's good enough and so on. Having a budget helps guide you to fabrics and options that you'll be happy with.