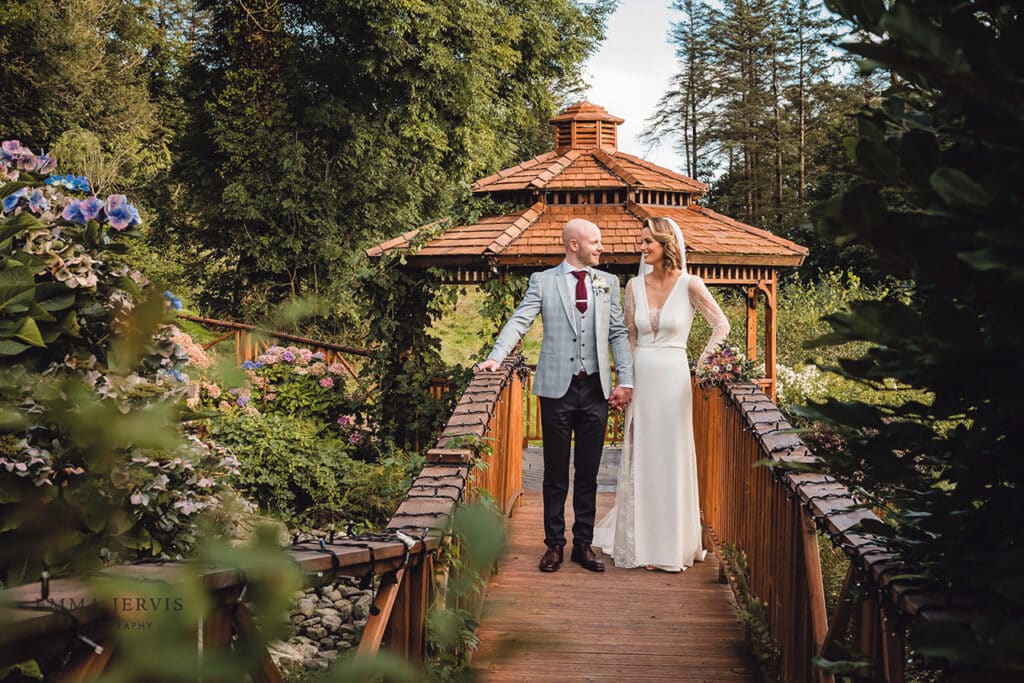 Combining Georgian splendour with very modern sustainable practices and energy saving methods, as well as being one of Ireland's most environmentally friendly venues, Fernhill House Hotel in Clonakilty is also an award-winning wedding destination.
"The fern, from which the Hotel takes its name, was known in Irish tradition as a symbol of secret bonds, sincerity, marriage and love," shares Michael O'Neill Jnr.
A former director of Sustainable Clonakilty, Michael is active in achieving sustainability in the family-run business and his local community. He was also a board member of the European Union's EDEN group, the largest collection of sustainable destinations in the world; and part of the team behind Clonakilty's ambitious tree-planting campaign.
Planted throughout the grounds and all along the border of the carpark, aside from gracing the tables of wedding parties, the fern also plays a very practical role as an air-purifier, removing harmful pollutants from the surrounding environment.
Designed by renowned garden designer Mary Reynolds and inspired by the surrounding woodland, within the 14 acres of gardens at Fernhill there are many places that encourage vows to be exchanged…a stone circle, Japanese garden, wild meadow…
Thousands of fruit and nut trees and shrubs and native trees have been planted around the hotel to encourage wildlife and provide food, with a mix of formal planting and wilderness encouraging pollinators and promoting biodiversity. In fact, each year the hotel invites past couples back to plant apple trees in the orchard, further reducing their carbon footprint.
Whatever food produce isn't sourced locally is grown in Fernhill's Victorian walled kitchen garden or foraged in the estate's natural wild areas. Gardeners Ann Daly, Ryan Crowley and Eamon Coakley, use a no-dig system, which means fewer weeds and healthier soil for germination. Crops are rotated for an optimal balance of nutrients in the soil and this reduces pests and disease and no chemicals are used.
Water is pumped from the hotel's own well, solar panels heat the water and generate some electricity and even the fertiliser is on tap; homemade from the comfrey and nettles allowed to flourish in the vegetable garden.
The O'Neill family, who launched their own gin in 2021 to celebrate 75 years at Fernhill and also reduce their food miles, go as far as picking fresh pine tips from the Scots Pine trees on the estate to use in their cocktails. Elderflowers are also gathered to make elderflower syrup in-house, which as well as flavouring the cocktails at wedding drinks receptions is also an ingredient in the homemade sorbet. Fernhill's gin-flavoured sorbet has been particularly popular with wedding couples this year.
Nasturtium and lovage flowers or mint and redcurrants add pretty and colourful touches to dessert plates and apples are plucked from the orchard to add to dishes.
Changing with the seasons, fresh flowers from the gardens are used to decorate the hotel and marquee for each wedding.
Standing on over 200 years of rich history and surrounded by beautiful biodiverse gardens in a river valley, it is no wonder that so many choose this backdrop to celebrate their marriages.