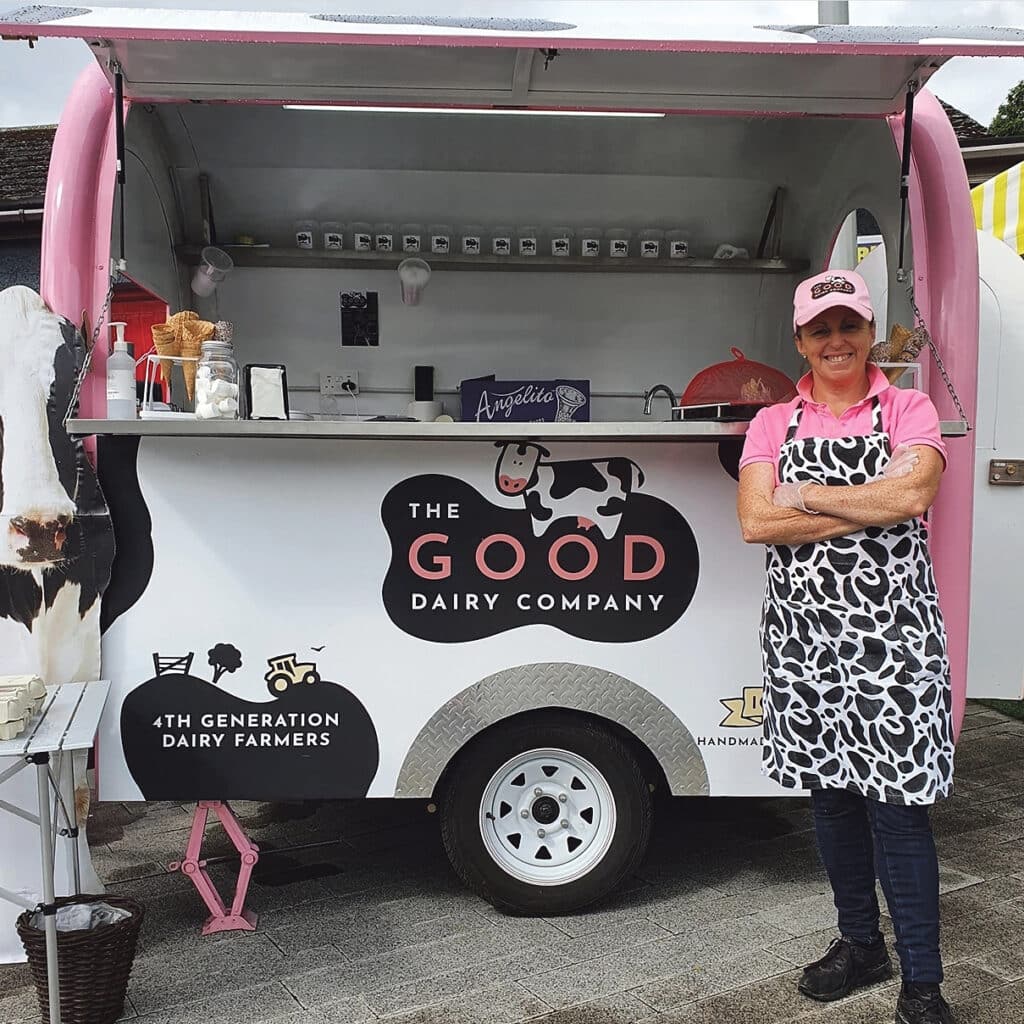 The Good Dairy Company makes artisan ice-cream using milk and cream from its pure-bred pedigree Friesian Cows on its dairy farm in Nohoval, Kinsale.
While Tom Good is the fourth generation farmer behind the cows that produce the high quality milk and cream; Catherine is the business and marketing mind behind the fledgling ice-cream enterprise.
Coming from a sales and marketing background, Catherine says that, as the wife of a farmer, she has always wondered about the types of products that could be developed successfully using the fresh milk produced from their pedigree Friesian herd. However being a busy mum of four left little time for experimenting, until the pandemic presented her with the time and opportunity to further explore her idea. After successfully acquiring a place on the Exxcel programme for Female Entrepreneurs at the Rubicon Centre, Catherine created a business plan, did some market research and set about developing an artisan farm ice-cream.
The next step was coming up with a recipe and finally, after a long time experimenting with flavours, The Good Dairy Company was born in August 2021.
Within two hours of Tom milking the cows on their farm overlooking the Atlantic, Catherine uses the milk and cream to create a fresh and creamy ice-cream. This is a zero miles dairy farm business, which delivers outstanding quality and taste. Most of the flavours are even gluten-free.
Care and welfare of their animals is very important to Tom and Catherine, who, among other things, have installed an automatic cow brush and automatic hoof bath on the farm for the cows.They also employ a nutritionist to balance the cow's diet, thus ensuring the milk produced is of the highest quality. While predominantly a dairy farmer, Tom also runs a calf to beef enterprise.
After launching the ice-cream catering pod in August, Catherine started attending farmer's markets in Blackrock, Douglas, Carrigaline and Kinsale, as well as many corporate events. With the help of the Local Enterprise Office, Catherine and Tom have now taken the next step and are in the final stages of setting up a production facility at their home in Nohoval.
"Taking this step can be daunting, but the last six months trading has given me confidence that the market is there," shares Catherine, who says it was hearing an agriculture advisor being interviewed on RTE show 'Ear to the Ground' that inspired her to believe such a thing was possible in the first place.
"He advised that the future of farming was to diversify; that all farmers should stand at their yard gate and look in, to look for all opportunities that were in front of them. This advice was something that stuck with me."
Catherine has just completed the Food Academy with Bord Bia and Super Valu and after just six months up and running, The Good Dairy Company is now ready to launch its new 360 ml retail tub in five flavours – Udderly Vanilla, Chocolate Cow's Lick, Raspberry fields, Rocky Cow Path and Muddy Boots.
While juggling a farm, home, ice-cream business and four children is challenging, Catherine is excited at the possibilities and opportunities ahead and loves the creativity of combining and creating different flavours and using these flavours to tie in with life on the farm.
"Starting off small and slowly building the business has been key," says Catherine, who is already thinking ahead to exporting the brand in the future. "The company is very young, but I feel that we have achieved so much in a very short space of time."
By adding value to their milk and bringing to the market a rich, creamy fresh farm ice-cream, which ties in with their family life on a dairy farm in a coastal location, Catherine and Tom are an inspiring success story in farm diversification.
You'll find Catherine and The Good Dairy Company at the Kinsale Farmers market every Wednesday from 9.30am – 2.30pm.
For more information follow on Facebook.