A certified nutritionist and health coach, Michelle Ryan is the founder of BWELLHIVE, a health and wellness consultancy business serving corporates, communities and private clients who want to live a life of optimum health and wellness.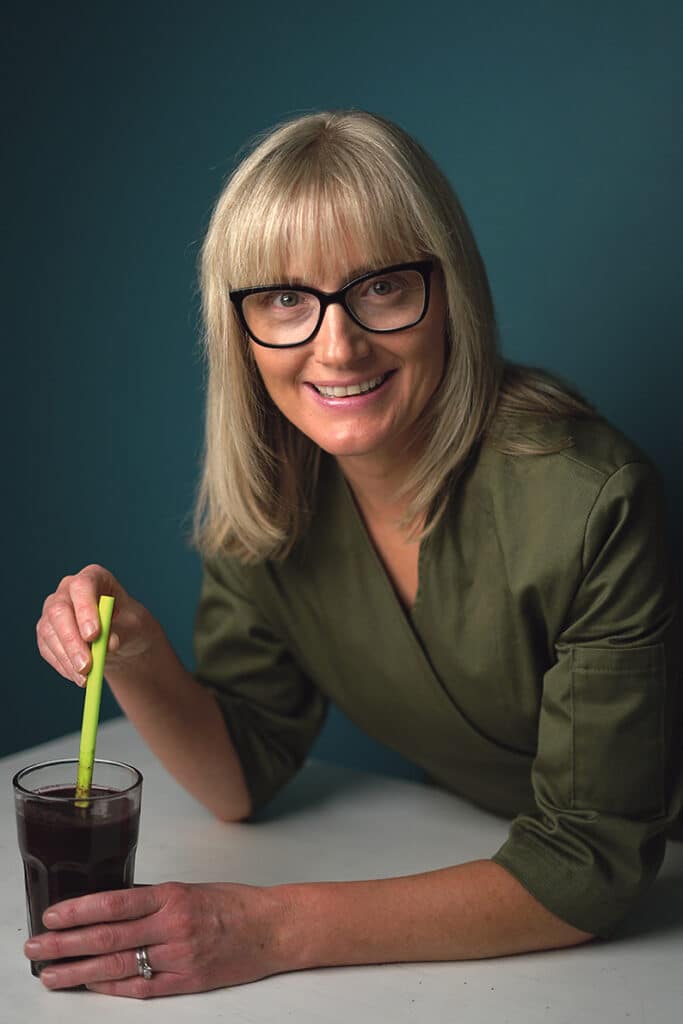 Originally from Limerick, Michelle lives in Clonakilty with her family, which is where, after leaving a career in corporate London behind, her love affair with nutrition and healthy food began. In 2003, Michelle's son was born with chronic digestive problems. "He cried non-stop with no cure in sight," she explains. "I was desperate to assist him in any way possible, which was the driving force that led me later on to study nutrition in a bid to understanding why he was suffering and how I could fix it."
She went on to work with West Cork LEADER, which opened opportunities through learning about West Cork Fuchsia Brand and the Slow Food Movement before going on to study with the College of Naturopathic Medicine and Nutritional Therapy.
After qualifying as a nutritional therapist in 2011, Michelle developed her clinic practice working with clients needing assistance around digestive health, helping them to boost their energy and achieve weight loss.
On experiencing a downturn in business in 2013, Michelle took it as an opportunity to upskill and re-train, returning to work in the corporate world until 2019, where she invested time into developing and increasing her knowledge in sales, marketing and business strategy.
During this time she continued working behind the scenes, coaching clients back to health and continuously increasing her knowledge around food and locally sourced produce. She also joined the Network Ireland West Cork group and relooked at starting another business in health. "The Network West Cork group was a vital cog in the development of my business through the support it provided," says Michelle.
In the development phase of BWELLHIVE, Michelle continuously noted that many busy professional men and woman in managerial and CEO roles with families were feeling unbalanced, more often overwhelmed like she had been, and mostly stressed, lacking energy and unable to cope with home and work-life balance whilst trying to juggle it all.
A 'Start Your Own Business Course' and 'Woman in Business Programme' with LEO helped her develop the BWELLHIVE brand and business model. In 2020, she availed of the Trading Online Voucher from LEO to upscale her website (bwellhive.ie) and digital process and make it easier for clients to avail of BWELLHIVE services. Throughout the pandemic, Michelle has continued to provide community talks, supporting employees and community members on how to manage stress, overwhelm and reduce weight loss by sharing how by creating healthy habits you can create a healthier way of life to feel awesome.
The BWELLHIVE business model and framework is growing from strength to strength and becoming more focused on the CEO health model (How to become the leader of your own health, and know when something is not right). This is included in the one-on-one personalised health plan and model, group programme and also in the workplace wellness programmes offered by BWELLHIVE. This model has brought the business great success.
The three core areas in the BWELLHIVE business model are: B-Healthy – Assisting clients with overall health through proper nutrition; B-Well – Assisting clients overcome specific symptoms through coaching; and B-Weight-Wise – Assisting clients to align with their ideal body weight.
Michelle is passionate about making a difference in the lives of the people around her using 'real' sustainable food and nutrition as the key to wellness and peace of mind. "Moving the focus from farm to fork to soil to gut," she explains simply.
"The global pandemic has been a wake-up call to take action and the lockdown has given people time to change their habits. I can facilitate health for people of all ages and circumstances.
In 10 years time, Michelle's hope is that BWELLHIVE will be established throughout Cork and beyond Ireland providing top-class wellness, and tailored one-on-one programmes including another service with 24/7 access over the phone, an easily accessible dedicated affordable Health Coach. This would include an online membership, assessment, tailored fitness, nutrition and wellbeing programmes.
In her own life during this pandemic; Michelle enjoys walking in nature with the family's new dog Holly. "I totally relax and wind down and really enjoy what nature provides. It's great when you have a problem or you're looking for a solution; it gives me quiet time and the answer always follows naturally. This allows me to also avoid chaos in my life and instill good health and wellness habits.
www.bwellhive.ie