As regular tofu eaters Méabh Mooney and Ronan Forde were disappointed that there seemed to be no Irish-made tofu available on the market, the most widely available brands being made in Germany and the UK.
In the midst of a pandemic the couple experienced a moment of madness, or fate, when a Done Deal advert for an industrial soymilk/tofu maker caught their eye.
Just 18 months later OTOFU – fresh organic tofu, handmade in West Cork – is producing Organic Trust licensed tofu for a growing number of markets from its HSE-approved production unit in Kilbrittain, and has recently taken on two part-time employees.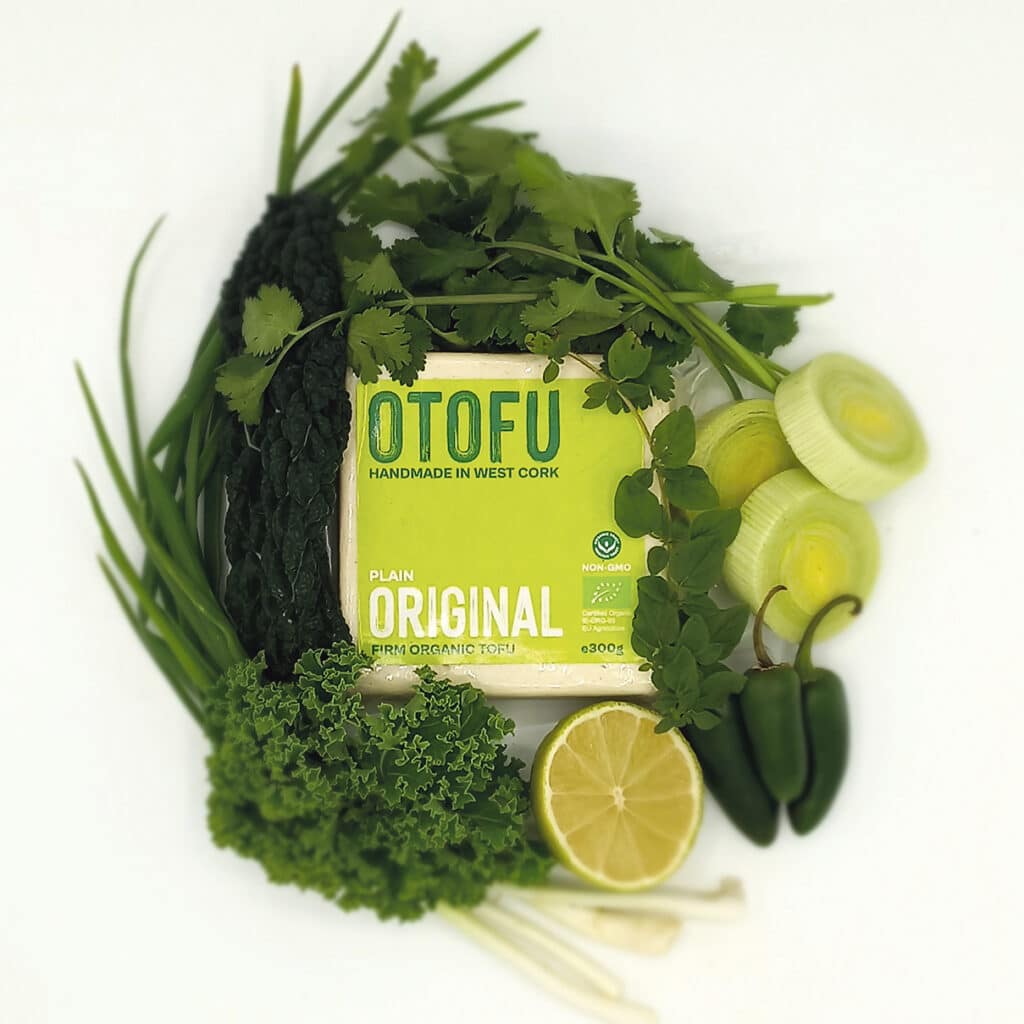 Méabh Mooney and Ronan Forde are inspired in business by their love of healthy, freshly made food where taste is paramount. Their own diet is heavily influenced by travels around Asia: "Between us we've covered Hong Kong, South Korea, Japan, Thailand, Vietnam, China and Singapore – these experiences have led to a diet rich in various Asian cuisines."
Asian food lends itself well to being plant-based, which is something Méabh really embraced after living in the Eastern Suburbs of Sydney for years, where fresh, plant-based food was de-rigueur.
"Our only stipulation on starting any business was that it had to be part of the solution, not adding to the problems in our society today," Méabh, who is also a fashion designer, explains. "Fashion and food, like many industries in our capitalist world, can have such a negative impact on the wellbeing of our planet. Tofu fits with this ideal of being part of the solution."
Ronan has worked in the Irish food sector for 15 years, mostly with artisan companies as an Operations Manager, and also spent quite some time working as a cheesemaker at Toonsbridge Dairy, where he acquired skills that have been invaluable in the tofu making process. He loves to work with his hands and is a natural problem solver as well as being great with machinery and gadgets!
"We would love for Irish people to become regular tofu eaters, as it truly is one of the tastiest, most satisfying and versatile ways of adding a more plant-based slant to any diet," Ronan explains. "Tofu is a simple food with only three ingredients – soybeans, water and nigari (a byproduct of seasalt); it is much less complicated than many vegan protein alternatives but is not just for healthfood fanatics or vegans – though we deeply applaud all diets that are committed to and considerate of beings and life outside of themselves!"
"Tofu has been around for over 2,000 years so it's not exactly a modern food fad!" Méabh interjects.
From the beginning OTOFU has received tremendous support from Deirdre O'Mahoney and the rest of the team at LEO Cork North and West in the form of a Priming Grant, as well as many other invaluable resources such as the Start Your Own Business Course, The Food Starter Program, The Food Academy and direct access to their own business mentor.
Méabh has also done a book-keeping course, SEO and social media seminars with LEO: "They really have so many great tools and resources available when you know where to look!"
Life is extremely busy for the couple. Still a Production Manager in Bantry five days a week, Ronan makes fresh tofu every Saturday, whilst Méabh works full-time (most of the time) on the business with admin, branding, ordering, invoices, sales, planning, accounts, deliveries, packing and more.
"We are time poor," Méabh admits. "We are sacrificing our work-life balance at the moment to get the business off the ground."
Ronan agrees, "Having an energetic toddler and a now a newborn means our focus can be pulled side-ways but tofu is a baby in itself and we are tending to it carefully!"
Sundays are sacred though. Besides cooking, eating, napping and reading the family loves being in the garden. Like many they became pandemic gardeners and have found great satisfaction in growing from seed, getting their hands dirty and reaping the rewards of their labour throughout the year. "There is nothing better than sharing peas from the pod," says Méabh. "It is a family affair, our toddler even has his own patch for digging and planting."
In the summer they also relax by taking Ronan's lovingly restored little sailboat out around Courtmacsherry harbour with a picnic onboard.
OTOFU has just taken on two part-time employees – a delivery driver and a production assistant – which the couple hope will allow for expansion…and get them through the first months of maternity! "Ultimately the hope is to be able to comfortably employ one or both of us full-time, depending on our preferences and requirements when the time comes, and that we will be able to employ others to allow us to continue to grow."
"Financially it is a juggling act that needs constant monitoring, trying to predict sales and outgoings in an organised way to allow enough cashflow for a smooth running of the business and so on," says Méabh. "We have just taken on an accountant too so I hope to learn more, and gain more as a business, with this expertise onside."
Slowly watching sales increase as people get to know and recognise the OTOFU brand has been heartening in demonstrating that they may well be on the right track. They see repeat customers particularly through NeighbourFood where they stock Cork City, Ballincollig, Kinsale and Douglas.
They are also thrilled to have OTOFU used as a regular ingredient on the menu at Paradiso Cafe – a revered and long established vegetarian restaurant in the city.
Another thrilling moment was when food writer Joe MacNamee discovered OTOFU at the Olive Stall in the English Market, which he wrote about in the Examiner. A self-confessed carnivore, Joe has also been a tofu eater for over 40 years.
OTOFU has also received praise from Lilly Higgins and I'm a Little Vegan on Instagram.
The plan for OTOFU going forward is to continue working towards being stocked nationally, across a broad section of retailers and food service providers, and to create a loyal consumer base with branding that resonates.
"We would also hope to have educated people more on how tasty, easy and versatile tofu is as an ingredient, especially as part of a plant based diet."