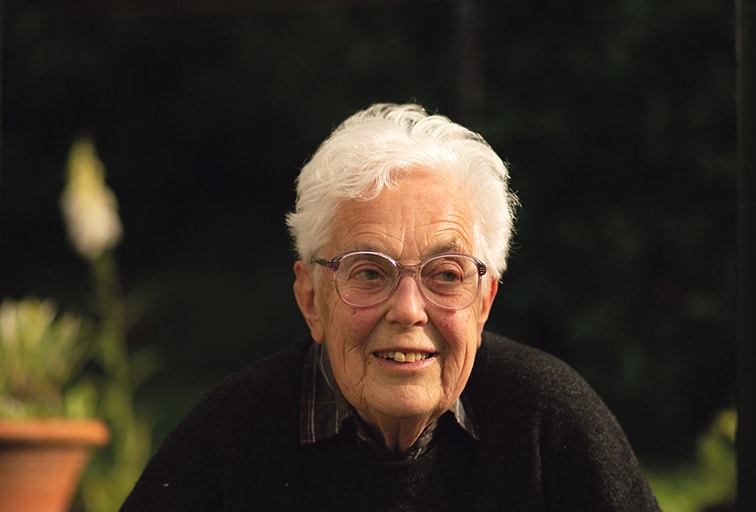 Joy Larkcom, 86, won't allow the physical limitations that come with age to keep her out of her beloved greenhouse. The inspiring gardener and writer, affectionally referred to as 'The Queen of Vegetable Growing' has garnered an enviable reputation over the years for her expertise in the vegetable patch. Joy reflects to Mary O'Brien on a childhood that, while frugal, enjoyed fruit from the garden all year round; and shares some advice on growing easy and nutritious veg to ensure greens on the table for your family throughout the year.
"I'm beginning to feel it (age); everything becomes so much harder," shares Joy "it hits you in so many ways…but you just have to be glad for the bits that work."
Over the years Joy's accolades have included the Garden Writer of the Year award (three times); the Veitch Memorial Medal for horticulture – the RHS's prestigious honour in 1993; and the Lifetime Achievement Award from the Garden Writers' Guild in 2003.
Her 'Grand Vegetable Tour' of Europe with her late husband Don Pollard and two young children in the 1970s and a research trip to China in the 80s were key elements in a lifetime of garden writing, spawning such titles as 'Grow Your Own Vegetables', 'The Organic Salad Garden', 'Creative Vegetable Gardening', 'Oriental Vegetables' and her wonderful memoir, 'Just Vegetating'.
It's thanks to Joy that we know about the cut and come again approach to harvesting to increase leaf production and leaves like rocket, endives, mizuna and pad choi might still be strangers in the salad patch except for her.
At this time of year, Joy is enjoying the first of her sprouting broccoli and her potatoes are sprouting indoors ready to go outside. As well as seedlings, the greenhouse is filled with greens – endives, orientals, rocket, cress and Texsel greens (Brassica family).
"Texsel greens is one of the handy, quick-growing greens I have in my greenhouse right now," she explains. "I see it is being sold these days as Ethiopian kale or Amara. Mr Fothergills' Seeds is one of the seed companies selling it, but it's a UK company so no longer supplying direct to customers in Ireland."
Born in 1935, Joy grew up in the English countryside 50 miles west of London. Her father fought in both world wars and was evacuated from Dunkirk in WWII. As a child, Joy remembers British planes flying overhead and meeting Italian prisoners of war in the woods near where she lived. "I remember they were very sweet to us kids," she recalls.
"As children, you just take what's happening for granted. It's only now, as the threat of war hangs over us, and with Ukraine living through it, that I realise what it must have really been like," she shares. "The sound of an air raid siren on the TV or radio still strikes fear in me."
While some foods were limited during WWII, the introduction of rationing meant that everyone received a fair share. As a result, the British were in fact healthier than they had ever been before. Many people grew their own vegetables and kept hens to supplement their rations.
"My Scottish mother had a very sweet tooth," laughs Joy, "and her wartime treat to herself was sprinkling sugar on top of butter on a piece of bread! She had been brought up in a town, but felt it was the patriotic thing to keep hens, so she buckled down to buying them and learning how to keep them."
Nothing went to waste in those days. On a post at the end of their road, where Joy and her family would wait for the bus, a 'bone box' collected old bones to be made into fertiliser. "If you had any bones left over from the weekly roast, you were supposed to put them there to be collected and used for fertiliser, bone meal I suppose, as part of the war effort," explains Joy.
Clothes were hand-me-downs or made by the village dressmaker. "I don't think I had a shop-bought dress until I was a teenager," recalls Joy "I can still remember that dress and the excitement."
She clearly remembers her mother taking torn sheets and sewing them backs to middle. "You just kept them going as long as you could. Shirt collars were turned inside out, as were cuff sleeves."
Joy has no memory of ever buying vegetables until she left home. When her father came home on leave during the war, he planted an orchard; some of these varieties Joy now grows in her garden in West Cork.
"I remember my father coming home and turning over the bare field to make a vegetable garden and giving me the wire worms to take to the hens," she shares nostalgically.
"Since then gardening has always been a part of my life."
Sent to boarding school in the west of the country at the age of seven out of harm's way of the bombings, Joy declares that she loved school life. But of course they had wartime rationing. "We had a 'skinny list'" she laughs "which meant you got an extra egg or whatever was going. I later progressed to the 'semi-skinny list!'" They had a two-sweet allowance a week. "Even now, when I eat a whole bar of chocolate I feel guilty."
During Joy's childhood there was never a shortage of fruit and vegetables. "We more or less had fruit all year round," she says. "If you keep apples carefully you can have them until March when the rhubarb is coming up and then there are all sorts of currants and berries to look forward to.
"I really think people here should grow more fruit. The West Cork climate is perfect for growing blackcurrants, redcurrants, gooseberries and so on."
The bounty in Joy's garden today is fed with seaweed…heaps and heaps of it. "For my 80th birthday, I asked people to give me nothing but seaweed. They're still coming with it," she laughs.
Seaweed offers the perfect mulch according to Joy, even helping to deter slugs and snails when it goes hard and crinkly.
Joy's gardening advice is to keep a constant watch on your plants. "It's one of the keys to successful vegetable growing. It is easy to spot an early attack of caterpillars or aphids and just nip it in the bud," she says.
Now is the time to start sowing so many garden vegetables such as peas, salads, leeks, traditional brassicas, but it is best to delay sowing Joy's favourite oriental greens until late summer. "Things like pak choi, purple mustard, mizuna will grow really fast then and many will last right through the winter," advises Joy. She stresses that we have to accept our limitations. "It might be tempting to try all sorts of exotic things but you have to cash in on what does well in this climate. If you can put up a polytunnel or greenhouse that makes a huge difference for growing things like tomatoes and peppers." She doesn't usually sow directly outside until April or May.
If you don't have much space, Joy suggests trying micro-greens or cut and come again salad leaves.
She believes that gardeners underestimate the value of shelter to vegetables. "Research has shown that even sheltering them from light winds can increase yields by 30 per cent — and it is best to filter the wind. So even putting up temporary strips of hessian net between vegetable beds can be a very good investment."
Today, when she's not archiving her prodigious research material to send off to the Garden Museum in London, Joy may be found pricking out seedlings in her greenhouse.
'I should probably give up the garden but I love it," she muses "and I have fantastic help from people."