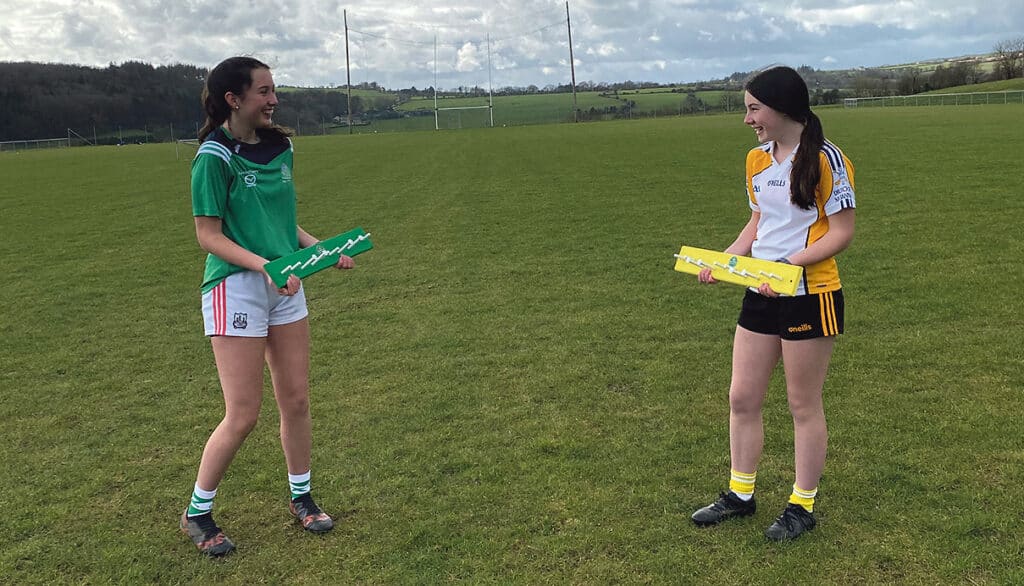 Students from Colaiste na Toirbhirte Bandon were awarded the prize for most Innovative Social Media in the Senior Category at the National Final of this year's Student Enterprise Programme.
Supported by Local Enterprise Office Cork North and West, Kate O'Connor and Emily Barry of Hook R Strike took one of the main awards at the event, which was watched by thousands of students and teachers all over Ireland. Kate and Emily worked under the guidance of their teachers Liz O'Dell and Lisa McCarthy and achieved huge attention in the run up to the finals with their innovative lifestyle hack for keeping the home clutter free from sports gear which they sell online at hookrstrike.com in Bandon Co-Op and Cummins Sports.
The ambitious students are hoping to continue with their company for the summer. Sports mad, the girls say it was the clutter in their everyday lives and last-minute search for sports gear that spurred them into finding a solution to the problem.
The dynamic duo is delighted with their recent success in the social media awards. "We put huge emphasis on our social media campaign, as we felt this was the way forward for business development during a global pandemic," explains Kate.
"The Hook R Strike social media platforms were constantly active and we posted pictures and fun videos about the latest news every day and ran competitions on our Instagram pages," continues Emily.
Kate and Emily hope to continue receiving orders, develop more products for the company and expand to more stores in West Cork! Make sure to check out their social media and get your sports rack today!
There were 72 student enterprises competing in this year's National Final in what is Ireland's largest entrepreneurship programme for second level students. The initiative, funded by the Government of Ireland through Enterprise Ireland and delivered by the 31 Local Enterprise Offices in local authorities throughout the country, saw 29,000 students from almost 500 secondary schools across the country take part.
Praising the winning students, Kevin Curran, Head of Enterprise with Local Enterprise Office Cork North and West "This is a proud day for student enterprise in our region. We would like to congratulate Kate and Emily, their families and their teachers at Colaiste na Toirbhirte on winning this national award in Croke Park. Year-on-year the Student Enterprise Programme continues to produce the very best of ingenuity and entrepreneurship amongst our secondary school students."
Since the Student Enterprise Programme began in 2003, over 250,000 students have taken part, learning key skills on how to create a business idea, start a business and grow a business. Full details of all this year's 72 national finalists are available on the Student Enterprise Programme website at www.StudentEnterprise.ie