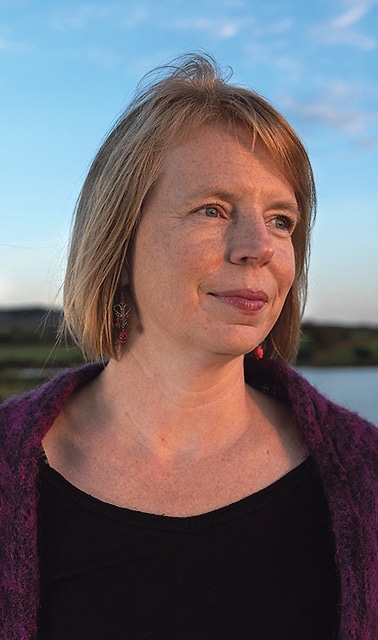 E
nd of Life Matters
End of life Doula Melissa Murphy, a companion, guide and resource supporting our community in end of life matters.
www.starsbeyondourskin.com 
This has been a difficult piece for me to write: On the one hand, it seems like too much with the intensity of pervasive and collective grief the world has been witnessing, particularly in the past month, but at the same time it feels inauthentic not to share. A year ago, I joined a group of about fifty people from around the world to spend five days at Auschwitz and Auschwitz-Birkenau, located in Oswiecim, a city about 70 miles west of Krakow in Poland. We stayed in close proximity to the land at a retreat centre for dialogue but spent the bulk of our days and some evenings at the former concentration camps. Our intention was "to bear witness to the oneness in diversity in a place that became a mythic symbol of humanity's tendency to intolerance" (from Zen Peacemakers, the group that organised this event and has been doing so for 28 years).
The experience had been calling to me for more than a decade after a likeminded friend told me about his own journey on one of their first such events. I felt like there were countless reasons for me to attend but I'll share two: I have ancestry in Poland that little is known about and have deep respect for the Zen Peacemakers, having attended their other 'bearing witness' events while living in the US. These included one in Black Hills in South Dakota listening to the testimonies of the First Nations Lakota, as well as the city streets of San Diego, California where several nights were spent outdoors and among people living with homelessness. I trusted that our group would be greatly held and skilfully facilitated once again.
War in Israel and Palestine, ancestral trauma, history continues to repeat itself. There are few words other than to offer my experience from bearing witness last year. Although I spend my life in spaces and conversations involving death, I feel ill-equipped to say more – let alone digest the news today. Yet I know it is essential to not look away, to grieve and to rest. Similarly, one year ago, nothing could have prepared me for Auschwitz and Auschwitz-Birkenau. As I write these words, there is a realisation that I'm still processing – or perhaps reprocessing – my time there given the events of the moment.
The first day at Auschwitz, the smaller of the two camps, I recall thinking it reminded me of a film set somehow. But by day two at Auschwitz-Birkenau, my process shifted. The scale of the place is something to behold and I tried to digest the capital letters on the plaque greeting our group as we prepared to enter: "There is no other place on the earth where more Jews, Poles, Gypsies perished as a result of criminal methods in such a limited time and in such a limited space. The ground of Auschwitz and Birkenau camps constitute the biggest cemetery in the world and a place of genocide."
During our days there we walked the land, listened and shared in talking circles. We offered prayers, chanted the names of the dead, held silence and participated in interfaith ceremonies. These were not easy, yet they were beautiful processes lasting sometimes for hours. Other moments like sitting in the barracks at night, standing for an extended period of time in the women and children's barracks or walking through the remnants of a gas chamber were something else. But through it all, the support was impeccable, and I'll not forget the local guides at the camps (known today as memorial/museums) many who have worked there for decades re-telling the stories; the horrors of the land with astounding care. There are some things I can't yet seem to write about but here are a few other musings from those days.
Another aspect that moved me deeply was the realisation of the number of visitors that return to these places; often again and again to seek healing – including survivors and their descendants. I found this astounding and it led me to conclude that everyone who can make the journey there should do so.
I remember being surprised to find moments of beauty there too. The amber leaves slowly twirled in the unseasonably warm breeze before they touched ground. A single deer raced across the open landscape at great speed while a herd, unscathed by wire fencing, moved near to us, seemingly without hesitation. A floral bouquet placed on the door of an original train car that would have brought people to the camp to become prisoners, to be killed, or both. We learned of the cruelty (more than I'd fathomed) and, as a teacher I admire, recently wrote of these times,"grieve the reality that humans can be so inhuman" (-Frank Ostaseski)
I'm none the wiser after this pilgrimage of sorts. Yet in spite of the heaviness and powerlessness that I/we feel in the moment, I still believe in the power of coming together. The rawness and richness of those days cannot be erased nor do I feel that our collective intention has been totally lost. In the year gone by, I've been reading survivor's stories. Also finding refuge in grieving, learning, healing, sharing in spaces that nourish my soul and others.
To learn more or to connect with Melissa, email her at starsbeyondourskin@gmail.com or visit www.starsbeyondourskin.com. She also welcomes your questions or ideas for future columns.