Pádraig Ó hEachthairn, Principal at Gaelscoil Mhichíl Uí Choileáin in Clonakilty reflects on how the pandemic has affected school life.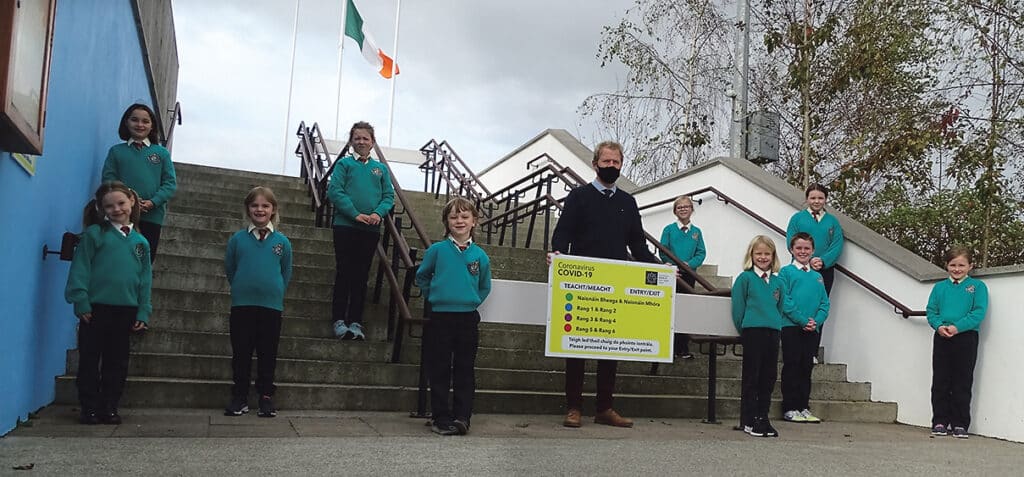 It would be very difficult to start any piece about the start of the current school year without first reflecting on the six months, which preceded it. Despite all the changes which have taken place in our Education System since the founding of the state, few have managed to have as much of an impact as the statement from, the then Taoiseach, Leo Varadkar on Thursday, March 12, 2020. Schools would be closing that evening for a two-week period but, as we all know, this extended right through until school was due to finish for the summer holidays at the end of June 2020.
When the announcement was made at lunchtime on Thursday, March 12, there was a scramble to prepare work for the two weeks, which followed, and also to make sure that the children had the books necessary to complete such work. Little did we realise that this was only the beginning of what was going to prove one of the most challenging few months, for pupils, parents or guardians and teachers alike. Easter arrived shortly afterwards and this allowed us the breathing space to put a long-term plan in place. Following many meetings on everyone's by now favourite 'social platform', Zoom, a plan was put in place to allow a two-way flow between the teacher and his/her class. Many evenings were spent, as pupils, parents or guardians and teachers alike, resisting the urge to fire whatever piece of technology was in our hands out the window when various pieces of work failed to upload, download, attach or send. A new phrase was coined during this time – the new normal – but that is how we proceeded for the final school term. The closure robbed us of our favourite time of the year at school and all the wonderful events we associate with it, school tours, school sports, Sciath na Scol matches, school talent shows, graduations, end of year barbeques etc. Following various online sports days and graduations, the school year wound to an end and everyone breathed a sigh of relief that we had all made it in one piece.
The sigh of relief was short lived, as all eyes began to turn once more to the reopening of our schools in September. Announcement followed announcement as everyone wondered what would be required to open our schools safely. The documentation arrived 'píosa ar phíosa' from the Department of Education and Skills and all schools set about the task of organising a Covid Plan. Organising a Covid Plan is one thing, putting it into action on the ground is another. Needs must however, and all the necessary PPE, sanitising stations, floor markings and signs were sourced and erected: Except they couldn't be erected, not in our school anyway.
As part of the Schools Remediation Programme our school building was handed over to a construction company by the Department of Education and Skills on May 18, 2020. Following two days of intense packing of school resources we handed over the keys of the building and were in effect homeless. The countdown clock was now ticking to have the building ready in time for our first day of school on Monday, August 31. Time flies when you are having fun they say; it also flies when you are watching a deadline, but true to their word the construction company delivered on the date they had promised, August 28!
'Ar scáth a chéile a mhairimid' is our school motto and never was it more exemplified than over that weekend. All staff were on hand and the midnight oil was well burned as the school was prepared and made ready for our new Naíonain Bheaga (Junior Infants), who visited their new school on the Sunday, and all the children who returned to school on Monday, August 31. There were countless offers of help from parents/guardians and others within our school community but these had to be declined because of fears over Covid 19.
Excitement, nervousness, trepidation are only some of the words which could be used to describe what most households were feeling on that Monday morning. However we should have known better, as the smiles, laughter and cheers were the order of the day as the 'páistí' made their way up the steps of the school and headed off to meet their friends and new 'múinteoir' for the start of the new school year. The last few months have been both strange and normal if such a thing is possible. Strange regarding one-way systems, mask wearing, sanitising, staggered breaks, deserted staff rooms, no visitors or extracurricular activities. Yet normal due to the familiar voices, the sound of laughter, children playing, cuts and bruises, the school bell, spellings, tables, paintbrushes etc.
As I write this piece more restrictions have been introduced, but fortunately for us schools can continue to remain open. This is a difficult time for our society and we as a school feel privileged that we can play our part in helping the youngest members of that society. Yes, it has been a September like no other, yet in many ways it has been a September like many before. 'Tabhair aire dá chéile mar is ar scáth a chéile a mhairimid!' 'Take care of each other because we live in each other's shadow!'
Note: 'Ar scáth a chéile a mhaireann na daoine' is an Irish saying that translates literally as 'People live in each other's shadows'. Meaning, we are shielded from the sun by each other, we rely on each other for shelter. People need each other. 
---
Children thriving on back-to school routine
Múinteoir Máirín, who teaches Naíonáin Mhóra (Senior Infants) at Gaelscoil Mhichíl Uí Choileáin in Clonakilty, is delighted to be back in school where she can engage with her students, listen to their stories or worries, be there to answer their questions and teach them new concepts of the curriculum.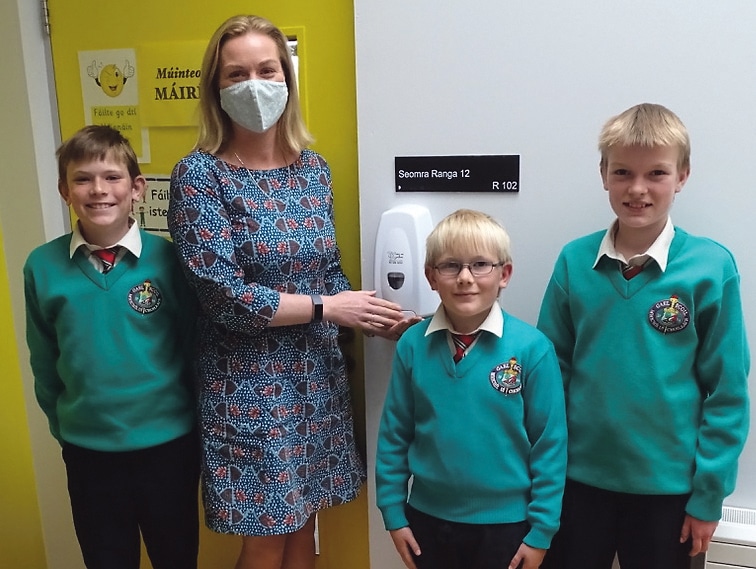 "Teaching online through lockdown was very necessary and important… however I believe teaching from a screen cannot take the place of face-to-face interaction with the children," she says. "The children are taught so many things in school, not just from books or hand-outs but by learning how to listen, to take turns, to respect ourselves and others, to wait, to play, to share, to work in a group or individually and by listening to each other's answers and hearing their opinions and so on.
"Technology can help to interest young children for longer and it is useful when a teacher wishes to show what the children are learning to parents, which enhances home-school links. However, I strongly believe that while it may enhance teaching and learning it will not take the place of face-to-face teaching and interaction."
There have been many changes in the classroom since the return to school but the children have "reacted brilliantly" to them all according to Máirín. "They seem to be delighted to be with their friends, to eat, to play, to learn, to listen, to share and to learn within the classroom."
Previously it was normal practice for the children to work in pairs, integrate with children from other classes in the school or have more visitors to the classroom. Today there is less mixing of children where possible. "We are extremely conscious in following the correct hygiene protocol by washing and sanitising our hands many times throughout the day and the children have adapted to this very well."
Classroom materials have to be sterilised daily. "Materials like playdoh, counters, cubes, maths resources, toys and so on cannot be shared and teachers have to think up of new ways in reduce the amount of times we handle copies or books. It takes longer for lessons to be planned and organised and tidied afterwards. We have three split breaks and lunches and so it is common not to meet some staff members during the day or the children in the other classrooms."
Wearing a mask during the school day can be challenging. "It gets very hot and it is more challenging for the children to hear what is being said. At times I notice that I may need to elevate my voice, which is not something I wish to do. However, if it helps to protect my own health and the health of the children in my class to wear a mask, I will continue to do so willingly."
Most important of all is the emotional health of the children she teaches. "Many children may be anxious during this time but children thrive on routine, friendship and reassurance and so I believe they are happy to be back at school. I, as a teacher and an educator believe it is extremely important to teach the curriculum and this can be done when the children are reassured and happy in the classroom."
Máirín explains that children learn best when they ask questions, as they have a natural curiosity. "And when new material is explained to them using pictures, conversations, concrete materials and so on and when they get to practice new concepts." However children's emotional health needs to be catered for, as Máirín explains; "If a child is not given the chance to tell how they feel and to be reassured they will find learning more challenging. Their emotional health can be monitored more easily in the classroom by observing their facial expressions and listening to their worries and concerns whereby this would be more challenging to ascertain through a screen.
"I love meeting the children every day and getting to know their personalities. I love to see how the children are so adaptable and how they soak up new information so well. I love to see their progress each week and to see their smiling faces and hear their laughter."