Don't be too surprised if you pass a well-dressed man in an Italian suit grasping a beautiful dried floral bouquet some day soon on a street in Clonakilty. If Hunter & Bloom, Clonakilty town's newest stylish addition to its retail scene, has anything to do with it, this could very well become a more common occurrence.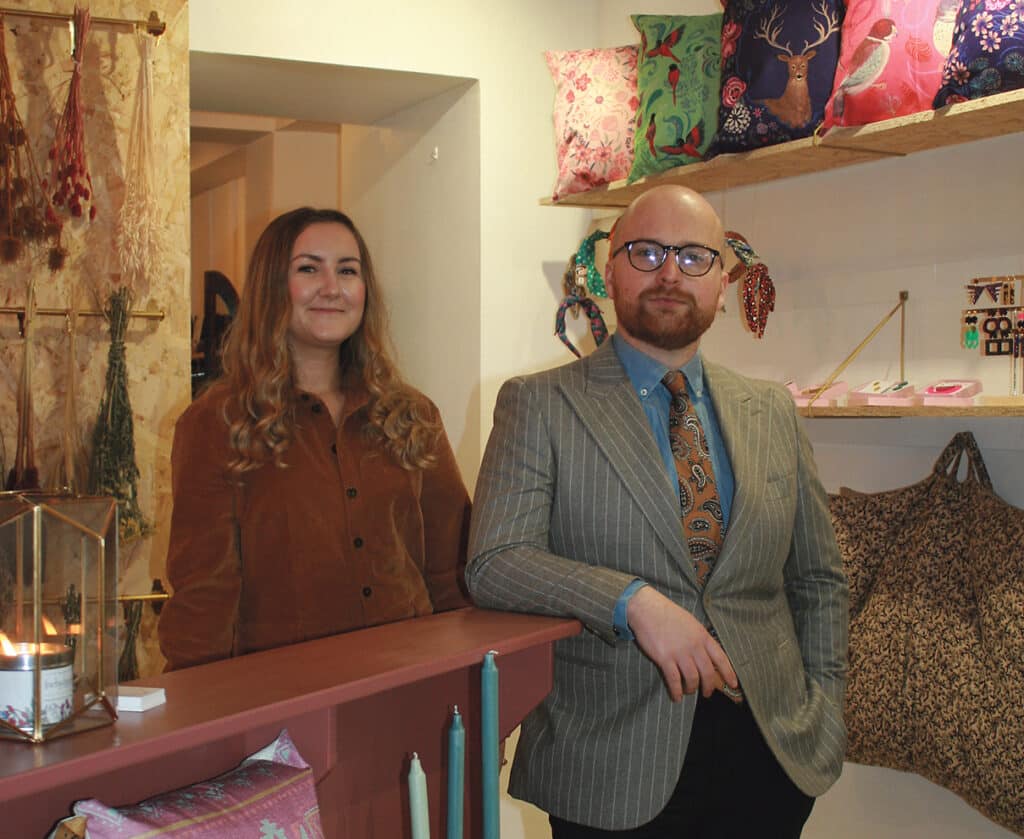 Combining beautiful bohemian-inspired interiors and sustainable bespoke dried floral arrangements with made-to-measure men's suits in the finest Italian fabrics, Hunter & Bloom is a shop that will appeal to anyone with a love for beautiful things.
The husband and wife team behind this hip new store are blow-ins Sean and Megan Treacy. Prompted by the remote working revolution during the pandemic, the couple decided to swap Dublin for West Cork, renting with owning their own home, and nine to five jobs with a business they could call their own.
After a successful eight-week test run with a pop-up before Christmas, Sean and Megan decided to make their shop a permanent fixture on Ashe Street in Clonakilty. Prior to this, they had both been running separate online businesses – Hunter Treacy Tailors and Thorn and Bloom.
Sean's business, Hunter Treacy Tailors, focuses on luxury menswear such as Italian made-to-measure suits, shirts and overcoats in natural materials like cashmere, cotton and linen, as well as everyday essentials such as safety razors, shaving brushes, men's gifts, beard products and so much more in unique gift ideas for men.
Megan's baby, Thorn and Bloom, provides beautiful dried flower arrangements and unique boho homeware goods, furniture and accessories.
In combining the two, Hunter and Bloom was born.
The friendly and enthusiastic young couple have created s welcoming and fabulous space that offers something new and fresh to the town of Clonakilty and West Cork. By focusing on sustainable, high quality products that are made to last, they are also doing their bit for the environment.
"Too many people buy cheap, throwaway goods these days so we're trying to sell products that will last much longer," says Megan. "Dried flowers for example last on average for two years as opposed to a few days for fresh flowers so make a much better choice for things like weddings and so on.
Although a lot of Sean's custom is wedding-related, he says a lot more people are starting to invest in their wardrobe. His ambition is to take the stuffiness out of suits and appeal to all men who enjoy combining style with comfort.
"A suit should be as comfortable as a pair of pyjamas if it fits you properly," he says. '"There are no rules, anything goes."
As well as offering a pick and mix option that allows customers to choose a selection of dried blooms and select the perfect vase to display them in, Megan is eager to add more furniture to the shop.
"We're loving it," share the couple enthusiastically. "The shop has been a great way to get to integrate into a new community, meet new people and Clonakilty is a great place to do business.'
Sean has a delivery of quality casual wear arriving shortly and Megan is awaiting a large homewares delivery in March so be sure to pop in if you're in town.
Hunter and Bloom, Ashe Street, Clonakilty. Open Friday to Monday 11am-5pm or by appointment 086 0673213.