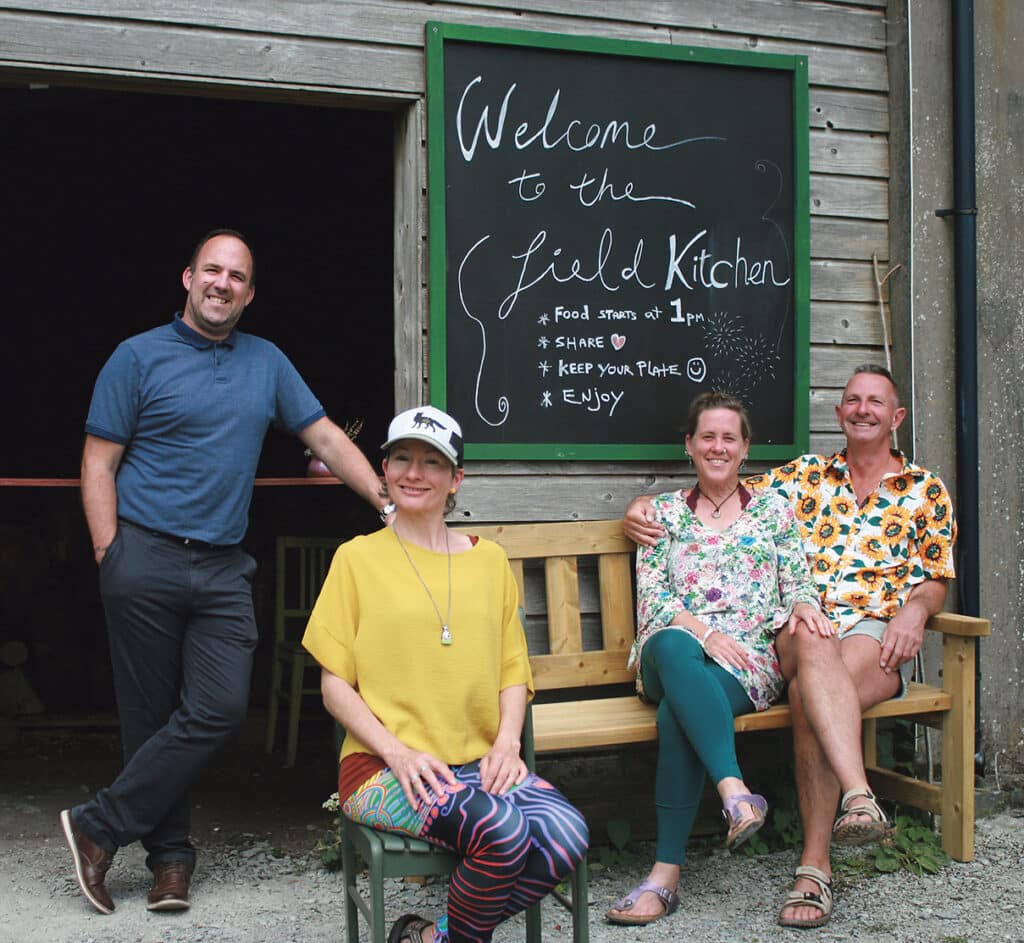 Just finding The Field Kitchen licensed restaurant at Camus Farm is part of its indelible charm. If you're lucky, with the help of Google Maps, you'll arrive at a boreen bordered by native hedgerows teeming with wildlife and on one side framed by the farm's veg beds. This marks the beginning of a wonderful culinary journey of discovery. "We debated whether to ask people to pick their own spuds on the way up, but we thought it might be taking it a step too far," laughs co-owner Deborah. Not an improbable request perhaps though when you consider the possibility of finding a physicist and an art therapist farming beef and growing vegetables together in West Cork! The Field Kitchen is a labour of love for husband and wife team Vic Sprake and Deborah Ní Chaoímhe who, like so many other less than ordinary persons visited West Cork and settled into the landscape. The couple bought Camus Farm over 15 years ago and over time have nurtured the flat green fields back to life, planting thousands of trees and native hedgerows on the 30-acre organic beef farm, creating the ideal habitat for West Cork wildlife.
Five years ago Deborah and Vic started thinking about sharing their passion for biodiversity and good food through the creation of a culinary experience like no other. In terms of from farm to fork, you will not get any closer than this; the vegetables and beef are literally a stone's throw from the table. While the project has taken a while to reach fruition, it has no doubt been worth the wait, gathering momentum in the most unlikely of times – during a pandemic. "It feels like the timing is really right now because of our outdoor space," says Vic.
This is a shared dining experience, outside during the current restrictions, but a fabulous indoor restaurant, which doubles as a gallery, awaits once indoor dining resumes.
The set menu of six dishes is seasonal and local. It's a feast where vegetables play the main part and the organic beef makes an important guest appearance. Expect to taste each of the ingredients: a recent menu included tantalising options like sourdough flatbread, Toonsbridge ricotta, chargrilled onions and wild garlic pesto. This was followed by 'chargrilled beetroots, puy lentils, St Tola goat's curd and salsa verde. Next up was the organic, homegrown, 100 per cent grass-fed, 30-day aged striploin of beef salad with potato, fennel, radish. Then it was time for the courgettes to shine accompanied by butterbeans, greens and gremolata. A date and walnut pudding served with crème fraiche brought a sweet finale to this banquet. "It's very much a vegetarian menu with really good beef rather than a token dish thrown in for the non-meat eater," says Deborah.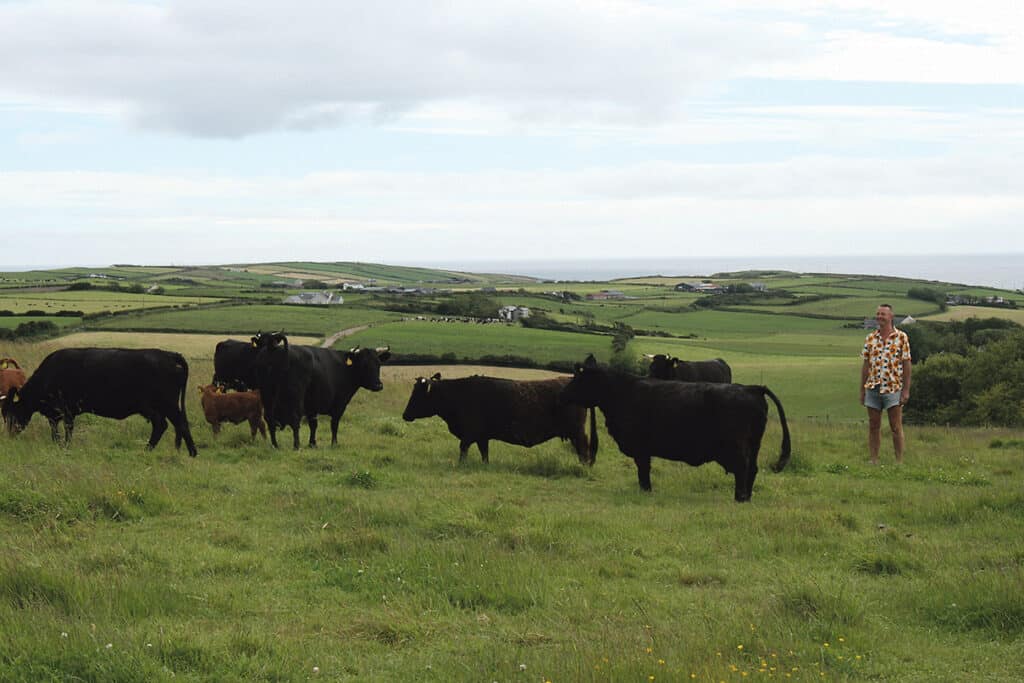 Bob Cairns is the man at the helm of West Cork's newest gastronomic experience. After moving from London, Bob built up his reputation in West Cork following a successful season as gardener-cum-chef at Glensallagh Gardens. He went on to manage the kitchen at Glebe Café in Skibbereen and most recently helped set up the menu at Connolly's of Leap. Bob's sous chef is Simon Kershaw, another well-known West Cork gourmand, who loves working with the bounty of quality ingredients on his doorstep.
Deborah and Vic have entrusted the running of the restaurant to Craig Scott and Nicola McCarthy. Originally from Skibbereen, Nicola worked in the US for many years and has extensive experience in event management. Through a series of wonderful coincidences, she connected with Camus Farm, which provided the opportunity for her to move back home. Craig has almost 20 years experience working in hospitality and is well known in West Cork for his calm and good-humoured approach to customer care. Most of the team are local and for some who live on the farmland, it's literally a case of to work through the fields.
"We're starting off gently but we have big ideas for the future with themed evenings and music events on the menu," shares Deborah.
For now the restaurant gates open at 6pm on Thursdays and Fridays, with food on the table by 7pm. Saturday and Sunday, it's entrees or a farm walk from 12pm with food on the table by 1pm. The set menu costs €40pps excluding drinks. No kid's menu: this is a one-for-all experience! Wine and beer lovers should be happy with the selection available. Smoking and vaping are not permitted on the farm. The restaurant is wheelchair accessible.
Please take note, rushing is not allowed. Take time to enjoy the beautiful natural surroundings and the food…it's West Cork at its best!
For bookings go to www.fieldkitchen.ie.