Packaging waste inevitably goes up a lot at this time of year, with January a peak month at Clonakilty and other recycling centres across West Cork. With consumerism driving climate change, recycling has an important role to play in relieving the pressure on our landfills, reducing emissions and increasing our quality of life. When Michael (Mick) O'Sullivan was growing up in Clonakilty, before our 'throwaway' society really grew teeth, recycling was a common household activity. Items were rewrapped in newspapers, glass milk bottles and other liquid products were refilled, shopping was placed in a basket instead of a plastic bag and holidays were to 'The Miles' and Inchydoney, not Malaga!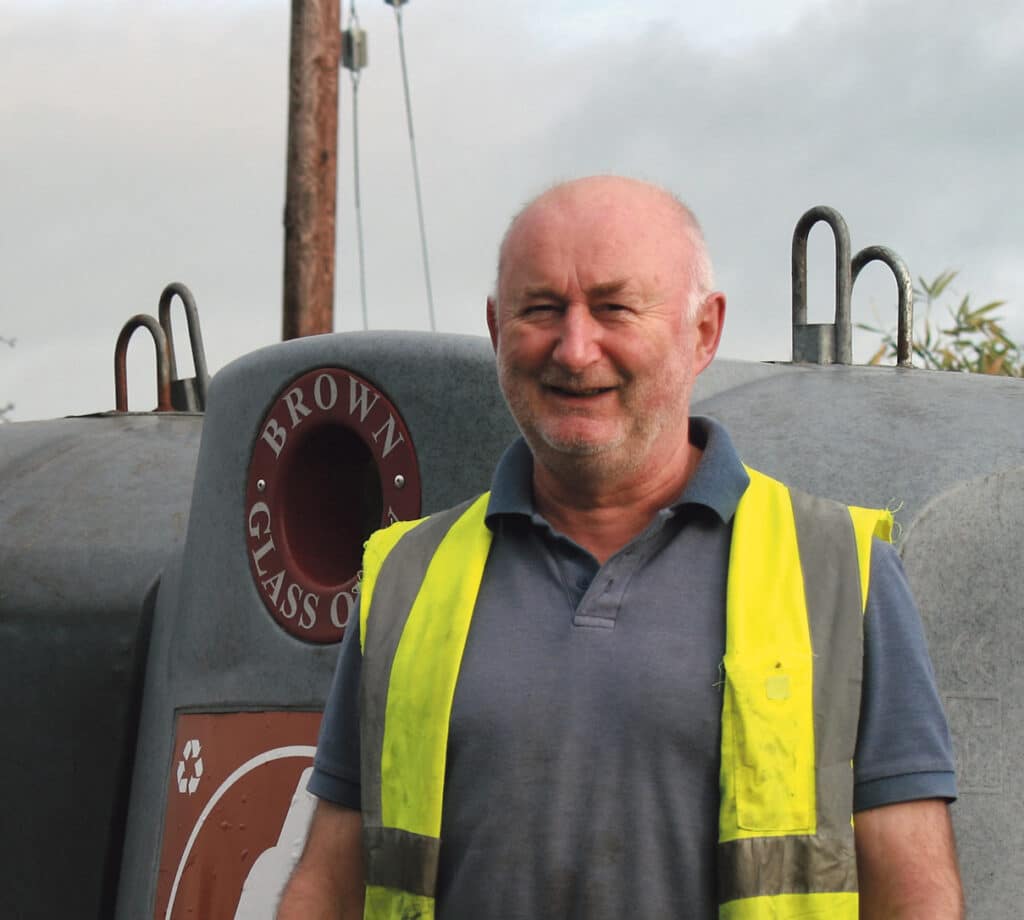 Today, with our planet in crisis and rubbish piling up, it's imperative that we protect our environment for future generations. In Ireland our reliance on plastic is incredible: we generate the highest amount of plastic waste in the EU and yet we're fourth lowest when it comes to recycling. We need to consume less, refill more, increase our recycling waste and also act more responsibly when separating it. 
Mick O'Sullivan has always had a respect for the environment. In fact, when he's not busy sorting through the recycling at Clonakilty Recycling Centre, where he has worked as a general operative since 2006, you'll most likely find him out birdwatching around Clonakilty Bay or trapping moths in his garden and at a few favourite locations near his home.
Moths are night-time pollinators and are crucial for birds and other animals with many bird species relying on caterpillars as high-value food to sustain their young, while other species, including bats, spiders and birds, consume adult moths.
Always a keen birdwatcher, Mick's fascination with moths grew after he attended a bioblitz in Glengarriff in 2012. He came home that night and told his wife he was building a moth trap. Now he has seven! He was also a co-founder, in 1989, of the West Cork branch of Birdwatch Ireland. On any given day, ideally with a warm south-easterly wind blowing species up from the continent, Mick will be out placing his moth traps in a few ideal locations on the cliffs around his home in Ardfield, trapping, identifying, photographing and logging species like the Scarce Bordered Straw (Helicoverpa armigera), Pearly Underwing (Peridroma saucia), Vestal Rhodonetra (sacraria) or Hawker Dragonflies to name a few. "It's an interest that keeps me sane," he says laughing.
Weekends away are organised around wildlife activities, as are his holidays abroad, – a portable moth trap packed safely into his luggage – which are usually taken high up in the Pyrenees; or in the Alps, where he can find up to 90 species of butterfly over 10 days. There are only 36 species native to Ireland.
With the increase in recycling and waste activity last year due to the pandemic and working conditions made difficult by Covid restrictions, Mick's moths provided him with a quiet respite from the manic pace at the recycling centre."
928 tonnes of recycling was collected at Clonakilty Recycling Centre in 2020 – an increase of 66 tonnes from the previous year.
"The past year and a half was tough going," says Mick "I think every shed, attic and garage in the country got cleaned out during the pandemic."
Throughout it all however, the operatives at Clonakilty Recycling Centre and in fact at all the recycling centres throughout West Cork provided the same calm, good-humoured and helpful service that they're so well known and appreciated for in the community. "We'll never see someone struggle," says Mick. "We're there to help if help is needed."
While contamination levels in cardboard at the Clonakilty recycling centre are very low, Mick reminds us that cardboard and paper has to be clean and dry so it can be recycled. The same applies to food cans and plastic, including soft plastic. 'Clean' is key when recycling.
Mick works behind the scenes sorting through the piles of recycling and keeping the recycling chambers free from obstructions. Items like 'compostable' cups, which should be placed in your food waste recycle bin, have to be regularly picked out of the cardboard.
According to the EPA, the average Irish household throws out just under one tonne of rubbish each year. Currently we are recycling just under 50 per cent of this.
Of the waste that goes to landfill, almost 40 per cent is organic waste, the majority of which is food waste. In landfill, your rubbish emits methane, a harmful greenhouse gas, far more potent than carbon dioxide, when it comes to the global warming effect.
"It's easy to feel disillusioned but if all do our little bit, we can collectively make a great difference" says Mick.
Research from WEEE Ireland shows that since 2019, just 33 per cent of end-of-life beauty and consumer electricals such as hair straighteners, shavers, instant print cameras, headphones and bluetooth speakers were diverted from landfill. That figure drops dramatically to just under 10 per cent for electronic toys including gaming consoles, action figures, e-scooters and e-bikes.
All of these electrical items, along with old electronic toys, can be returned for free recycling at your local authority centre rather than dumping them in household rubbish bins.
In the spirit of Christmas, this year consider reducing your consumption and recycling more responsibly. Reuse or re-gift items where possible and where not, then recycle. If our individual behaviour doesn't change, Christmas could look a whole lot different in 2050.