Two students from St Brogan's College, Bandon, tell Tommy Moyles that Irish farmers don't know enough about producing low emissions beef but they are open to learning.
Sarah Teape and Alison Darcy have carried out extensive research into the attitudes of farmers towards climate action and their knowledge of low-emission beef production methods. Their findings show that a comprehensive education programme is needed, helping farmers to understand the changes that they can make on their farms to reduce Ireland's carbon footprint.
The girls, who are both in first year at St Brogan's College, did the research as part of a project they have submitted to this year's BT Young Scientist and Technology Exhibition, which takes place from January 12 to 14 2022.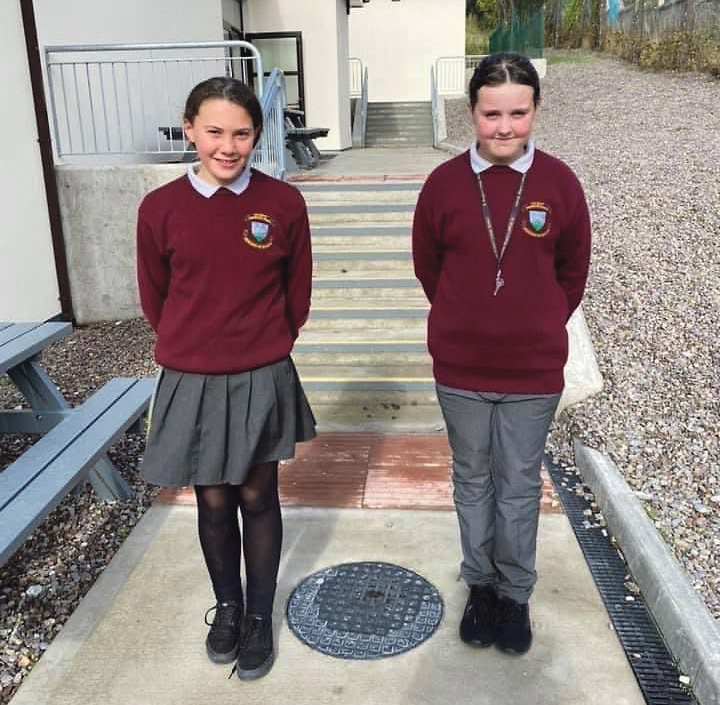 'Unlocking the potential of Low Emissions Beef through Education' is the title of their project. Sarah says they chose their topic because they wanted to focus on climate action in a farm context.
"We are proud of the strong tradition of beef farming in the Bandon area. We want the Irish family farm to survive into the future, but we know beef production must be sustainable for that to happen," said Sarah. "We wanted to find out how much farmers knew about producing low emissions beef, and how open they would be to learning more about it."
Alison said their findings were encouraging.
"We surveyed 100 farmers, and we were delighted to see that over 87 per cent of them were willing to change their farming methods in the next five years. While the survey showed low awareness of some types of farm practices which can reduce carbon footprint, many of the farmers have already begun to study sustainability. It's clear that they have an eye to the future, which is great news," she said.
Following the comprehensive study, the girls have a number of recommendations from their research.
• A comprehensive plan should be put in place to educate and encourage farmers, including part-time farmers, and to enable systems of farming to become more sustainable and profitable. This plan must encourage engagement from farmers and a financial incentive should be put in place to ensure the farmers get the support required to bring about sustainable change to their business.
• Beef farmers need to discuss and plan how best to reduce emissions by getting their animals to slaughter weight earlier. The grass-based system, excellent quality silage, regular weighing and providing concentrates only when necessary should be emphasised.
• Genomics and information on Star rating is complicated and constantly being upgraded. This needs to be explained/educated to farmers in a clear and informative manner for meaningful change to happen at farm level.
• A more detailed study done on the role of beef processors in encouraging beef farmers to farm in a more sustainable manner. The current advantage club and twenty-twenty are only token gestures and no meaningful change is happening as a result of this.
• The carbon footprint of each farm should be measured, and each farmer should receive individual support to ensure they can put a plan in place to reduce emissions.
• Reducing emissions on farms requires several pieces to the jigsaw including multi-species grasses, fertiliser use, water usage, energy reduction, animals' welfare, and disease prevention. Education to ensure farmers are aware of all the parts of the jigsaw is essential. Reducing emissions is not an information issue, it is a communication issue and awareness of this is vital so a plan can be put in place to ensure the targets set are met.
• Farmers are farming based on tradition and they need to be educated on how to produce beef with low emission that will allow farming to be sustainable for the future and to enable future generations to live on the land in a sustainable and profitable way.
This year's BT Young Scientist and Technology Exhibition takes place from January 12 to 14 2022. There's a strong future for farming in West Cork as long as Alison and Sarah are involved.