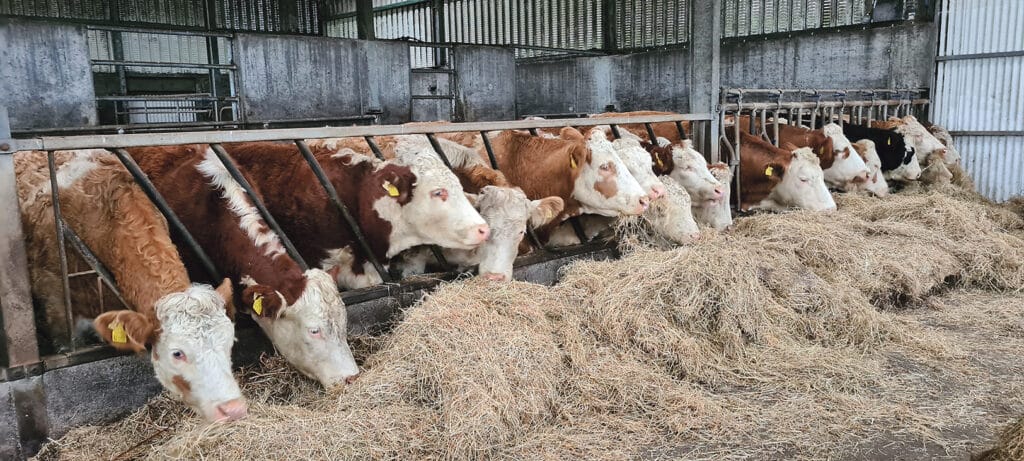 Farm life is relatively straightforward at the moment. The cows are getting a combination of hay, silage or straw over a week. It sounds more complicated than it actually is. They get a bale of silage in front of them, which usually lasts a pen four to five days and they get a bale of hay or straw on the other days. The reason for the mix is so they don't get too fat. They are in good condition at the moment; so only require a maintenance diet. The in-calf heifers have access to silage more often, as they are still growing.
De-worming
About half the cows due to calf had a high reading for rumen fluke, so they were dosed for that in December. Rumen fluke is a parasite that is about the size of your small fingernail and lives on the stomach lining. Cows affected by this parasite tend to be thinner than usual. To check for the presence of these and liver fluke and stomach worms, I take dung samples and get a faecal egg count done in a lab. If the results are low or negative, they don't receive any treatment. Collecting the dung samples is definitely one of the less glamorous jobs on the farm but in my view it's one of the most important.
Ration
The young cattle are on silage-only diet when it comes to roughage. The bulls going for finishing receive ration and the smaller heifer calves that won't be retained for breeding are getting some too but they will be weaned off it from early February. They get 2kg per day while those that will be going to the bull next year are only getting that amount once a week. It makes them easier to handle when they go out to grass but they don't need it from a growing perspective, as they performed well over the summer. The smaller ones will be going out to grass by day once weather conditions allow and the January TB test is in the rearview mirror. The mild weather since November has seen good grass growth. With temperatures running from nine to 12 degrees most days and grass needing at least four degrees to grow, there is now a good cover across the farm.
I try not to be pessimistic with the weather but I know nature has a great way of balancing itself out so there's bound to be some few weeks between now and May where the weather will be too cold, too wet, too dry or too windy. We'll just try and make the most of the grass that is there now.
Artificial fertiliser prices
That is sure to be the same in most farms across west Cork…This year perhaps more than any other. Artificial fertiliser prices have doubled since last year and last year was viewed as an expensive year for fertiliser. For example a ton of Urea which is 46 per cent Nitrogen would have cost in the region of €450 in 2021 and is now selling for between €890 to €910/ton. The danger in dealing with the market is that prices fluctuate and could catch either farmers or merchants out. In a number of cases farmers are recommended to take out loans to cover the fertiliser if they really need it. If a merchant or co-op stocks up on fertiliser at current prices and the market plummets there is a danger that they would be liable to lose millions and the situation is now at the level where that risk is too high to take.
Soil
Farmers will have to become far more strategic in their use of fertilisers, at least those who use them will; organic farmers are in a much more comfortable position. Indeed the fertiliser price situation could see organic conversions become more appealing. For those who wish to stick with what they are used to, completing soil testing should be the first step. That will tell you if the soil pH is optimum, usually between 6.2 to 6.5 is where you need it to be. Lime can be spread to correct it if it is below this level. Soil testing will also tell you what index the P (Phosphorous) and K (Potassium) levels are at. If they are at index three or index four, then those elements are generally not required or if they are should be spread at maintenance levels only.
I'll have the first of two TB tests near the end of January following the discovery of two reactors in the annual test in November. There was a bit of good news in that they killed out without any trace of TB. It's frustrating because those cows are no longer here but a relief that it wasn't actually TB.
Something I noticed throughout 2021 is that when it comes to agriculture, time on the farm spent doing jobs is almost therapeutic. I was planting trees in late December and it was a refreshing change from trawling through all the policy and regulation that came our way in 2021. There's sure to be much more policy changes and proposals come our way this year, so I won't be putting the spade away just yet.