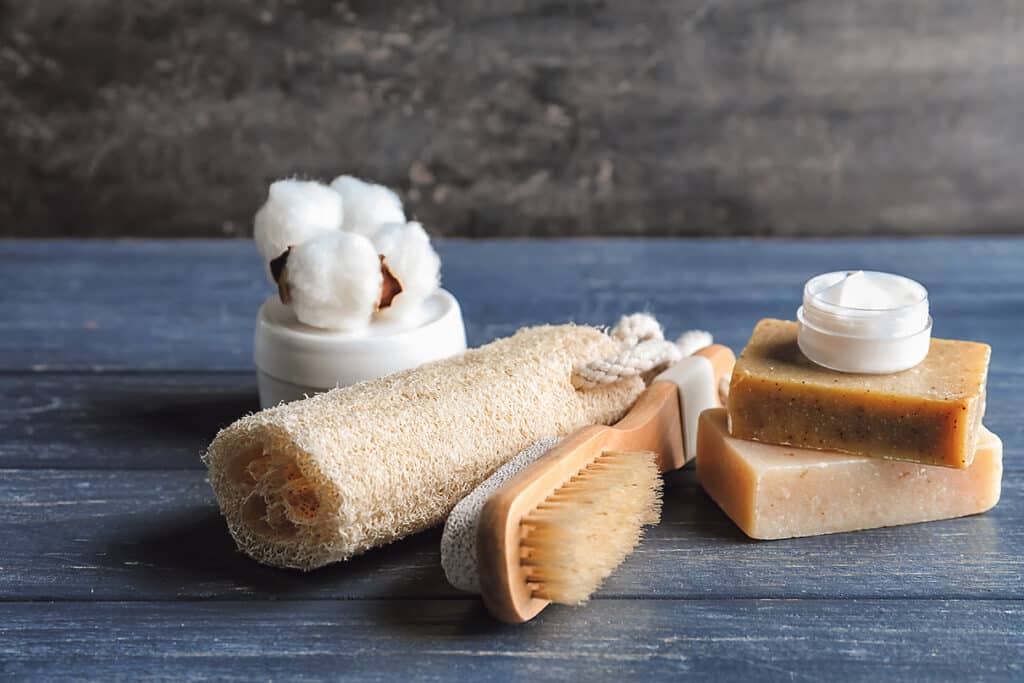 One of the first things I did when I started my journey to a more sustainable lifestyle was to look at the consumption of plastic items in my daily life. Initially invented to 'protect the natural world from the destructive forces of human need'; the revolutionary material that we now call plastic came to life in the late 19th century to offer a substitute to ivory in the creation of billiard balls. Throughout the last century, this versatile material offered inexpensive substitutes to natural resources such as wood and metal, and we can't deny how it has improved our lives for the better…medical devices, sanitary food packaging and computers are all made of it. But plastic is now so ubiquitous that it can be found literally everywhere in the world, littering sites of natural beauty, polluting our oceans, clogging drains in cities, and finding its way in our drinking water in the form of tiny particles.
It didn't take me very long to realise that most of my personal hygiene products came in plastic packaging. The first two things I did were to switch to soap bars instead of using shower gel, and to swap my plastic toothbrush for a bamboo one. We are spoilt in West Cork with many artisan soap makers to choose from, many of whom offer their soap bars unwrapped and free of unsustainable palm oil, as well as some other products like handmade shampoo bars and natural deodorants. I have used a crystal rock deodorant for many years, having purchased my first one on a trip to Morocco, and replacing it ten years later with a crystal rock 'deodorant stick' as it wore out. These are made of natural mineral salts and are a long-lasting, effective protection against body odours. I swear by mine!
I would recommend not replacing items until they are completely unusable – there's no point ditching a pack of disposable razors if they are in fine order, but it will be worth investing in a good quality razor in the future, one with a metal handle and a top that allows you to change blades. There are many brands that claim that their disposable wet wipes are 'flushable' but these cause all sorts of trouble in wastewater systems and are indeed not safe to flush. As well as causing blockages in sewers, they contain microplastic fibres that will find their way into the ocean, causing long-term problems for sea creatures and the marine environment. Instead, you could get reusable face wipes, which are often made of cotton or bamboo terry towelling and are as effective for face cleansing and makeup removal as disposable wipes and cotton pads. I've never used nylon bath poufs because I've always used a washcloth to clean and exfoliate in the shower, but these could easily be replaced with a shower brush; or if you want a truly natural, biodegradable product you could opt for a sea sponge (a living organism found in rock pools and on the ocean floor) or a loofah, which is basically a dried out vegetable in the same family as the courgette and the squash.
I like to exfoliate my face in the morning and have tried a few homemade face scrub recipes over the years. There are hundreds of them to choose from on the Internet depending on your skin type, but I like this simple recipe made with sugar as the exfoliating agent – it's super easy to prepare and I find it effective at removing impurities on my skin. Just combine 30g of coconut oil and 60g of granulated sugar in a bowl and add a few drops of your favourite essential oil (I like to use lavender) and then place the mixture in a jar with a lid. I also like to make my own lip balm and other natural skincare products with herbs from the garden that I dry and then infuse in oils; combined with beeswax, the results are luxurious lifesaving ointments.
If you're keen on liquid soap to wash your hands at the sink, you can finely grate a soap bar to the equivalent of one teaspoon and mix it with 200ml of boiling water. Stir until the soap is fully dissolved (you may need to add a bit of water to reach your desired consistency), let the mixture cool down, and then pour it into a soap dispenser to use for everyday handwash. I use this exact same method with shampoo bars because I prefer a liquid texture to wash my hair, and although I haven't tried vinegar as a replacement for hair conditioner yet, I hear it works great with just two tablespoons in a pint of water. Cheap, cheerful, and plastic-free – maybe it's worth a try!
Something that is rarely talked about is the waste incurred by menstrual products. It's estimated that a woman will use between 10,000 and 16,000 disposable pads, tampons, and pantyliners in her lifetime. Think about it: if a pack of twenty disposable pads is used each month for the forty or so years of a menstrual life, plus the odd pantyliner, and bladder leak pads after a certain age, the numbers do add up! All these will end up in landfill or in the ocean (many women do not realise that tampons are not flushable), and when you consider that a pack of disposable pads is the equivalent of about five plastic bags, and that they contain all sorts of chemicals that manufacturers are not even required to list on their packaging, it makes it even scarier. The market for reusable menstrual products has exploded in the last ten years: menstrual cups (funnel-shaped cups made of silicon), washable cloth pads that snap tightly in the gusset of the underwear, or plain and simple period knickers – women now have the choice to switch to eco-friendly alternatives. It's just a case of being brave enough to try them. Will you do the switch?
www.seasidesquirrel.ie
@seasidesquirrel