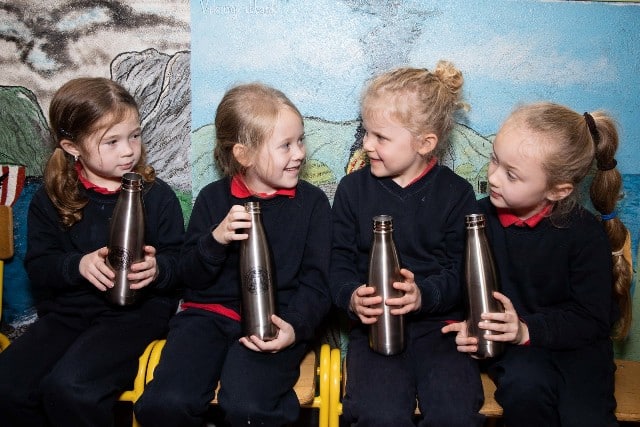 Cork County Council's Environmental Awareness Office is delighted to announce the winners of this year's Water Refill Station Competition for Schools. A total of 16 schools across County Cork have won a water refill station in the competition which launched in March.
A waste prevention initiative funded by Cork County Council, the project aims to reduce single use plastic bottle consumption by providing students and teachers with water stations where they can refill their re-usable bottles with filtered water. The refill stations help to reduce litter and change behaviour when it comes to single use plastics bottles, which are one of the biggest polluters. The drinking water refill station is a contactless machine, operated by a sensor which recognises when a bottle is placed underneath and counts the number of refills supplied.
The water refill stations were piloted in Canon Sheehan NS, Doneraile in November 2019 and are expected to bring about a reduction of 23,000 single use plastic bottles annually in that school alone. The level of interest from schools in Cork County was very high with over a hundred applications received. These included 30 schools from North Cork, 39 from South Cork and 36 from West Cork.
Applications were assessed based on criteria that demonstrated a need for a refill station and a potential to reduce single use plastics. The schools also needed to show previous environmental measures implemented and a commitment to raise awareness about the initiative in the school and in the community.
The winning schools listed below will receive a drinking water refill station at a total prize value of approximately €1,300. There were 9 primary schools winners and 7 secondary schools winners.
West Cork winners:
Timoleague National School, Scoil Chaitigheirn Eyeries village, Skibbereen Community School, SN Chóbh Chionn tSáile and St Patrick's BNS Skibbereen.
Mayor of the County of Cork, Cllr Ian Doyle stated "Cork County Council is delighted to be involved in such a fantastic initiative to reduce the use of single plastic use. It is very important that we teach our children the value of looking after the environment and sustainability. Providing such a facility in their place of learning teaches them this on a regular basis."