Gathering and walking is a lovely way to enjoy the mid winter bringing us up close and personal with native trees and shrubs. Sonia Caldwell of Kilcoe Studios shares some ideas on how you can use some of these as indoor decorations to expand beyond the much loved holly and ivy. If budgets are tight, using natural materials like greenery can transform your home into a winter wonderland without even having to buy a Christmas tree.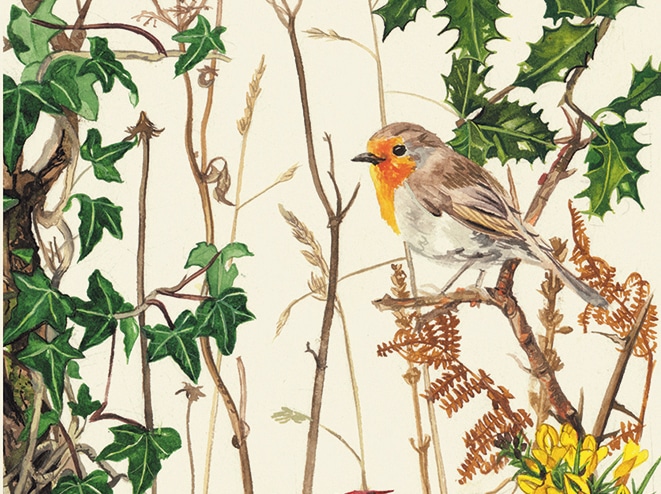 Alder (Fearnóg) – A tree that is often overlooked a bit, this is a great time to look up close at those lovely mini cones and catkins. These can be incorporated into a Christmas wreath or used to make a swag, which is essentially a well-crafted bunch of beautiful natural materials hung upside down and tied with a nice ribbon or something similar.
Willow (Saileach) – Often the willow that grows in the hedgerows gets cut back at some stage and will then send out long shoots which really is accidental coppicing! These are great for twisting into circles for wreaths – practice it a few times to get the hang of it to stop it from kinking. Twist a few together to make a more durable one. You can use this as a base to add lots of other bits, like greenery, berries or some shop bought bits or hand made decorations.
Take your branch – bring it into a circle shape but cross over with a good length left on both ends and start winding these around the circle – like many things it's hard to explain, you just need to give it a try!
Birch (Beith) – one of my favourite branches to collect at Christmas; its branches are so bendy and have such dainty twigs. If you twist these like the willow into a circle, you will get a much more rustic-looking wreath. Take the end branch part of your cutting and twist that around and leave the twiggy bits sticking out. You can keep doing this all the way around to get a big impact wreath.
Use the twigs in other ways in the house – like in a vase with decorations hanging from them.
Pine (Giúis) – If you have pine growing nearby you can just use some cuttings to decorate instead of buying a Christmas Tree. I tie sections to a large piece of rope (this gets kept each year with the decorations). Then you can drape this over doorways or up the stairs and wind around some Christmas lights.
Ivy and Holly (Eidhneán agus Cuileann) – needs little introducing – just collect and decorate!
Dried flower heads – Wander your roadways and fields and see what dried flowers are still intact and have not been battered by wind and rain. The Umbellifers (Hogweeds / Angelica etc) leave lovely star-like heads behind. Meadow Sweet and Loosestrife, also Nipplewort, can be beautiful too. These can be used in a winter dried arrangement, or you can dip the tips in silver, white or gold paint. I prefer this to spray paint but that can also be used.
Bracken (Raithneach Mhóir) – Dried bracken can also look very dramatic in a winter dried flower arrangement.
Cones and Berries – Many berries are well gone by Christmas – but you might find the odd bit of hawthorn or maybe some rosehips to add colour. Fir cones can of course be used in multiple ways, the limit is simply your own creativity!
Once everything is in, bring out your silver, gold and coloured decorations and add that finishing touch of colour and magic. Better still, get making your own bits like hearts, doves and stars from old felt pieces, recycled silver packaging and metals or paper and card. Or go to the local craft fair and buy from the craft makers!
Christmas and New Year Workshops at Kilcoe Studios:
WILLOW STARS AND BULLRUSH ANGELS with Rosemary Kavanagh (basket maker). Saturday, December 3, 11am-1pm, €40, (Book both workshops for €70). Willow stars – learn the techniques of weaving and working with willow and leave with a beautiful woven willow star. 2.30pm -4pm, €35. Bullrush Angels – weave your own Christmas angel from river bullrushes and hedgerow plants and learn some of basic fibre arts techniques.
STRAW CRAFT FOR CHRISTMAS with Sonia Caldwell. Sunday, December 4, 2.30pm-5pm, €35. Stars and Spiral straw craft – Create your own beautiful Christmas decorations using the delicate material of Straw and using traditional craft techniques.
TALK ON WREN TRADITION AND STRAW BOY MASKS
Thursday, December 8, 7pm-8.30pm. Free. Talk and discussion about the 'Wran' traditions in Cork and beyond and a demonstration on making a straw boy hat. Please come to both learn and share your old memories and stories and also come to discuss the practice of the 'Wran' in Cork today.
2023 SPRING WORKSHOPS
BEGINNER'S DRESSMAKING with Tamsin Blackthorn, Tuesday evenings. Including how to use a pattern amongst other techniques.
GROW YOU OWN WILLOW TALK with Rosemary Kavanagh.
WEAVING WITH RUSHES with Sonia Caldwell …and more
Please enquire more on events@kilcoestudios.com or 087 0667871. More information soon on our website and in Westt Cork People in January