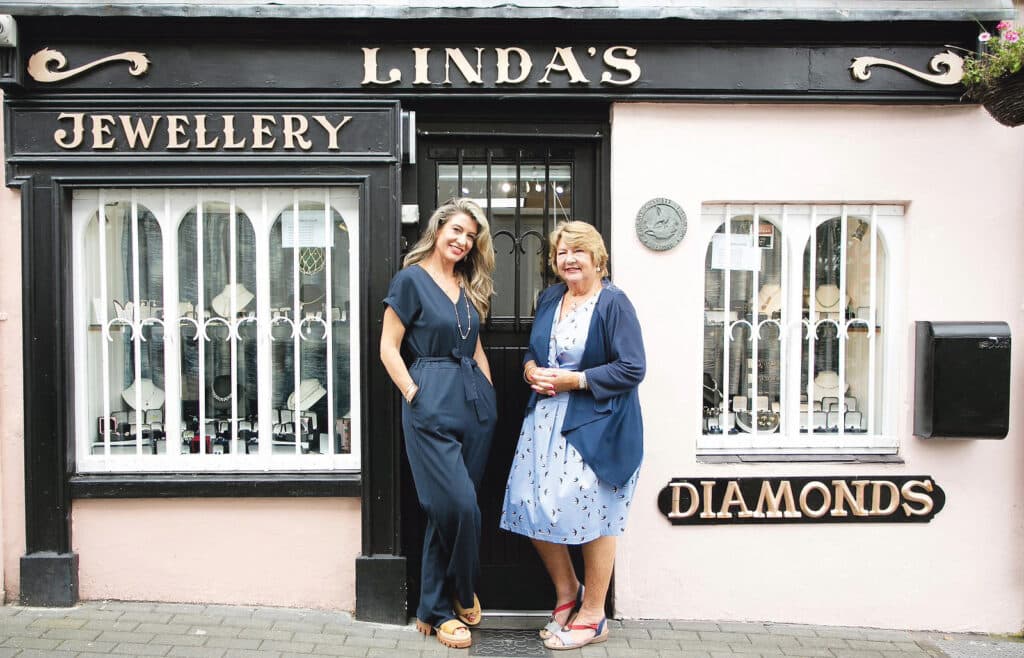 Linda's of Kinsale is a family-run jewellers that carefully curates collections of the best vintage and contemporary diamond jewellery. They also specialise in graded certified diamonds, rare coloured stones, old gold and signed designer pieces. Laura Jane Walsh shares how the business was born from her parent's passion for antiques and jewellery and how, in the 1970s, people would travel from far and wide to visit Castle Antiques in Killavullen, North Cork.
Laura Jane and her siblings grew up in the castle where the business started and their involvement from the very beginning kindled a love for antique jewellery in all of them. "My job when I was a little girl was to unlock all the antique showrooms in the mornings and lock them evenings," she shares. "Each large wooden Georgian door had a different key. I knew every key for every door."
Laura Jane also fondly remembers making toasted sandwiches and tea while the jewellery dealers sat smoking and examining diamonds at the table in the family's large chaotic kitchen.
"From a young age I helped my mother with antique jewellery. I adored the huge, coloured stones like ruby or aquamarine. I was creative and appreciated the work and care that goes into making antique jewellery. Each vintage item is like a work of art. Hidden details delight and each piece is different."
Many years later, when Laura Jane's father died, the family moved the business to the historic seaside town of Kinsale.
"Our clients are mostly Irish," she shares. "They come from every walk of life, from plumbers to Formula One drivers to nurses.
"Engagement and wedding rings are our biggest sellers, but vintage gold chains and bracelets are always popular. We see engagements, anniversaries, deaths, and birthdays. The circle of life."
According to Laura Jane, Irish men are very generous and spend more on an engagement ring than their European counterparts! "By a long shot," she adds smiling.
Like any small business, they of course face challenges. "Trying to hold your own against large corporations and branded goods is a challenge. And as costs rise, this gets difficult to do," says Laura Jane. The other challenge is the increase in buying online. But this also brings challenges for consumers. "If you buy extremely good jewellery online, there is no come back if you have problems later," emphasises the jeweller, whose advice is to buy the very best for your money. "If you buy good jewellery, it will hold its value," she shares.
"I do love what I do. Fine jewellery fascinates me."