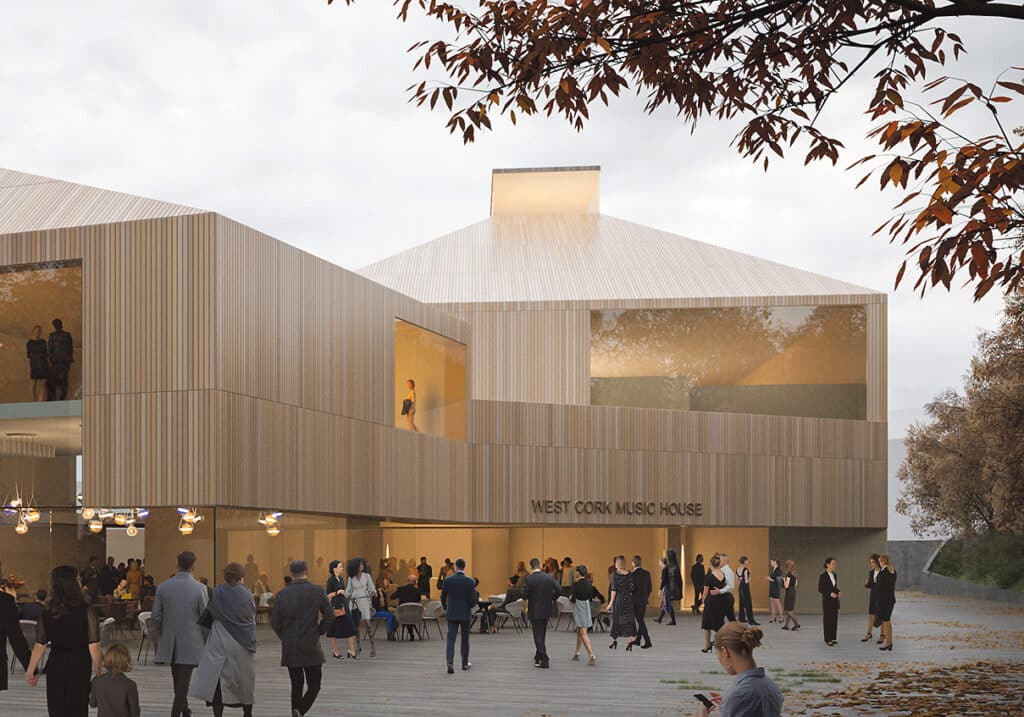 Bantry is poised for an exciting development of a music centre with world-class performance and educational facilities. The project will be led by the non-profit arts organisation West Cork Music.
"For a long time, we have realised that musicians and other artists need a physical space where they can develop their ideas, spaces where tuition, workshops, masterclasses and performances can take place all year round. More than that, the festivals need a dedicated home to guarantee their future," said Francis Humphrys, CEO, West Cork Music.
"Having high quality cultural and educational facilities within reach is something that the people of this area have long deserved. The music centre's impact on the night-time economy, extending the tourist season, and delivering expanded learning opportunities and much-needed convening spaces for the local community will be invaluable," said Aiden McCarthy, West Cork Music Board Member.
This month, McCullough Mulvin Architects, a Dublin-based practice working internationally and across Ireland, has been appointed as the architect for the project and will lead a world-class design team.
"We were delighted by the enthusiasm from the design community for this project. The quality of submissions and the teams behind them were extremely impressive…" said Francis Humphrys.
The first undertaking in the months ahead is a feasibility study, exploring a phased approach, initially prioritising the delivery of the education facilities. The study will be vital to ensuring the new venue delivers on the project's objectives and within the capacities of West Cork Music's fundraising over the coming years. Also vital will be the ongoing consultations with Cork County Council, as well as with Cork ETB around a potential new partnership for FET and music education delivery at the Music Centre.
"…This project has already begun to capture the imagination of the people of West Cork and those from farther afield who have come to love this magical place. We look forward to building even more momentum and creating something special for generations to come." said Francis Humphrys.
A Community Information Evening about the project, hosted by West Cork Music and McCullough Mulvin Architects, will be held in September in Bantry. Further details will be circulated in late summer. In the meantime, members of the community are welcome to call in to one of the upcoming Drop-in Days, when West Cork Music staff will be on hand to share information about the project. Drop-in Days are scheduled for Friday, June 30 and Saturday, July 1, 10-11am and 12-2pm (under the marquee tent outside St Brendan's Church, Bantry). No appointment needed – all are welcome.