The Museum of Song, an uplifting song collecting project, co-created by artists Tess Leak and Sharon Whooley, has now been expanded to include members of the Ukrainian community in West Cork. Mary O'Brien finds out more about this collaborative project.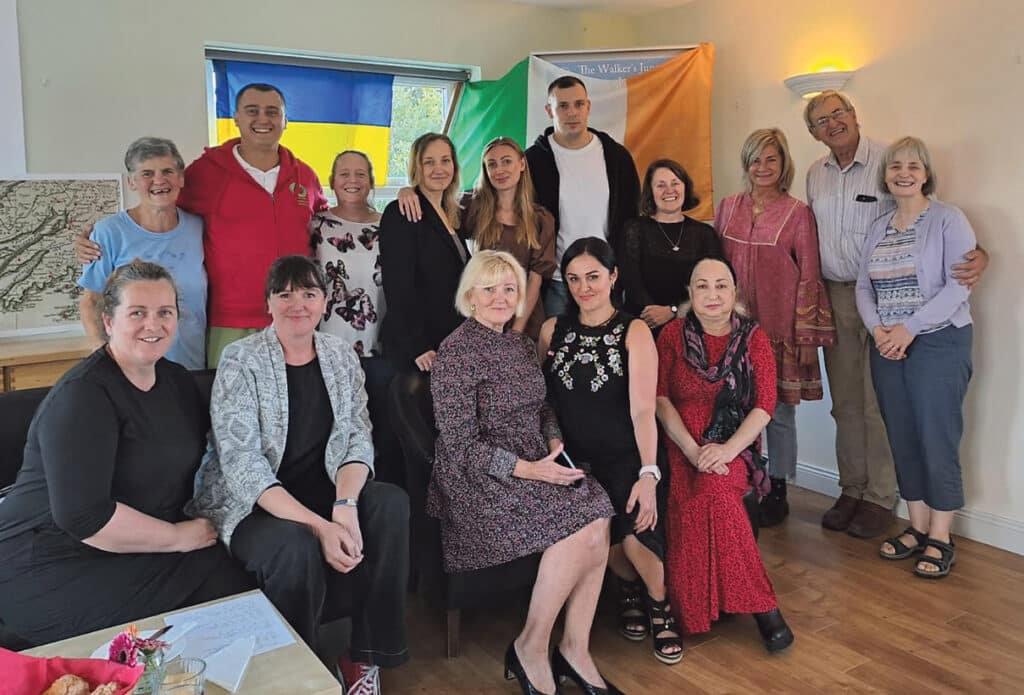 A Museum of Song Ireland and Ukraine, which debuted at this year's Drimoleague Singing Festival, will culminate in a special musical gathering in December that will bring Ukrainians based in Skibbereen and Drimoleague together with the local community choirs to share Irish and Ukrainian traditional folk songs, creating a bridge between both cultures through the powerful emotion of song.
A number of successful musical events and workshops have already taken place with the West Cork Ukrainian community as part of this REACH funded project, including a song sharing session at Drimoleague Singing Festival and at The Glebe in Baltimore and most recently a traditional Ukrainian headdressmaking workshop with local creative stylist Alice Halliday at the Top of the Rock Pod Páirc, Drimoleague.
Ivan Humeniuk, a Ukrainian translator working with the West Cork Development Partnership said the Ukrainian people involved in this project are "very happy to participate in it and share their culture".
"People are simply delighted with the emotions and positive impact that this project has on them," he shares.
Susan McManamon, Director of Drimoleague Community Choir says that meeting in song can be a great way to share and to find common ground. "It sometimes allows us to express and connect in a very meaningful way. As singers in Drimoleague, we look forward to exchanging and experiencing much-loved Ukrainian and Irish songs together."
The Drimoleague Singing Festival was delighted to collaborate again this year with the Museum of Song in a song sharing session involving the local community and their new Ukrainian neighbours.
Paul O'Brien, co-director of Drimoleague Singing Festival says: "The act of singing together and hospitality to visitors are two fundamental characteristics of Irish society and this event incorporated both in our coming together in the Pod Páirc at the Top of the Rock, Drimoleague. It was very moving and uplifting to hear Ukrainian songs being sung in that setting given the very difficult circumstances in which they find themselves and in response the locals sang a variety of Irish songs to give a flavour of our culture.
"With each song being so well-received, it confirmed that music is indeed a universal language and that of course the themes of traditional songs are the same the world over. It was a joyous occasion, and we look forward to repeating it again soon."
When they began this project a few months ago with groups in Drimoleague and Skibbereen, Sharon and Tess had no idea how much they would learn about the richness and beauty of the Ukrainian culture of songs and singing.
"We have been really interested to learn about the history and background of some of the songs, which are often so poetic.
"We are grateful to all our participants for sharing their songs with us so whole-heartedly and we are especially grateful for our translator Ivan Humeniuk because without his commitment and enthusiasm this project would not be possible."
Tess and Sharon would also like to pay tribute to O'Donovan Rossa GAA Pavilion Skibbereen, Top of the Rock Pod Páirc, Drimoleague, The Glebe, Baltimore, the Eldon Hotel, Skibbereen, the Drimoleague Inn, Drimoleague Singing Festival, Camilla Griehsel, Donna Treya, Teresa O'Sullivan, Danielle Daly, Liz Clark of Skibbereen Community Choir and Garda Bridget Hartnett who have been so supportive of this project.
Originally developed as part of the Arts for Health partnership programme in West Cork, the Museum of Song project started in April 2020 at the start of the Covid 19 pandemic, as a song collecting postal project, in response to the isolation of older residents in community hospitals. It has since connected with over 120 older people throughout West Cork; in towns and villages, on the West Cork islands, the valleys of Bantry and the Sheep's Head and Beara peninsulas, with funding from Creative Ireland, Cork County Council and the National Lottery. It was also expanded to collect songs from the Irish Pensioner's Choir in London. The beautiful resulting songbooks gather together the hundreds of songs collected, some well-known, others rare, and incorporates the themes of 'Songs of Our Mothers and Fathers', 'Songs of Leaving and Returning', 'Songs of Spring', 'Flower Songs', 'Love Songs' and 'Songs of the Land'.
The collection will be donated to the Irish Traditional Music Archive in Dublin in early 2023, where people in 100 years time can find out what songs people in West Cork were singing today!
Sharon and Tess are currently finishing the 'Museum of Birds and Beasts', a folklore collecting project in collaboration with residents in five community hospitals, master basket maker Joe Hogan, the National Folklore Collection in UCD and the Museum of Country Life in Mayo. The project is part of the Arts for Health partnership programme, West Cork and was funded by the Arts Council of Ireland. The exhibition 'The Museum of Birds and Beasts' will take place in Cork County Library Headquarters from January 26, 2023.
Tess Leak is an artist and musician who has worked with the Arts for Health Programme in West Cork for the past twelve years. In 2021 she was part of the Irish Hospice Foundation's Compassionate Culture Network, developing the project 'Haiku Shelter' for participants in Cork County.
Sharon Whooley is a co-director of Harvest Films working as writer, producer and director. Most recently, she has produced Songs of the Open Road (2022) on singer Thomas McCarthy for RTÉ and Clouded Reveries (2022) on writer Doireann Ní Ghríofa which is in cinemas now.
Museum of Song Ireland and Ukraine was funded under SOLAS REACH 2022, through Cork ETB.