Gráinne Murphy is a West Cork-based writer. Her most recent novel, Winter People, was published in October 2022 by Legend Press. It follows The Ghostlights (2021) and Where the Edge Is (2020), both published by Legend Press. She also loves to read and below are her favourites from this year.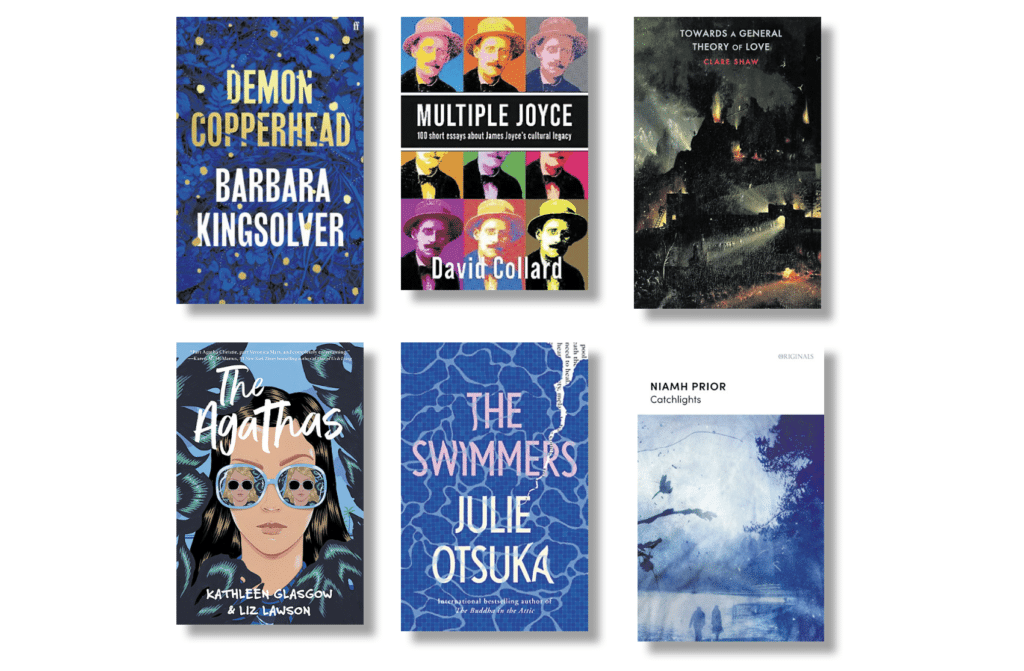 Demon Copperheadby Barbara Kingsolver (Faber, 2022)
Every new Barbara Kingsolver book becomes my new favourite of hers. This latest is a re-telling of David Copperfield – the parallels are very well drawn but you absolutely don't need to have read/remember the original. In this version, Damon 'Demon' is born into a rural Appalachian community characterised by poverty and violence, and comes of age during the growing opioid crisis. This is particularly good on the urban/rural divide – what Demon's friend Tommy divides into land economy versus money economy – and the ownership of history. A clear-eyed social commentary that never descends into condescension or preaching, this story is entirely alive and entirely furious about social inequality.
Standout line: 'People love to believe in danger, as long as it's you in harm's way and them saying bless your heart.'
The Swimmers by Julie Otsuka (Fig Tree, 2022)
This is in two distinct parts: the first introduces us to a group of swimmers at a local pool who know nothing about one another beyond their pool behaviour. When a crack appears in lane 4, an unease begins to grow about what it might mean. The second part focuses on Alice, an older swimmer who is slowly losing herself through the cracks in her memory.
This is the clearest, cleanest writing, full of the universal truth that we are all the same in our fear and our love, our dependence on memory and each other, and yet that memory and dependence makes individuals of us all. My favourite read this year.
Standout line: '"Up there," she says, "I'm just another little old lady. But down here, at the pool, I'm myself."'
Catchlights by Niamh Prior (JM Originals, 2022)
Criss-crossing in time and place, these standalone chapters contain characters who interlink in small ways, rewarding the reader with a glimpse of familiar characters on the margins of other stories. In one story, a man buys a second-hand camera lens that superimposes images from the past on every photo he tries to develop; in another, a broken-hearted woman travels to India and finds herself unable to leave her hostel; in yet another, a plastic surgeon and his wife search for a more perfect love. At the centre of it all is a couple who met while working in a post office. This is delicate, unsparing, often strange, always compelling.
Standout line: 'Big time doesn't exist in here. Only small time.'
Luckily for us, Prior knows that small time is where all the good stuff lives.
Multiple Joyce
by David Collard (Sagging Meniscus, 2022)
Part research, part rabbit-hole, this is a collection of 100 essays on various Joyce and Joyce-adjacent themes. The essays are all short and chatty, covering topics as wide-ranging as the website where you can insert a paragraph of your own text and see which famous writer's style you share, how long it takes to read a book (Finnegans Wake is somewhere between 42 minutes and eternity), and Joyce's dislike of dogs ('they have no souls' he claimed), via limericks, famous birthdays, and Joyce-related action figures. These are funny, joyful, smart and often delightfully smart-arse.
Standout essay: #50, where Collard talks more personally about his parents joining the Jehovah's Witnesses and the impact on a teenager of living in the certainty of the impending apocalypse.
Towards a General Theory of Love
by Clare Shaw (Bloodaxe Books, 2022)
In the 1950s, Harry Harlow's infamous experiments on social isolation and bonding kept baby monkeys alone in cages with wire-covered 'mothers' that provided only food, or cloth-covered 'mothers' that provided only comfort; the monkeys spent more time with the cloth mothers, proving the need for comfort and contact. Many of Shaw's poems in this collection use a central character, Monkey, to explore what we need as humans to thrive and feel safe, and what happens when relationships malfunction or end, or we reach out and do not find what we need. These are poems of love and grief, of hope and missed connections.
Standout poem: 'Love as a SatNav'
'It is not infallible. Sometimes, it takes you
up entirely unsuitable roads: it leaves you
on the edge of a drop'
The Agathas by Kathleen Glasgow and Liz Lawson
(Rock the Boat, 2022)
When Brooke Donovan's body is found in the water in pretty Castle Cove and a suspect is taken into custody, only lonely, troubled Alice and secretive outcast Iris think the police have got it wrong and begin an investigation of their own. This captures the teenage world very well – the social layers, the dramas and worries, the tension between being seen and being invisible, and the real friendships that make everything alright.
Alice is obsessed with Agatha Christie and quotes from her books are used throughout to set the tone, while references to Veronica Mars and Riverdale make the authors' more dramatic intentions clear. Adult readers will want the girls to be more alive to possible danger, but my daughter had no issue with them taking matters into their own hands.
Standout line: 'Miss Marple wouldn't take this crap and neither will I.'