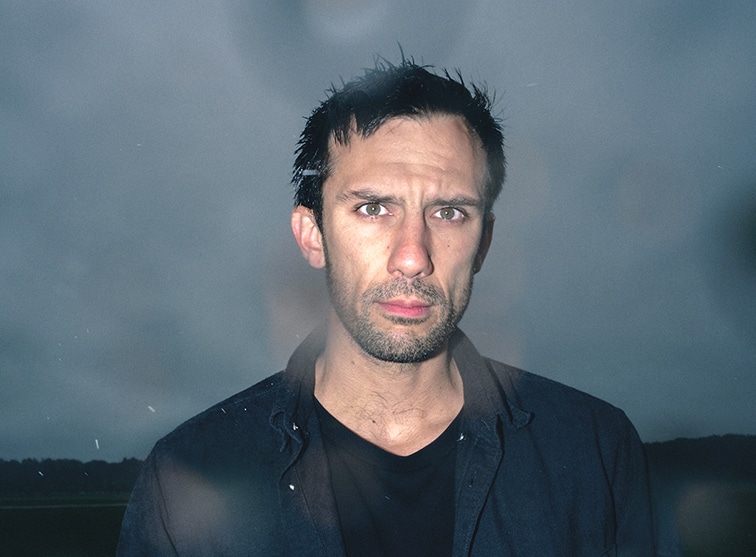 Brian Dillon AKA 'The Line' is set to perform at Connolly's of Leap on November 19 to promote the release of his brand new album 'Red Blood Cells and Righteousness' – a collaborative project with various Irish musicians. Lauren Guillery meets with the Tipperary musician to find out how the album came about.
A classically-trained pianist, Brian Dillon pursued a Music and Arts degree at Maynooth University followed by a Masters in Sound Art at Queen's University Belfast, and now teaches audio production at the British and Irish Modern Music Institute (BIMM) Dublin. No stranger to the Irish music scene, Dillon is part of the five-piece experimental electronic outfit 'Meltybrains?' and plays keyboards in Talos's live shows. A sound artist and designer, Dillon has composed for dance and theatre shows and is an integral part of the Dublin Laptop Orchestra – a collective of musicians that presents site-specific performances to art galleries where it brings 'theatricality and physical presence into electronic music performance'. Brian also produces records, having worked on the debut album for contemporary folk harpist BR​Í​D​Í​N last year, and currently putting the final touches to Loah's debut album.
In February 2020, Brian released his own album 'Matter' under moniker 'The Line', and though there were plans afoot for gigs, the untimely world pandemic put a stop to everything the musician had in the works. "It was a project close to my heart and my first solo release, and I felt like I didn't get enough out of it." And so 'Anti-Matter' was re-released the following year accompanied with beautiful greyscale artwork in the form of an A3-size 'album map' and an A5 booklet or 'listening guide'. Brian explains that he wanted to explore an alternative way of engaging with music. "I really find the passive engagement that streaming encourages people to have with music has a lot of downsides. Releasing some kind of engaging object with the album forces you to connect with it, so you're not scrolling on Instagram with your headphones on."
The collaborative project for the upcoming release 'Red Blood Cells and Righteousness' isn't as straightforward as one would expect. Originally, Brian had composed a 35-40 minute sound art piece entitled 'White Blood Cells' inspired by Irish writer Julian Gough's novel 'Connect', which led him to explore ideas of postmodernism, the Gaia Hypothesis, and Hegel's philosophical writings. "Gough discussed the idea that human beings are like blood cells, moving autonomously through a much larger ecosystem, serving a much larger power without ever realising that's what they are doing", he explains. "'White Blood Cells' discusses concepts from a geopolitical standpoint: the importance of global supply chains and the lack of respect shown towards them by the average Westerner," he goes on. "'Red Blood Cells and Righteousness' is kind of exploring the same themes, but it's a more personal record – the songs came from personal discussions and personal relationships with the collaborators."
Brian Dillon approached his favourite Irish musicians to work on the upcoming release. Hence artists like Limerick rapper God Knows and MC MuRli, Sarah Corcoran from indie-rock girl band Pillow Queens, Caoi deBarra of Wyvern Lingo, Daniel Fox from noise rock outfit Gilla Band, Eoin French of Talos, Dublin singer-songwriter Sorcha Richardson, soulful singer Loah, and a few more all took part in the project. The intention for the record was for the creative process to reflect the themes of community, collaboration, and connection. "Communal values are the most important things that we have in this life, and 'the myth of the individual' and the pursuit of personal gain and adulation has caused us to forget this," he explains. Social media too, plays a huge part in glorifying the individual. "Initially Facebook was community-based but Instagram is all about individuals. You don't have friends anymore, you have followers," he clarifies. "All the language around it and the format of it is really competitive and I think it's pretty negative ultimately, the way it makes you think about the world. I was thinking about how best to combat that with music, and I thought I'd make an album that's about things which are important and positive and good, like community, family, and faith."
While The Line's previous release 'Matter'/'Anti-Matter' was very much a prototypical bedroom producer approach, where Dillon sat in a room on his own for days on end, "a lonely and isolated affair" as he puts it, the plan for 'Red Blood Cells and Righteousness' was entirely different. Armed with monitors, an audio interface, a couple of microphones, headphones, and a laptop all tightly packed in a flight case, Dillon brought his portable studio to the other musicians' house or studio, and together they started the process for the album. "Every track was kind of written in a day", he shares. "We'd start with one to two hours long conversation about the kind of themes I was interested in exploring. I thought that was a nice ice breaker and a nice way to set us up to make music", he continues. "We did that for an hour and then we'd write a track for between three and six hours. Then I'd take it away to my own studio and clean it up. The process was about going in and trusting myself and the other person, and being happy with what was made in that time."
The album is about to be released on the Strange Brew label and consists of thirteen tracks, which are all very different from one another and unlike anything Brian Dillon previously released. The collaborations really elevate his work, as is evident in the first single 'Patience of Saints' with hip-hop artists God Knows and MuRli and the second single 'Communion', which stars Loah and her sister Fehdah on vocals. Dillon hopes listeners will get the message he and the artists on the album are trying to come across – merely that values sometimes considered old-fashioned are positive things, and that they have more merit than individualism, competition, and endless consumption. "This album is dedicated to playing a small but significant role as a part of a world so much bigger than any of us are willing to admit," he reveals. "After all, maybe we're all just blood cells, swimming through the veins of the Earth, serving a much higher function."
Brian has mixed feelings about releasing his music on vinyl, but the artwork, consisting of notebooks and prints of old family photos, will be up for sale along with T-shirts at gigs and on his Bandcamp platform. There are so far four gigs confirmed for the upcoming tour, including the Roisin Dubh in Galway on November 18 and Dublin's Sugar Club on November 25. For The Line's appearance at Connolly's of Leap, it will be a pared back version of the release. "I've got a bunch of keyboards and a drum machine, which would be the brain of it. Certainly, for the Dublin show I'm going to have quite a few guests from the record, hopefully I will have one or two for Connolly's. But some of it, I'm just going to be rearranging the tracks without the heavy production and singing them myself. I haven't gigged much as The Line except for the support tour with Talos", he admits "so it will be good to push myself to have a live identity and establish my name a bit more".
And though it's unclear if the sound art piece for sister recording 'White Blood Cells' will be released to the public, there will be an exhibition with photographer Mark McGuinness in February in a yet undisclosed location in Dublin.
The Line plays Connolly's of Leap on November 19. 'Red Blood Cells and Righteousness' comes out November 1 on Strange Brew