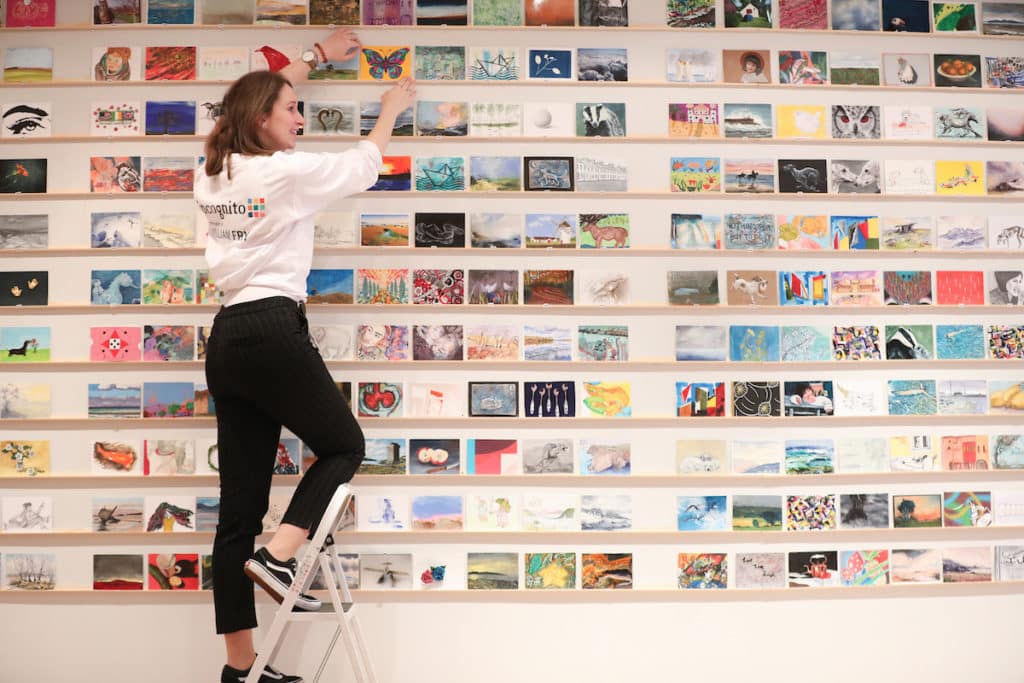 Thirty pieces of art donated by 111 Cork artists including
Munster rugby players, Billy Holland and The Project Twins
Artists from 10 countries, and 29 counties in Ireland have contributed work to the Incognito art sale of 1,812 original pieces of art for the Jack & Jill Children's Foundation. This year's Incognito collection is available to view on your screens at www.incognito.ie with the actual sale happening on Friday, April 24. Each piece in the collection costs €50 with the special twist of no one knowing the identity of the artist until after they buy the art and raises much needed funds for the foundation.
The Jack & Jill Children's Foundation has been forced to move the first part of its Incognito art sale online, as we couldn't have a physical queue outside The Sol Gallery. As well as the 111 generous artists from Cork who have contributed pieces, world-renowned names including Bruce and Patti Springsteen, Helen Steele, Paul Costelloe, Duda, Maser, Ruthie Ashenhurst, Bono have contributed also donated. There are 1,814 miniature pieces of art to choose from with works by well-known artists valued at many times the sale price, this is an amazing opportunity to become an owner of a prized painting or simply a piece of artwork that you love.
Another celebrity element to the collection is the Munster Rugby Squad who've had a Try at the art of painting and donating their work to the Incognito art sale, with some included in this first leg of Incognito, and others held over for Part 2 in The Lavit Gallery in Cork in September. Some of the squad creating art for care include; Captain Peter O'Mahony, Billy Holland (a Jack & Jill Dad),Joey Carbery, Tadhg Beirne Chris Farrell and Niall Scannell.
Nine hundred pieces of art have been set aside by the selection committee for a physical gallery display and queue outside The Lavit Gallery, Cork in September, as this was such a huge success last year with people queuing overnight to bag the best art first. The Jack & Jill Children's Foundation remains optimistic that the second leg of Incognito will be a physical gallery space, but meanwhile it's all systems go for Friday, April 24 and selling the first part of the collection.
Thirty-seven Cork children and their families benefit from, specialist home nursing care and end-of-life support provided by Jack & Jill. During this difficult time Jack & Jill support is more important than ever for these families. Sadly, due to the current crisis, there is massive funding shortfall with the cancellation of so many fundraisers and closure of shops, but the Jack & Jill Foundation are doing their utmost to continue the care and support throughout the county as needed. Home nursing and telephone support is being provided for families self-isolating.
Each of these original art pieces will be sold online to the public on a first-click-first-served basis for €50, — with a maximum of three pieces per person, the twist is that no one will know the identity of the artist until after they buy the piece. From Monday, the pieces can be viewed on www.incognito.ie ahead of the sale, which will go LIVE on April 24. The proud new owners of the pieces will receive them via post for a €5 postage and packing charge.
The event has proved to be a huge success and important fundraiser for Jack & Jill in the past and the charity is delighted to be in a position to bring the gallery to you at home this year. Each €50 purchase equates to 3 hours of specialist home nursing care for one of 340 Jack & Jill families. The foundation provides specialist home nursing care and support to children with severe neurodevelopmental delay who may never walk or talk or paint a picture themselves. We thank you for your support during these extraordinary times.
The Jack & Jill Children's Foundation is delighted with the continued support for this public arts initiative from William Fry, one of the charity's key corporate partners. William Fry's support of Incognito is just one part of the firm's commitment to the Jack & Jill Children's Foundation.
Speaking at the launch Carmel Doyle, CEO of Jack & Jill said, "We are delighted to launch the Incognito 2020 collection. Yes, we've had to move the sale online this year, but nothing can take away from the magnificent, high quality collection of art donated to Jack & Jill and we are so grateful. With artists from across the country contributing, this is just another wonderful example of how, as a nation, we come together to help others. The care provided by the Jack & Jill Children's Foundation is vital to the lives of the children and families we support and with each piece sold, three hours of specialist home nursing care can be provided. The standard of art is phenomenal and there's not one piece in the collection that's not worth €50 alone. We're hoping for another record queue for art this year, but this time online."
"Special thanks to William Fry and their staff who are so actively involved in Incognito for Jack & Jill. We greatly appreciate their continued support has meant that this is one fundraiser we won't be cancelling."
For budding artists, Incognito is a great platform to exhibit and sell their artwork side-by-side with well-known artists with less well-known artists from Ireland and all around the world, all of whom must strictly adhere to keeping their submission confidential until after the sale.