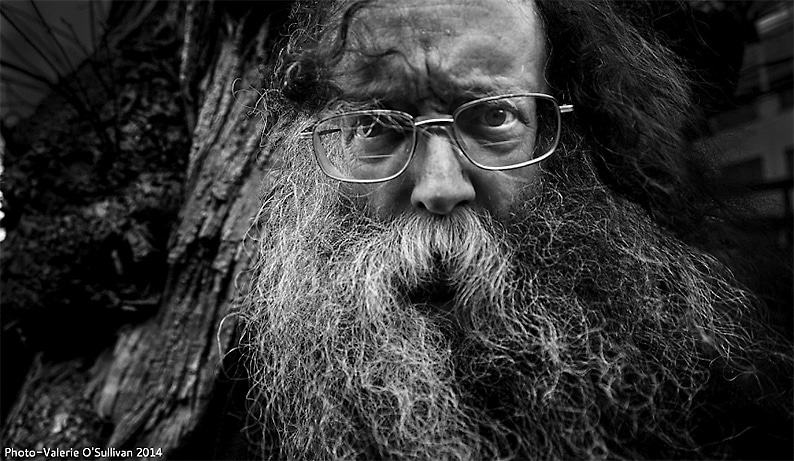 Although more at ease taking about fairies and folklore than Christmas, Ireland's favourite storyteller Eddie Linehan, who has a particular grá for West Cork where his stories are always given a warm welcome, shares a few almost vanished seasonal Irish traditions and digs a very special Christmas tale out of his story bag for West Cork People readers.
If you received an orange at Christmas, that would have been exceptional," recalls Ireland's favourite storyteller Eddie Linehan. "One woman told me that when she was a child, little chocolate men in the shape of hurlers was a great favourite. There was no Santa back then…the first time she came across him was in New York! She also remembers people using a hard turnip to hold the candle that was traditionally lit to guide and welcome the holy family on Christmas Eve." Eddie explains how if there was a child called Mary in the house, she had the honour of lighting that candle every Christmas. Goose used to be the bird of choice at Christmas in Ireland. "There were always three geese kept; one for Christmas day, one for New Year's Eve and one for January 6. If it snowed on Christmas Eve, it was said the people in heaven were plucking their own geese." In keeping with one tradition, Eddie won't be putting up the Christmas tree at home until after December 8.
"The following is the kind of Irish story that came out of respect for the animals and the night that was in it," says Eddie.
"On Christmas Eve, at midnight, the cows and the donkeys were supposed to kneel down in adoration of the baby Jesus and at that very moment they were supposed to have the power of speech. But nobody was to spy on them at that time…it was their private moment. If you spied on the animals, it would bring great misfortune on you. This story was told in many parts of Ireland.
Now there was this fellow, he was a bit of a drinker and a joker, one of the boys that you'd get around the bar in the pub, who believed in nothing except Guinness. When he heard this story about cows talking, he decided to prove it wrong. There were plenty of places he could go to hear them, so on that night, which was Christmas Eve, he went to have a listen.
And holy God, what do you think he heard at midnight: The cow and the donkey started to talk. It was the only time of the year it happened, so of course they had plenty of business to catch up on. The most important thing they had to talk about was that Jesus, Mary and Joseph were coming.
Well, this fellow nearly fell out of his standing. He ran for it, this man who believed in nothing, only drinking Guinness. He ran, stumbling, stumbling, and when he arrived home, it was thought he was home from the pub and drunk. He staggered in the door and fell around the kitchen. They asked 'What's wrong with you?' He answered 'hee awrw ger awww hee graawr!' They thought 'where did he get the money for that much drink?' and put him to bed to sober him up.
But in the morning he was as bad as ever! 'Hee awrw ger awww hee graawr'. They sent for the doctor then and these were people who could ill afford the doctor, but this was Christmas Day, and God almighty there was no way he would destroy Christmas day for them. The doctor could find nothing wrong with the fellow, nothing at all except that he couldn't talk.
So they sent for the priest and the priest asked 'do you have any notion at all where he was last night?'. 'No Father, he went out for a couple of drinks and a game of cards, but that's all we know.' 'Well I don't know either,' said the priest and so the priest blessed the fellow. 'That's all I can do for him,' he said.
Enquiries were made in the days that followed and of course it was found out where the fellow had been, and the big joke, the big laugh in the bar about the cows and the donkeys and how they could talk and how he went out to prove that they couldn't. The priest was sent for again. The priest enquired again and all he could answer was 'hee awrw ger awww hee graawr'.
The priest realised what he had done…listened to the cows and the donkeys talking at midnight on Christmas Eve – at a privileged time when nobody should ever listen to the animals.
The priest said to him 'you have done an evil deed. Get down on your knees.' He blessed the man again three times. 'I'm afraid' said the priest, 'it won't be enough'.
Eventually the fellow's speech did come back to him…in a kind of a way. He could talk, but from that day till the day he died; after what he did, he sounded like a 'bonamh'.
I tell you, it's a lesson to the people around, if they need such a lesson…never to do what that fellow did on that sacred night! They know what might happen to them."
Born in Kerry, Eddie Linehan lives in Co Clare and is a well-known seanachaí who came to national prominence in the 1980s with his 12-part RTÉ series Storyteller and Ten Minute Tales. In 1999 he led a successful campaign to prevent a 'sceach', or fairy bush, from being destroyed by roadworks in Co Clare.