Spiller's Lane in Clonakilty was buzzing on Sunday, June 20, as the town came together to enjoy an International Mid-Summer Bazaar. The event was co-ordinated by Doria Sibanda, with logistical support from Olive Walsh, Kathryn Kingston and Kitty Sisson of the Clonakilty Friends of Asylum Seekers committee (CFOAS).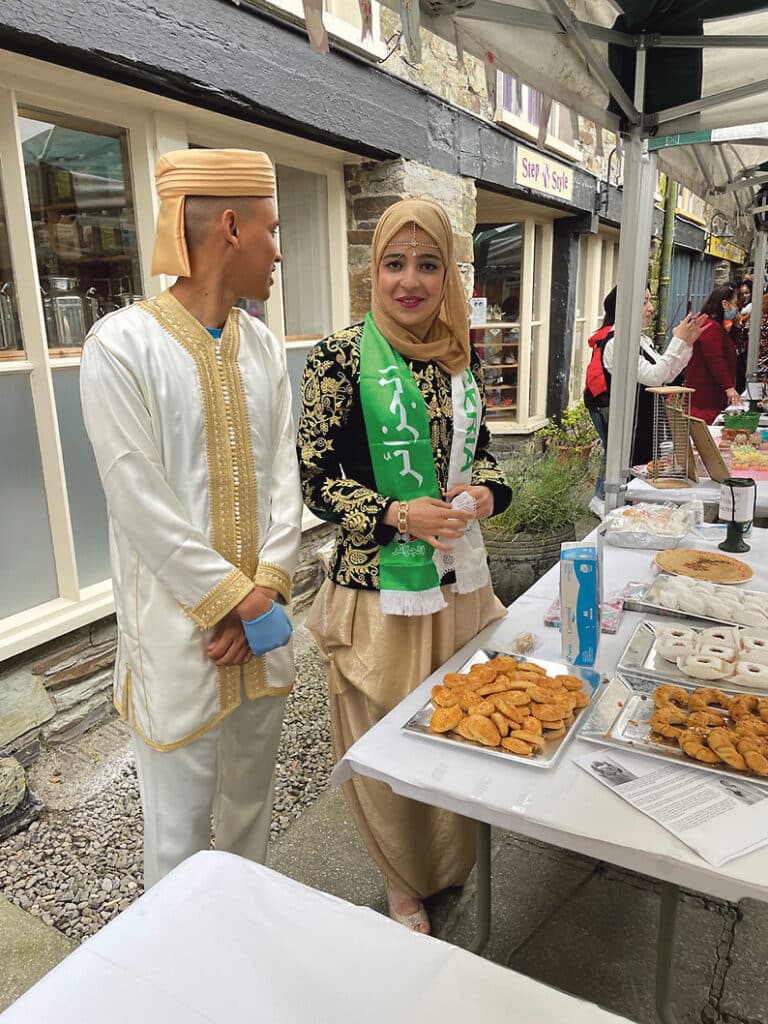 Doria is originally from Zimbabwe but is now living and working in Clonakilty. Using funding secured from the Department of Justice's Community Integration Fund, the initial concept was for a series of events to promote the theme of a 'New Taste for West Cork' to reflect the area's growing diverse population, however, as with so many community initiatives during 2020 and early 2021, the project had to be postponed. 
As soon as restrictions lifted sufficiently to allow a small outdoor event, the organisers revived their plans. Residents of Clonakilty Lodge Direct Provision Centre, which accommodates over thirty families seeking International Protection at any one time, were invited to cook sample snacks and delicacies for tasting, and to display items of fashion, craft and culture, as were interested members of the wider community. Countries from across Africa, Asia, the Middle East and Central Europe were represented with stallholders going to great lengths to embrace the idea of raising awareness and encouraging integration, through food, fashion and fun. Whilst admission to the Bazaar and tasting samples were all free thanks to the funding allocation, some stallholders sold items of craft and clothing.
The focal point of the afternoon was a welcome by co-ordinator Doria Sibanda who said: "This event is about community integration and it initiates our collective journey towards creating a community where no one feels isolated, lonely or sad due to their background or inabilities. We are aiming for a united community, which respects and values humanity."
Doria then introduced Mayor Anthony McDermott who echoed her words with a warm speech focusing on the importance of integration, and welcoming new families to Clonakilty's vibrant and diverse community. The speeches were followed by a colourful parade of fashion and style from many of the participants, bringing, as one visitor described it a 'great blast of culture'. The Bazaar also sparked interest from further afield with coverage of the event by Algerian TV channel Elnnarah TV.
Reflecting on the day, Olive Walsh said that Doria's words exemplified the ethos of the CFOAS project, which is indeed that together we are stronger and that we all belong. Kitty Sisson added that she felt it had been a wonderful afternoon and that the positive response of the town and visitors from further away had been much appreciated by all those who had gone to such great efforts to showcase their different cultures. She noted that while the restrictions around Covid 19 had placed some limits on what food could be prepared, residents of the DP centre were very keen to hold another event in the future where a wider variety of dishes could be sampled. Watch this space and keep an eye on social media!
In addition to all the stallholders, Kathryn Kingston would like to thank those who made the afternoon possible and the success that it was: Colette Twomey, Mayor Anthony McDermott, the Spiller's Lane Traders, West Cork Development Partnership, The CFOAS Committee, and the Department of Justice. The event was recorded through picture and video by Martin Walsh and Maurice Supple respectively; and all kind donations received will be put directly towards CFOAS projects in supporting the residents of Clonakilty Lodge.