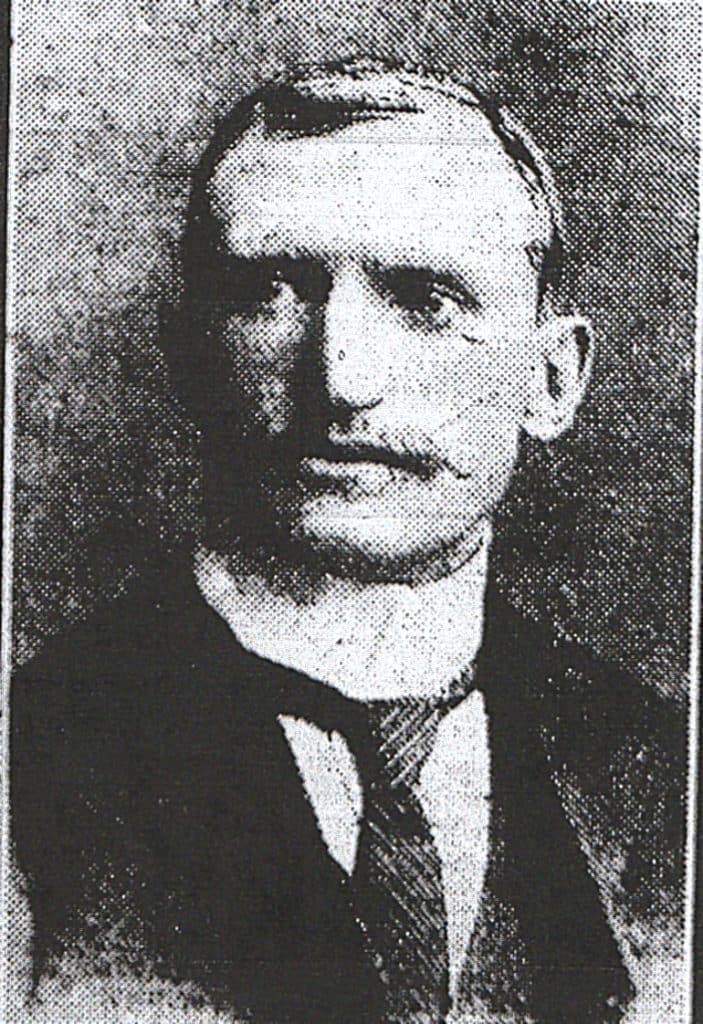 by Pauline Murphy
This month marks the centenary of the ambush at Upton near Innishannon that killed the brother of Antarctic explorer Tom Crean.
One hundred years ago, on the afternoon of April 25, 1920, a report reached Innishannon RIC barracks of suspicious activity in fields around Skevanish near Upton Railway Station. A three-man foot patrol set out in the direction of Upton to investigate the matter. The patrol consisted of Constable Patrick McGoldrick and Constable William Power, led by Sergeant Cornelius Crean (better known as Corny Crean).
Corny Crean was born in Annascaul Co. Kerry on September 27, 1871, the older brother of Tom Crean. He joined the RIC shortly after his 21st birthday.
Crean was based in Belfast first and then Dublin before moving to Cork City where he met Annie Stanton who ran a hotel across the street from Crean's RIC barracks on King Street (McCurtain Street). They married in 1906 and had one child, Billy.
Crean played forward for Cork Constitution Rugby and was a member of the police force Tug of War team. Like his brother Tom, he too had an interest in exploring and knew every nook and cranny in the areas where he was based due to the long hikes he went on.
In 1916, Crean first experienced the burgeoning Republican movement in West Cork, when during one of his long walks he came across a group of Volunteers drilling in Ballinadee. Those drilling did not take too kindly to the observing constable; and battalion commander Tom Hales ordered his men to seize Crean.
After searching him, Hales ordered his men to let Crean go but gave him a warning. Hales told Crean to either leave his job or leave West Cork, as his life would not be spared again.
In March 1920, Crean's zealous pursuit of rebels saw him promoted to Sergeant at the RIC Barracks in Innishannon. Just a month later, the threats he received in 1916, would transpire to be true.
On that day in April, as the wind picked up and showers spat down on the countryside, Crean and his constables decided to head back to their barracks when they realised they had been sent on a wild goose chase to Upton.
It was shortly after 4pm. As the men walked along the tree-lined roadway, not far from the entrance to St Patrick's Industrial School, Constable McGoldrick stopped to light his pipe. Suddenly a volley of shots rang out and McGoldrick's life expired.
The shots came from a number of volunteers of the West Cork Brigade situated in the woods by the roadside. When the first shots took down McGoldrick, Crean instructed Constable Power to run for cover. As the two RIC men reached a bend in the road, Crean decided to take on the ambushers. He told Power to turn and attack but just as Crean did so, a number of bullets rained down upon him.
Power, knowing that he was outnumbered, ran to the nearby Upton Railway Station. At the post office there he wired to Innishannon for help.
Fr O'Connor and Brother O'Reilly from St Patrick's Industrial school heard the commotion and went to the scene of the ambush where they found McGoldrick dead on the spot where he was shot and Crean sitting upright against a ditch. He had managed to drag himself as far as there. At the inquest, which followed, Fr O'Connor stated that when he reached Crean, he had but a slight breath of life left in his body, which extinguished before the ambulance arrived.
An inquest found that 59-year-old McGoldrick, a native of County Cavan, died from a single headshot, while four bullets were removed from Crean's chest.
The funeral of Cornelius Crean took place three days after the ambush at Upton.
Among the large cortege were RIC men from Belfast, Dublin and Cork city, as well as members of Cork Con Rugby club. He was buried in St Finbarr's Cemetery Cork city.
Corneilus Crean's younger and more famous brother Tom would also succumb to death in the Rebel County but not in the same violent fashion. Tom Crean died in the Bon Secours hospital in Cork City in the summer of 1938 following a failed operation on a burst appendix – 18 years after the death of his brother in Upton.