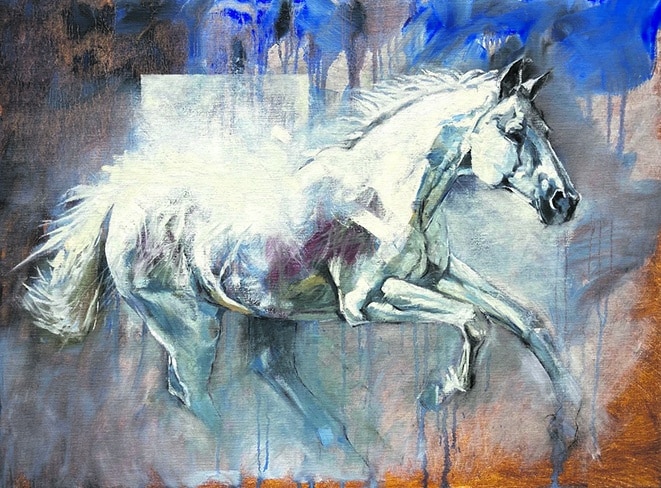 Kenmare Butter Market is hosting an exhibition of new works by three very exciting contemporary artists: Ian Calder, Fionnuala Nolan and Anne Marie O'Shea. 'Idir Spéir agus Talamh' opens on October 29 at 6pm and runs until November 25.
Though quite a diverse trio, all the artists show experience of the raw elemental landscapes of the Irish coast and shoreline and explore the expressive power of paint in their own unique ways, moving  between abstraction and realism in varying degrees. 
Ian Calder's subject matter is the wild spirit of horses and the emotive power of abandoned ship wrecks that he has sought out along the coasts of Ireland and Scotland. The Scottish born, Wicklow based painter says, "My work features images of once proud, sea-worthy vessels emerging at low tide as rotting, rusting, twisted hulks and of powerful equines emerging from an abstracted canvas."
Ian's equine paintings pay homage to the great horse painters of the past: Stubbs, Delacroix, Degas, Munnings and Blackshaw. They are loose, expressive, unsentimental images of the spirit of the horse, painted with a lot of surface interest, but are, nevertheless, anatomically correct.
Fionnuala Nolan's paintings seem to emerge from some mythical Ireland we all recognise but can't easily express. Our instinct is to cling to recognisable hints of mountains, cliffs, fields and oceans that materialise out of a mist or disappear in a torrent of sudden 'weather'. But are we looking from above the clouds, or from below the waves?
Fionnuala is continually inspired by her emotional response to the natural world. "These paintings came out of my experiences of the Beara Peninsula in winter — the churning sea and rapidly changing light, the mountains looming out of the rain in the distance, the gushing streams, the ancient vegetation — the whole primordial wildness, combined with the purity and elemental nature of the landscape.
"I have hundreds of sketches and photos of this elemental landscape, but I painted many works from memory. I like the idea of layers in a landscape, of history, past lives and memories. I strive to capture that elusive sense of connection we all feel, the link between the natural world and ourselves."
Anne Marie O'Shea's work is a direct response to her immediate environment in Kenmare where she was born and raised around the family business 'Kenmare Homespuns'. Her work is rich, earthy and multilayered.
"This body of work is about the South Kerry and West Cork landscapes. I am drawn to the elemental aspects of this dramatic place, the wildness, rock, mountain, water, precipitation, rhythms and spaces, the ever changing weather and appearances of place.
"I have an obsession with making, with process, with creation. My grandfather supplied the people of Kenmare with electricity — making Kenmare the first town in Ireland to have electricity before the ESB. The bi-product of that availability of power was the processing of raw wool into yarn for knitting, textiles and tweeds.
"So for me, Ashgrove Woollen Mills became like an amphitheatre. I spent a lot of my childhood experiencing and differentiating this huge variety of rhythmical sights and sounds which I now realise has shaped my vision as an artist and musician."