Holger and Nicola Smyth's home brings to mind a quote by American art historian Bernard Berenson "My house is a library with living rooms attached." Every room and corner of their home, from floor to ceiling, is crammed with all manner of rare books…out-of-print, secondhand, antique gems of all genres, every single one well-loved, from maritime travel and local history to philosophy, botany and literature with many rare manuscripts and maps also adorning the shelves and walls.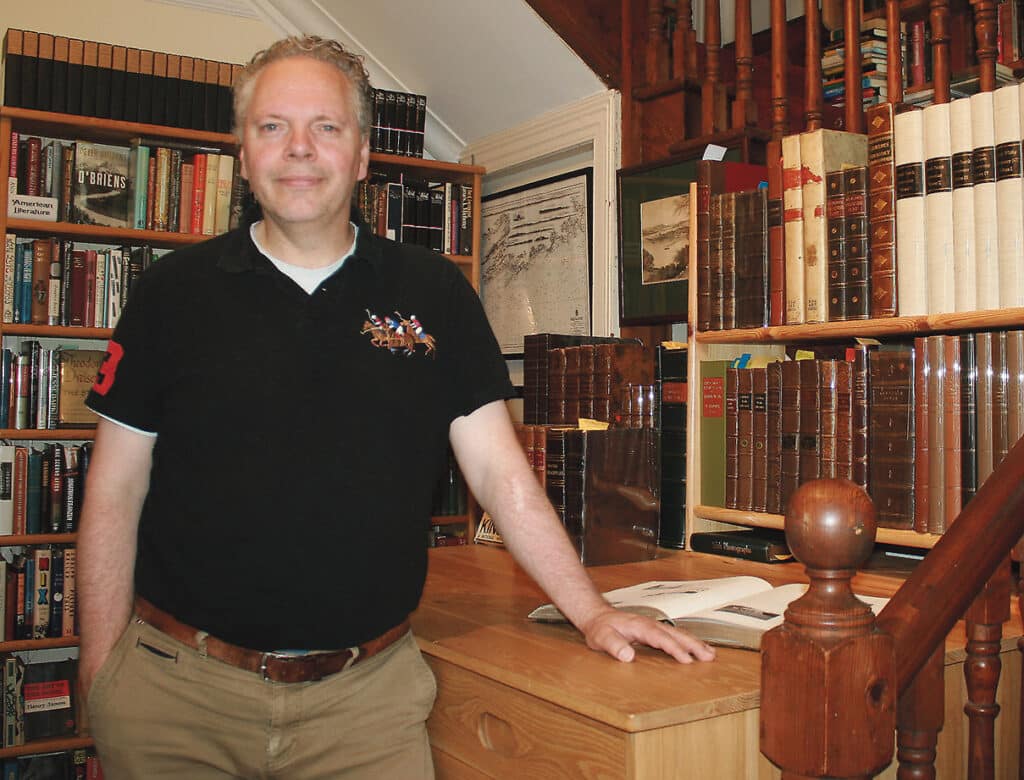 Introducing Inanna Rare Books, reputed collectors and sellers of rare books and most recently organisers of West Cork's successful inaugural book fair, an annual celebration of rare and unusual books, maps and art, as well as rare vinyl records, which was held on the grounds of Inish Beg Estate in August, attracting almost 300 collectors on one of the hottest days of the year.
Over the past 12 years, Holger and Nicola have run several bookshops in Ireland (from Westport in Mayo to Cork City, Kinsale and Skibbereen) and built up a loyal following of readers and collectors. Holger now runs Inanna, while Nicola manages 'Antiquity' – a bookshop and vegan cafe at The Time Traveller's Bookshop on Bridge Street in Skibbereen.
The Smyth's have recently opened up their home to the public and 'Inanna Rare Bookshop, Reader's Garden and Vinyl Garden Library' can now be accessed by appointment by all book and music lovers. Keep an ear open for upcoming outdoor readings, talks and music events also taking place on the grounds.
On the heels of the annual book fair's success this past August and due to demand, Holger is now planning on hosting a monthly book fair starting this September on the Inanna property, located next to Liss Ard Estate on the Castlehaven road, just outside Skibbereen town. And while the books may be rare, book hunters will still be able to bag a bargain, with some items starting from as little as €5.
German born Holger has been a collector and seller of books since he was 12-years-old, beginning with a stall at a flea market selling comics, records and books alongside his father, an antiques dealer.
He met his Scottish wife Nicola in his native Marburg, a university town near Frankfurt in Germany, where the collector opened his first bookshop. The couple, who are married 25 years with four children, moved to West Cork in 2006 in search of a less rigid lifestyle than Germany could offer them; first to Garretstown near Kinsale, and then, with their collection of 25,000 books, to their current home in Skibbereen.
"Ireland gave us the freedom to live the type of life we wanted for ourselves and our children," shares Holger. "We were able to run our business here while also homeschooling all of our four children. Life does not revolve around work here like it does in Germany.
"While we may always be blow-ins, the lack of judgment here means we feel like a part of the community now."
The nature of his business means that Holger is an expert on many different subjects. One call from a collector searching for a specific item precedes months of extensive research. "For six months, I'm an expert on orchids for example and for the next on local history," he laughs.
While vintage maps or any literary material printed before the year 1800 are passions, Holger especially collects Scandinavian literature for his own enjoyment (books penned by Knut Hamsun in particular); but also anything with illustrations by Otto Ubbelohde (made famous as one of the most beloved illustrator's of the Brother Grimm fairytales; of which several originated in Holger's hometown Marburg, Kassel and the whole county of Hessen). He's currently collating over 400 of Ubbelohde's illustrations, collected over 20 years, into an online library.
As a young bookdealer, I never had heard of Ubbelohde until a private collector asked me to source his work," shares Holger. "You just have to be open to exploring new themes."
As well as creating small collections and libraries around rare publications or manuscripts, Inanna has also branched into preserving and republishing out of print books. A recent reprint of one of the rarest books on local Cork and County Cork History has attracted huge interest.
"Local history is always thriving," says Holger. " It can be a pamphlet, old magazine or even a card from a point to point race, all kinds of ephemera are very collectable."
For lovers of all things printed, or songwriters searching for inspiration, Inannna offers a creative space where you may lose yourself for a few precious hours to the joy of books and music.