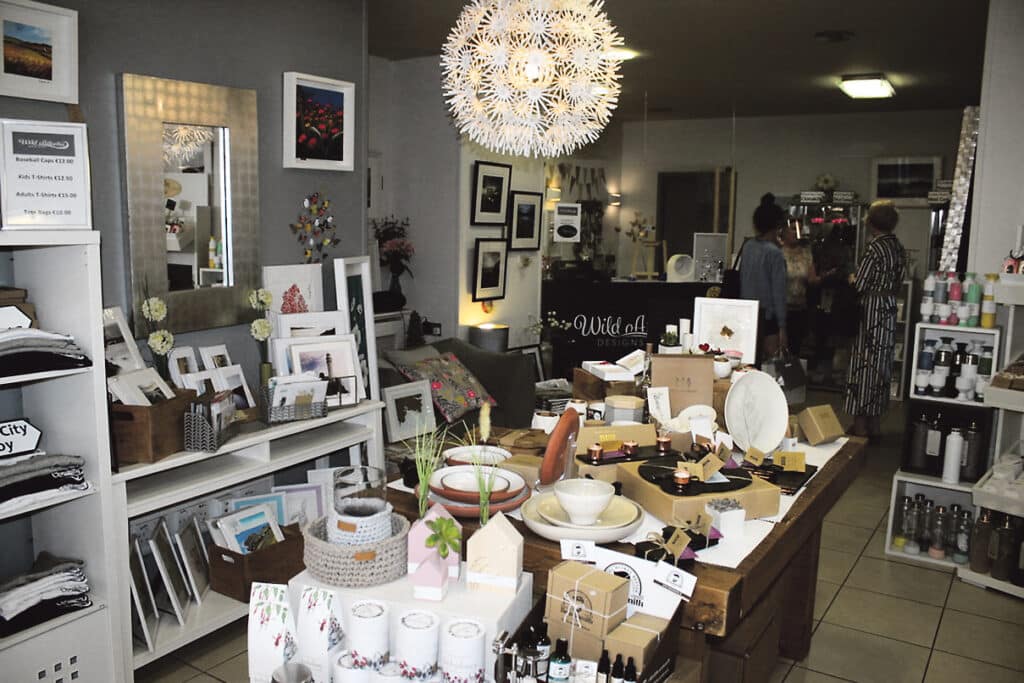 Wild Atlantic Designs in Clonakilty is a perfect example of a local business that feeds back into our circular economy. Stocking a huge range of art and craft from Irish makers, with many working in West Cork, owner Lorraine Cahalane takes great pride in her position as the link between local customer and local maker.
"My customers are looking for something out of the ordinary and meaningful. To be able to tell the story behind an item, who handcrafted it and where in Ireland it comes from, adds immense value," says Lorraine. "The quality of what is produced in Ireland, but especially in West Cork, is outstanding and these are gifts that will be cherished by the recipient, as each sale is cherished by the maker."
Wild Atlantic Designs has a unique collection of jewellery, ceramics, art, soaps, candles and more on show that customers are welcome to take their time to browse through. Bringing it altogether has been a project that has inspired Lorraine, who has always had an eye for design, as she deals with some of Ireland's most interesting up and coming designers.
"I meet so many interesting people. There is a real surge of creativity in Ireland and that is what I wanted to bring together under one roof. By allowing people to see, touch and purchase the work, I hope I am making my contribution to sustain an industry that is so important to rural Ireland. Our towns and villages wouldn't be as vibrant as they are without our artists and craftspeople and we need to ensure they can thrive here."
Lorraine has travelled the country in search of great craftsmanship. From Galway, there are ceramics crafted by Rachel Webb; from Dublin are pieces by Maureen Lynch, a jeweller inspired by the Atlantic; from Northern Ireland is a display of Nuala Lynch contemporary jewellery; from Wicklow is Hairy Fruit Art by Helen Magee.
But in pride of place are the artists and makers from our own area – atmospheric landscape photography by Stephen Hayes of Clonakilty; hand-pulled lino prints in shimmering gold by Aoife McLoughlin of Inchydoney; soaps, candles and salts by Amber Therapies of Clonakilty; delicate crochet wire jewellery by Wild Wire in Bandon; West Cork photography books by Norman McCluskey and Giles Norman; handcarved kitchen accessories by Wild Atlantic Wood of Skibbereen; print, calendar and painting by Sarah Hodson of Reenascreena…the rollcall of talent goes on and on. Call in this month to find your favourite.
Wild Atlantic Designs – Pearse Street, Clonakilty Tel: 087 4519512.