There are all types of talented creative spirits quietly working away in the many nooks and crannies of West Cork. Where else would you find a welder-pipefitter- turned-sculptor and a retired traditional boat builder collaborating on a project to breathe new life into a traditional barrel-top wagon?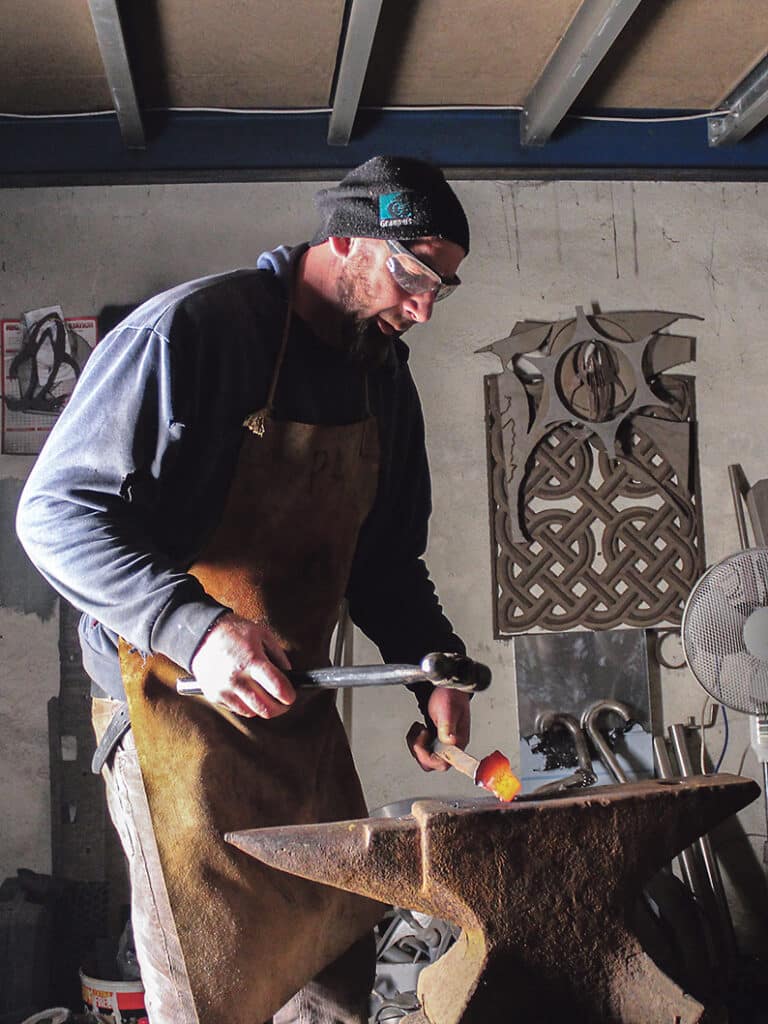 Noel Molloy, or Moz, as he's better known as, is making his mark as a sculptor in West Cork. A spider in Baltimore, a whale and dolphin in Union Hall, an elephant in Skibbereen – it's anyone's guess where his next larger-than-life metal sculpture will land. Originally from Preston in Lancashire, a holiday to his blacksmith grandfather's native Galway brought the welder to Ireland 25 years ago. Moz decided to stay: He moved to Cork, found some work and now lives just outside Skibbereen. In recent years, what Moz calls his bread and butter work – gates, stairs, railings and so on – is being outpaced by commissions for his impressive steel sculptures, which more-often-than-not tend to gain in stature as they're being built. "The spider was only supposed to be a few feet in width and it just doubled in size," says Moz laughing. "I can't help it!"
Moz is also part of an ambitious ongoing restoration project on Castle Pook, a five-story Norman tower house, which stands on a five-acre rocky outcrop at the foot of the Ballyhoura Mountains in North Cork. The front door when completed weighed in at an impressive 240kg. 'The bolts were a few tonne in themselves," says Moz. Some of the more fun features include a bath in the shape of a Viking boat and a sword towel holder.
"I have an idea and it just grows from there," he says. A design might be drawn on the back of a cigarette packet for example. "I mark the dimensions of the sculpture out on the floor, do some research, look at photographs, that kind of thing, and then just go with it."
The big pile of scrap metal outside the door is never there for long…a Velociraptor for Moz's eight-year-old son Art will soon be resurrected out of the mountain of steel.
A rusty old gearing system off a trawler is being revived in the shape of a fire pit. "A friend of mine asked me to do it for his new house," says Moz, "I'll make a mushroom canopy for over it."
Inside a dragon wraps his tail around a dusty stove.
Moz is also a modest inventor and working on making his own laser plasma cutting machines. "Yeah I have a few prototypes out there, a few things in the pipeline," he says casually.
Right now he is really enjoying working with retired boat builder Nigel Towse. Nigel, 76, ives on Sherkin, and has just ventured off the island for the first time since lockdown ended. 'I am a bit nervous," he admits, but soon relaxes, as he starts to speak passionately about the restoration project.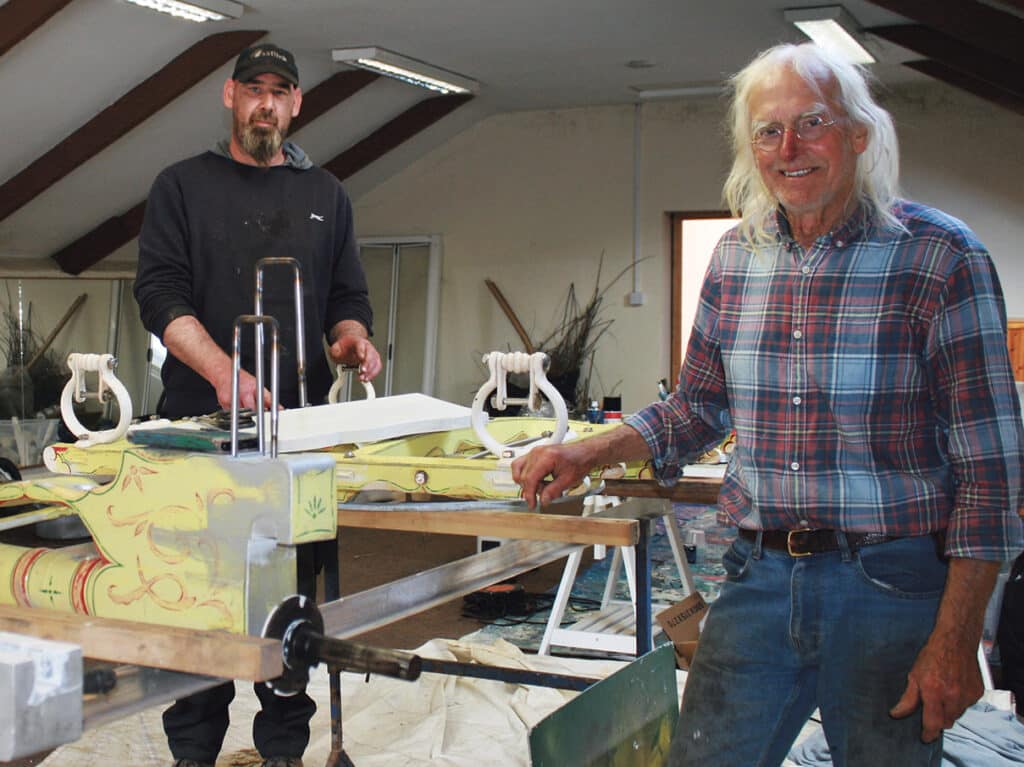 "I built this barrel top 35 years ago from scratch," explains Nigel. "An English photographer, well-known for her Victorian-style black and white portraits of children, posed in wheelbarrows, that type of thing, commissioned me to make it. She wanted to use it as a prop in her work."
Nigel's interest in traditional music – he plays the accordion – drew him to West Cork almost 30 years and, as it happened, the barrel top eventually followed him. "The photographer didn't end up using it very much so I bought it back off her at the request of a guy in Baltimore," explains Nigel. "Someone mentioned that I had made one to someone else in one of the pubs in Baltimore…you know the way it happens in West Cork."
Nigel's background is in boats and seafaring. He fished for a few years off Baltimore, ran a mussel farm on Sherkin, and tested his skill as a boat builder for the first time in West Cork; restoring a traditional mackerel yawl An Rún (The Secret). An Rún and and her sister ship Shamrock II owned by traditional boat builder Liam Hegarty (Hegarty's Boatyard near Baltimore) are exact replicas of the style of boat traditionally used by fisherman from Long Island off Schull.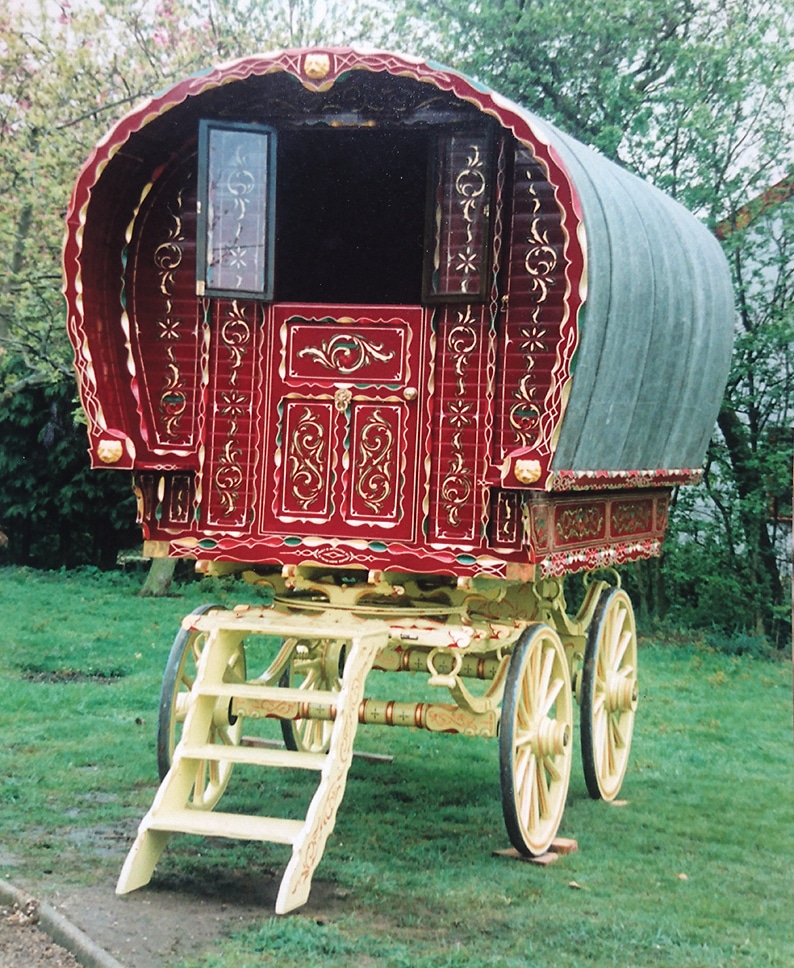 After it's relocation to West Cork, sitting at the top of a hill over Baltimore, the salt in the air over time got the better of the barrel top, hence the current restoration project.
Every single piece of iron has to be replaced with stainless steel to prevent this happening again, which is where Moz comes in. "It should last a lifetime," he says.
"I'm attracted to rust," says Nigel. "And I hate it," says Moz laughing.
And so the creative spark ignites…
Contact Moz of Moz'art Sculpures on 086 2285777.