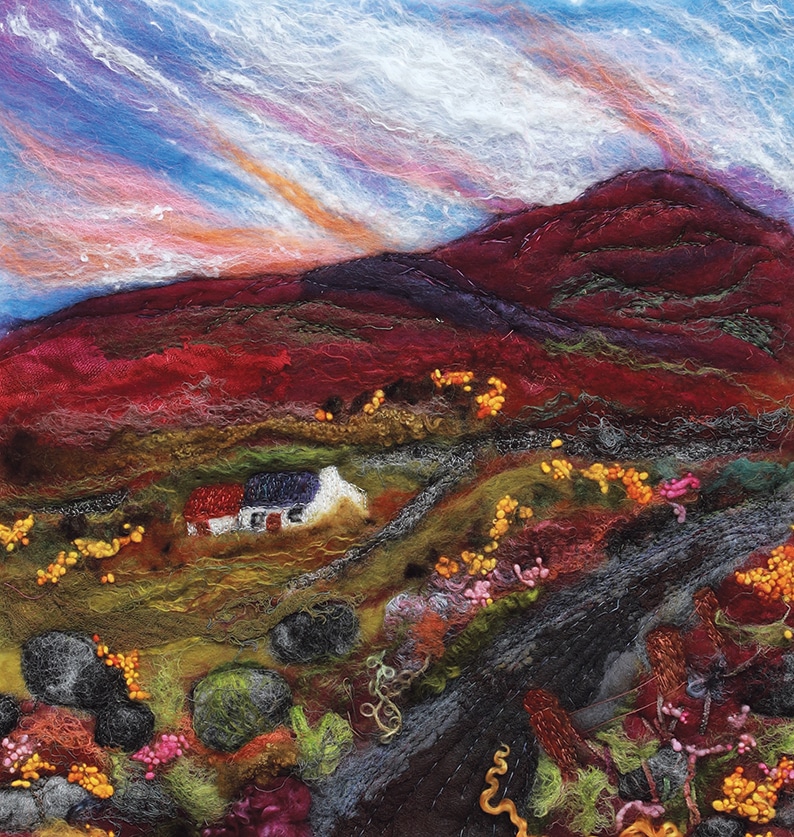 Gallery Asna at Clonakilty Arts Centre, is holding a unique exhibition this month; 'Of Granite', a touring exhibition by ROGHA Collective, brings the art and craft of South Armagh to West Cork.
An area of outstanding natural beauty, rich in heritage, myth and magic, South Armagh is a place and people apart and has yielded a wealth of creativity. This exhibition is a rich and vibrant showcase of work, reflecting the artists' and makers' deep connection to their surrounds and translation of the landscape.
Formed in 2014, ROGHA is a working collective of 10 dynamic artists and craftspeople who create beautiful art that spans the disciplines of painting, woodturning, ceramics, textiles, basketry, mixed media and sculptural glass all inspired by and produced within the Ring of Gullion.
ROGHA members came together to combat the rural isolation of working alone in their rural studios, providing a shared support network in which to promote their work and the arts within the area. Their work has been widely exhibited and found its way across the world going to many private collections and public commissions.
"We were delighted to get the opportunity to bring our work from South Armagh to West Cork," says textile artist Caoilfionn Murphy O'Hanlon. "There is an intrinsic connection and palpable sense of place in the work produced for 'Of Granite' that shines through from every member.
"Although the disciplines are varied, the aesthetic theme is strong. We look forward to reaching a new and diverse audience in Gallery Asna and are excited to explore the area."
The word Rogha is Irish for choice and exhibitors include Mary Cowan, ceramics; Padraig Carragher, wood turner; Karen Murphy, Fine Art; Caóilfíonn Murphy O'Hanlon, felt maker; Rozzi Kennedy, painter; Jeanette Keenan, weaver; Tracey McVerry, glass artist and Diane McKevitt, mixed media.
Opens on Saturday July 30 at 5.30pm and runs until August 27. Gallery Asna is open daily 11am to 5pm.