East meets West in Schull is an emporium showcasing the beautiful traditional craftsmanship of Northern India. In keeping with West Cork's reputation as a haven for unique arts and crafts, the ethos of this mother and daughter team, Amanda and Meg Connell, is to support traditional craftspeople, artisans and small family businesses.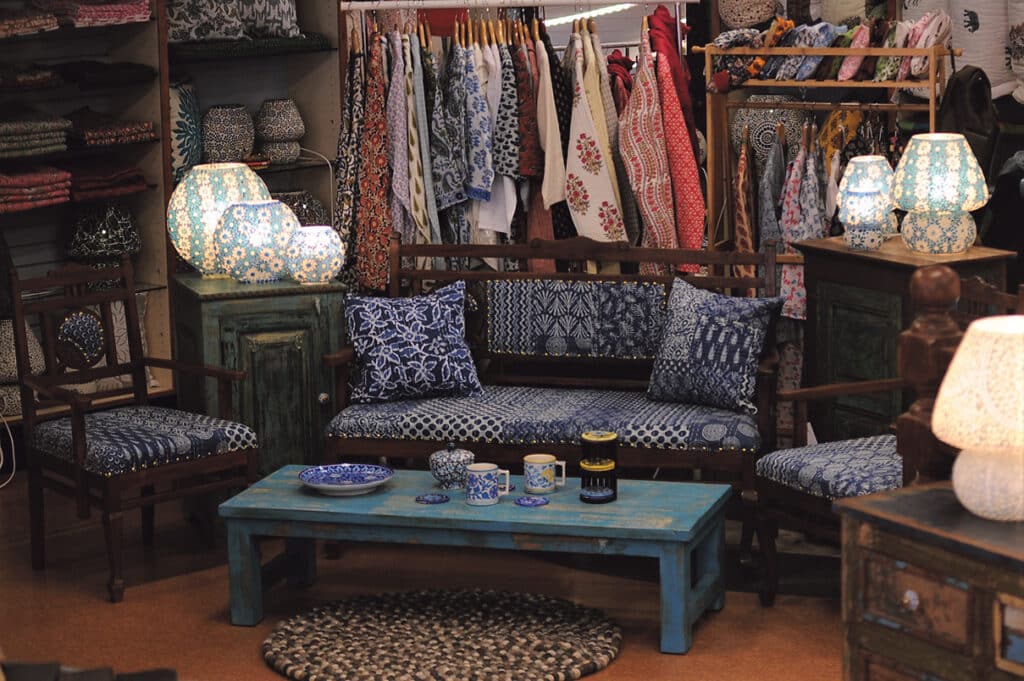 "We travel to Rajasthan and select all the goods personally to ensure that all our products are of high quality and an ethical production line," explains Amanda. "We buy directly – no warehouses or factories. It's not the usual business model and has the added bonus of a fostering a lovely relationship with the people we work with. So despite these challenging times at present, we are able to find ways to keep supporting each other from different parts of the world, as the trust is there."
'Local to local globally!' is a mantra for this fascinating shop; take your time to wander through teak furniture, hand crafted mosaic glass lamps, traditionally made quilts, block printed table linens, Jaipur Blue pottery, hand woodcrafts, leather goods and paper, and a range of cashmere, wool and cotton scarves and clothing.
All of the teak furniture pieces are 'one-offs' – either lovingly restored, original vintage pieces or beautiful new presses and cabinets crafted, using traditional methods, from repurposed old teak. East meets West also stocks tables and chairs made using the traditional style and techniques.
Another must see is the range of Jaipur Blue pottery from Gopal Saini, a master potter who has been honoured in India for restoring this old art form. Each piece is the result of a 42-step process, from grinding the quartz stone to make the clay and natural pigments for glazes, to hand painting in the traditional patterns and slow firing to produce absolutely individual items.
And don't overlook the quilts, linens and cushions, which are an assortment of hand-block printed cotton and repurposed vintage saris with traditional Kantha stitching.
For more information check out www.eastmeetswestschull.com or Facebook: East meets West Schull or Instagram@eastmeetswestemporium.
Amanda and Meg are pictured wearing hand block printed cotton face coverings, made in India and available to buy in East meets West.