Over 100 Cork makers will celebrate the importance of contemporary Irish craft as part of Cork Craft Month this August. There are over 70 events and workshops planned across the month — 80 per cent of which are online. The festival, run by Ireland's largest social enterprise for craftspeople, Cork Craft & Design, kicked off last weekend. Full details of all events — 90 per cent are free — are available at corkcraftanddesign.com.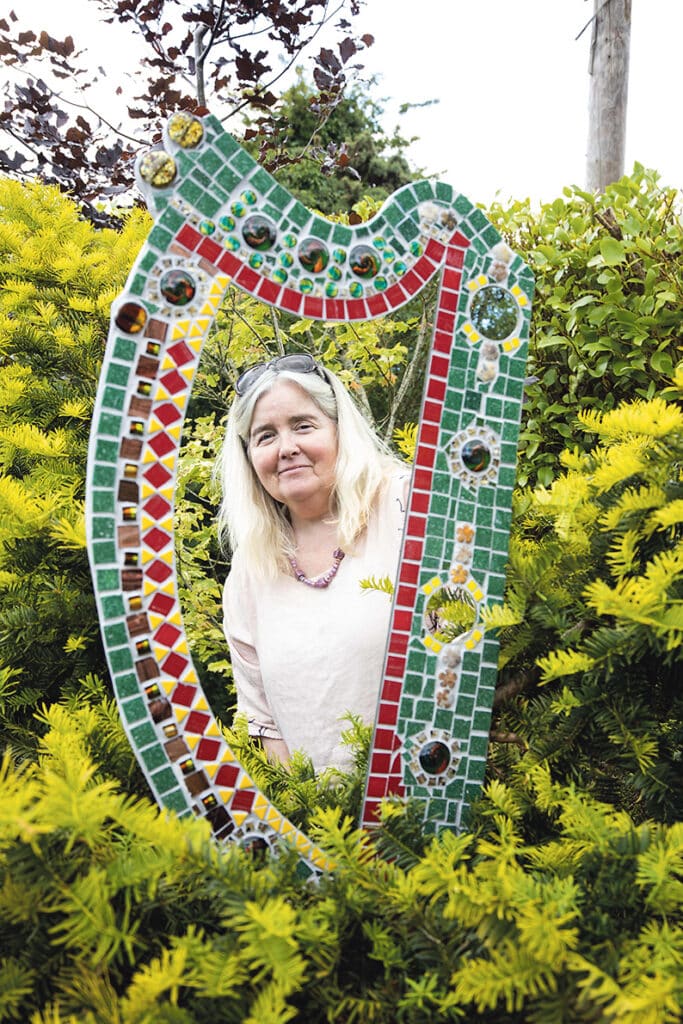 Sustainability in craft and design will be explored at Cork Craft Month's showcase exhibition in Ballydehob, featuring the work of 19 makers, including mosaic artist Margaret Twomey of Purpose Mosaic and Alison Ospina of Green Wood Chairs. The 2020 Cork Craft & Design Showcase Exhibition, which launched last Friday, is dedicated to sustainability and environmentally conscious thinking.
Maeve Murphy, Operations Manager of Cork Craft Month said: "One of the biggest conversations happening at the moment in the craft world is around sustainability — what makers can do to minimise their impact on the planet. Consumers are more conscious of what they are buying, and they are actively seeking out locally made craft products that celebrate heritage craft making skills, which have low impact on the environment.
"Our makers involved in the Cork Craft & Design Showcase Exhibition use everything from locally sourced salvaged wood to recycled clay to repurposed ebony from uilleann pipes. They will create a visual dialogue on the importance of sustainability and environmental consciousness, and those interested in finding out more are encouraged to pop into the Working Artist Studios on Main Street, Ballydehob during the month."
Among the online events for the 11th annual Cork Craft Month will be a virtual Taste for Craft collaboration between Cork Craft & Design members and English Market traders. The Chocolate Shop and woodturner Tony Farrell participated in the first collaboration on August 1, examining the synchronicities between both craft industries.
The annual West Cork Creates will also go online this year with a virtual gallery and shop running from August 8 until September 14 in Skibbereen. Thirty-seven artists and craftspeople have been invited to work to the theme of 'Harvest', inspired by Theo Dorgan's poem 'Harvest Moon'. The Cork-born award-winning poet will officially open the exhibition online at 1pm on August 8.
Further virtual highlights include Barbara Hubert's free 'A Day in the Life of a Bookbinder' on August 10; an insight into ceramic processes from Charlie Mahon on August 23; while Gavin Buckley of Uillinn: West Cork Arts Centre is interviewing textile artist Anne Harrington Rees on the qualities of material and form in her work. This is one of four interviews with makers that Gavin will conduct during the month of August.
A series of trails will take place across Cork Craft Month including Clonakilty Makers Trail, a self-guided walk of artists' studios, chocolate makers, upholsterers and craft studios throughout Clonakilty. Cork Flower Studio on Douglas Street will also have a Pure Local Like window exhibition throughout the month, displaying the work of local makers.
Physical workshops and demos will run in adherence to public health guidelines.
Speaking on the exhibitions for Cork Craft Month, Maeve Murphy added: "We are particularly delighted to have the Emerge exhibition running from August 6 at No. 46 Grand Parade. This will celebrate and showcase the work of graduating makers of Crawford College of Art & Design, Coláiste Stiofáin Naofa and St. John's Central College and embrace them as part of the community of Irish craft and design.
"The Society of Cork Potters will also celebrate its 40th anniversary this year, and the Lavit Gallery is hosting an exhibition showcasing the variety of work made by this group from August 7 to September 22. The Society will be presenting their anniversary book, published to mark this momentous occasion, and will be available during the run of the exhibition."
The programme for Cork Craft Month is available at corkcraftanddesign.com. Follow Cork Craft on Facebook at @corkcraftmonth and Instagram at @corkcraftmonth. #corkcraftmonth20
Cork Craft Month is supported by Local Enterprise Office, Design & Crafts Council Ireland, Cork County Council, Cork City Council, Fáilte Ireland, the Creative Ireland programme /Clár Éire Ildánach, Cork Education and Training Board, Crawford College of Art & Design and The Gallery at No. 46 Grand Parade.