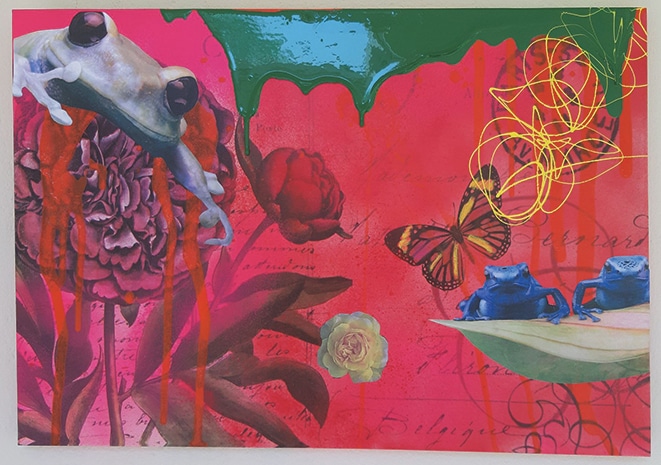 Patsy Atkinson gives an insight into some of the art exhibitions on Sherkin this August.
There's a picture in my mind's eye: cerulean blue skies meet turquoise seas. A daub of sap green and a splash of burnt orange add a vibrant note while tiny droplets of white spray on the water light up this ever-changing scene that stretches out to the horizon.
This is nature's artistry at play on Sherkin Island.
Every view on this small island is like a painting. Even the dry stone walls, wild flowers and the creamy cattle grazing and dreaming in fields that sweep down to the sea are a thing of beauty.
Home to artists, photographers, writers and other creatives, this tiny island in Roaring Water Bay off the south west coast of Cork is a picture perfect place.
But scenery aside, if you love art and you are looking for an inspiring day out in West Cork, then Sherkin Island is the place to be this August. A short ferry ride from Baltimore will get you to this unspoilt island.
Despite all of the additional challenges of social distancing, the community has decided to go ahead with its plans to showcase the island's creative and artistic talent this summer with a series of solo and joint exhibitions in August.
All take place in the Community Hall on Sherkin Island, just a fifteen minute walk from the pier.
Vanessa Richardson and Nigel Towse's collaborative exhibition, 'Rust never sleeps' opened on July 23 and runs until August 2. It includes landscape paintings of Sherkin Island by Vanessa and artistic photographs by Nigel.
An exhibition by Tara O'Donoghue from August 4-9 will follow. Tara, who is also known as 'Sherkin Tara' is a collage artist whose colourful and quirky work is distinctive and humourous.
"As a collage artist living and working in West Cork, I am delighted to be exhibiting on Sherkin Island this August," said Tara. Unfortunately, my exhibition last year, 'Lockdown Frogs,' had to be cancelled so I'm thrilled that it is going ahead this summer and have aptly named it 'Freedom Frogs' so you can expect to see lots of happy frogs hopping around the Sherkin Island Community Hall this summer!"
The next exhibition, 'On the Other Hand' will run from August 11-16 and will feature oil paintings by Brigid O'Connell Madden and ceramics by Róisín Youell.
Róisín said: "What inspired me to start ceramics was when I was living in Finland just before the pandemic, a friend of mine introduced me to his own ceramic bead work and I fell in love with the process and the therapeutic effect it had on my mental health. I returned to Sherkin and spent all my savings on a kiln and everything else I needed to set myself up. Just a few weeks later the pandemic had hit Ireland and without a job in my family's pub, I started to dedicate all my time to my ceramic work. Ceramics require a lot of experimentation, time and patience. Mixing my own glazes has been important for me from the start as it allows me to create a beautiful spectrum of colour with just a few different oxides. I've been able to create some quite jewel-like finishes to my beads, while staying lightweight and easy to wear."
The final exhibitor in August will be John Simpson who will showcase a collection of paintings and monoprints to celebrate his twenty years living on Sherkin Island.
" I make paintings that are strongly influenced by both natural and geometric forms. Compositions result from a combination of intuitive image making and proportional structuring," said John.
"I live on Sherkin Island where the environment provides me with many sources for painting; observations from rocky foreshores, sandy beaches, close and distant spaces, light and water, land and growth, calm and stormy weather which develop into many thematic variations.
"We are all part of nature which never stands still – always changing – always in movement. I try to reflect that powerful dynamic in my work. I enjoy working in a variety of ways, from large and small scale oils on canvas to mono printing, drawing and mixed media on paper."
July was also a busy month for artists on the island, with several exhibiting in the Community Hall including Jo Ashby, Robbie Murphy and Jordyn Lynch who was the first solo artist to exhibit this year with her exhibition titled 'The Emancipation of Stitch'.
Jordyn said: "During the pandemic, I designed a collection of handbags and cushions. These items explore the power of stitch and how it can be used as a metaphor for identity and moments in time. Summer exhibitions on Sherkin Island are really important, as we have a very creative community here and it's a great opportunity to showcase all the talent and creativity Sherkin has to offer."
Photographer, Robbie Murphy, agrees: "It is important that the exhibitions have gone ahead this year because of the sense of normality they give. For me, Sherkin Island is a very inspiring place to live. The landscape, while always familiar, is constantly changing due to the weather and the seasons."
These thoughts are also echoed by artist, Jo Ashby, who had a joint exhibition with Robbie in July and whose garden studio is open through August. She said: "I feel that the Sherkin exhibitions are a great celebration of the artists working on or associated with the island. From early career through to established and well-known artists, each exhibition is given equal status, which feels very important in a small community. This is echoed in the Sherkin community exhibition, which was held in July and invites all creatives on Sherkin Island – from fine art, applied arts to home crafts – who are encouraged to submit examples of their craft and work. The show always reveals the richness of creativity on such a small island and is always a popular event."
Artistic duo, Bernadette Burns and FX Murphy live and work on Sherkin Island and although they didn't exhibit this year, they also welcomed the opening of the exhibitions, as did Majella Collins O'Neill, another well-known Sherkin Island artist whose work relates directly to her experience of living on the island.
All of the exhibitions will operate to strict Covid-19 guidelines including the use hand sanitisers, face coverings for all visitors and a one-way system in line with social distancing requirements.
For ferry times see: www.sherkinisland.eu/ferry
July 23-August 2: Rust never sleeps, Vanessa Richardson and Nigel Towse
August 4-9: Freedom Frogs, Tara O' Donoghue
August 11-16: On the other hand, Brigid O'Connell Madden and Róisín Youell
August 18-24: Painting and Monoprints, John Simpson