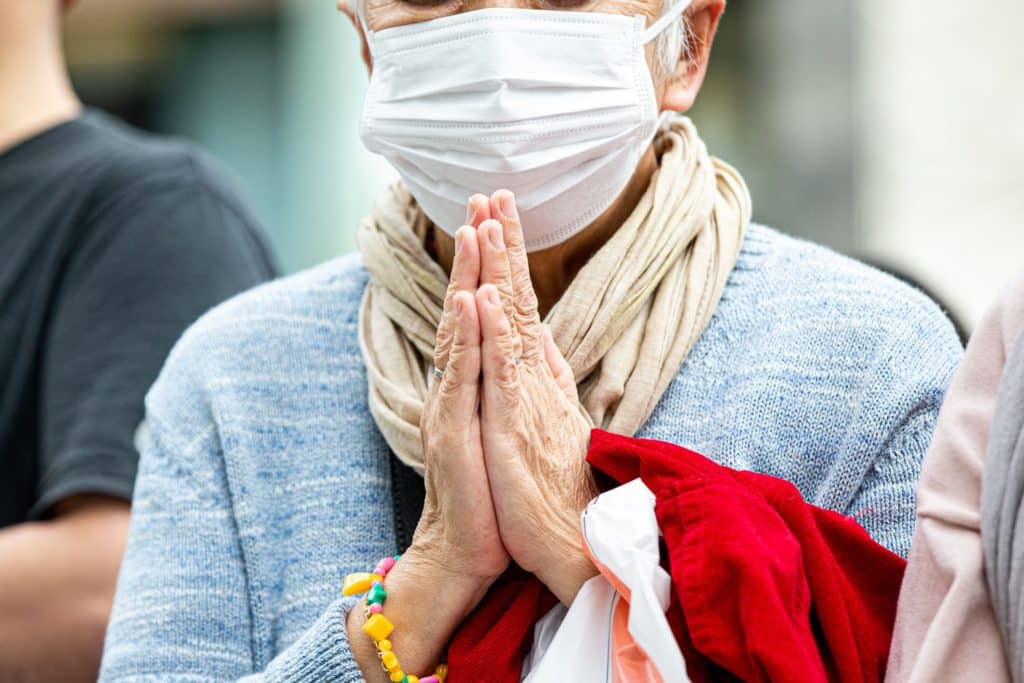 "Together, we will get through this. Together, we will beat this.
Firstly, we want to say thank you to all those at the frontline of this crisis, here in Ireland and around the world. From healthcare workers, to those keeping essential services going, we all owe you an unbelievable debt of gratitude.
It's hard to know what to say at this time. But this is what we know for sure.
Crises bring out the best in people. The very nature of the work of Amnesty is that we often see the worst of humanity. But we also see how incredible we can be when we come together. Look to those at the front lines who are risking so much to help us all. Look at the support, empathy and love we're seeing rise up across our communities right now. This is who we are.
What we are asking of our supporters.
This is a call for solidarity.
What the spread of this virus should teach us is that globally we are all connected.
A human-rights based approach to a pandemic means taking care of the vulnerable, the marginalised, and making sure no one is left behind. This will mean working together and standing strong for human rights, for compassion and for empathy.
We need to look after each other. That means following the advice of healthcare and other experts. That means reaching out to offer what support you can, in a safe way. And it means looking after yourself too, physically and mentally.
To those in refugee camps, those affected by war and human rights abuses,who are facing the pandemic as well – we stand with you and we ask our incredible supporters to continue to as well.
In the coming period, we will continue responding to the COVID-19 pandemic, as well as our ongoing human rights work around the world. A human-rights approach means that the health and well-being of people everywhere should be authorities' first priority. We know that some will try to use this pandemic as an excuse to violate people's human rights. We won't let them.
This is the time to come together.''
Some detail: We are calling on King Salman in Saudi Arabia, to free political prisoners. Find petition on the net! We are appealing to the Americas, marked by deep inequality, that the authorities must ensure responses to COVID-19 do not reinforce discrimination of any kind. The principles of equality and non-discrimination contained in different human rights instruments must remain central to all government responses.
Jailed Iranian human rights activist Nasrin Sotoudeh has announced she is going on a hunger strike to demand the release of political prisoners in Iran, a move taken amid fears that inmates' safety could be jeopardized by the coronavirus outbreak overwhelming the country's health system.
In a bid to prevent the disease from spreading in prison wards that are overcrowded, bedbug-ridden and chaotic, Iran announced on Thursday that it had temporarily released about 85,000 people from jail. According to a judiciary spokesperson, about half of those prisoners were 'security-related' – a term that is used to refer to political detainees. Amnesty has called on Egypt to do the same.
At home one of our most vulnerable groups are our asylum seekers.
On March 23, Dr Eamonn Faller, an infectious disease specialist registrar at Cork University Hospital, described direct provision centres as "powder kegs for Covid-19".
In one centre when an asylum seeker asked to be allowed to eat in her room to observe social isolation, the manager said if they did so he would call IPAS and the Gardaí
More information can be found if you Google NASC – the Migrant and Refugee Rights Centre and MASI – the Movement of Asylum Seekers in Ireland. Would our Asylum Seekers in The Lodge in Clonakilty like some help, in the form of supplies such as hand soap etc?
The Clonakilty Amnesty Group monthly meeting at o'Donovan's Hotel is suspended for now. Call Sue on 023 8845056 or Mary on 086 855 9199.
.