By Mark Holland
BRÓD is an LGBTI+ Community Group based in West Cork. A mix of LGBTI+ people and allies, the group's mission is to 'Support, Advocate and Increase Visibility' for the LGBTI+ community in West Cork.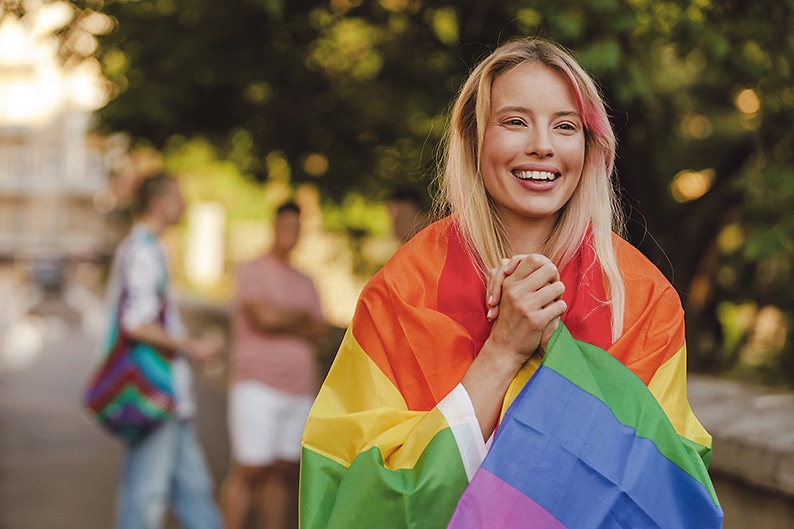 Our remit here at BROD is to promote the integration of LGBTI+ people in the community through information and visibility, and sometimes it can be that simple, just being seen. People often tell us that they don't know any other gay people, or that they 'have never met one' and it seems that I can see the bewilderment melt from their faces, as they realise that I am pretty much the same as everyone else, not alien, not strange and not to be feared.
Of course I am, and have always been, visible, but it may depend on the circumstances as to which one of my persona you encounter. I have been a retailer, a bus driver, an exercise instructor, but it is in my role at BROD that I really get to present myself from the perspective of gender identity and sexual orientation. That has got to do with my personal identity, the image I present in public and the integration of my personas. We all seem to have a number of personas; the one we use at school or in the workplace can be quite different to the one we adopt socially, that can vary depending on which social group we are with; which is different again from the persona we use with family, which can vary depending on whether it is with your parents, your partner, your siblings or your children. It may depend on whether you are learning and listening, talking and teaching, looking for a favour or sorting someone out, who you are trying to impress, but the trick is trying to get them to match up. The closer you can get the different personas together, the more similar they are to each other, then, it seems, the easier your life will be. It can be exhausting putting on a front or presenting an image to appease or impress one group or another, but that really depends on how well you know yourself.
People sometimes refer to their partners, wives or husbands, as their 'other half', I wonder is this abdication for the responsibility of the part of themselves that they are not so comfortable with; just ignore it, pretend it's not there and cover it up with the persona of your 'other'? We should be whole, dark and light, anima and animus. The Swiss psychiatrist Carl Jung famously introduced the concept of the shadow as part of our personality that we consider to be negative and so we repress. A concept embraced in Eastern cultures with the balance of yin and yang, it is the light that creates the shadow, one does not exist without the other, and both are equally valuable, it is our attitude that needs to improve.
We make friends at particular stages in life, often in groups. If we are lucky we have friends from home, where we grew up, or they could be our school friends, from early school or later school. As country people we may travel to third level with them or pick up new batch there, a whole new life, a blossoming, and so on as we change jobs and move locations, but it is always easiest to present yourself as you are right from the start. It may be part of the motivation felt by many LGBTI+ people to move away from home that the people we were closest to in our childhood may not expect us to 'grow up gay'; some of them may reject us and we find it more liberating to start again somewhere else, in better company. It is literally easiest for me to introduce myself to someone I have never met before with 'Hi, I'm Mark and I'm gay' though, as you can imagine, this is often not appropriate, so in reality I try to introduce that fact, ideally, into our first conversation. And if it is a bit of a showstopper it's not my fault that often people can still make the assumption that all people are straight.
But there is a ship I have seen over the last three of four years that is beginning to turn around. Sadly conservative politics is on the rise in formerly freer societies, all of the Americas and across continental Europe. Tolerance is no longer viewed as a strength and a gift by people who feel that they are losing their grip, and I have met not only Irish people who have lived their lives abroad opting to return here but I have also met LGBTI+ people born abroad now looking up their European heritage and choosing to come to live here, in retirement, as a preferred option. We ought to be very proud; it gives us another chance to show how the Celtic moral code of 'Generous, Faithful and Brave' serves us all to make a better society. But could you imagine what it could be like, entering into a new environment, later in life, having lived abroad for many years, openly, as yourself, and finding you have to go back into the closet out of fear of misunderstanding? Having to hide your identity for fear of abuse?
It would be nice to think that we could do something to make sure that all good people know they are welcome and safe here. Visibly promote public policies of acceptance and inclusion of all people. Particularly for vulnerable people who may be entering into sheltered accommodation. But what we can start practising from today is not making assumptions about who we really are.