Over the years, it is unsurprising that many of Ireland's best and brightest have identified West Cork as an ideal area for relocation. It is impossible to argue against the fact that many of these individuals have left an indelible mark on the area's socio economic landscape. Affectionately known as 'blow ins' to some, this piece aims to highlight the sporting story of two of West Cork's most notable adopted sons. In addition to their on pitch excellence, both men have also made a significant impact off the pitch as managers in their respective codes.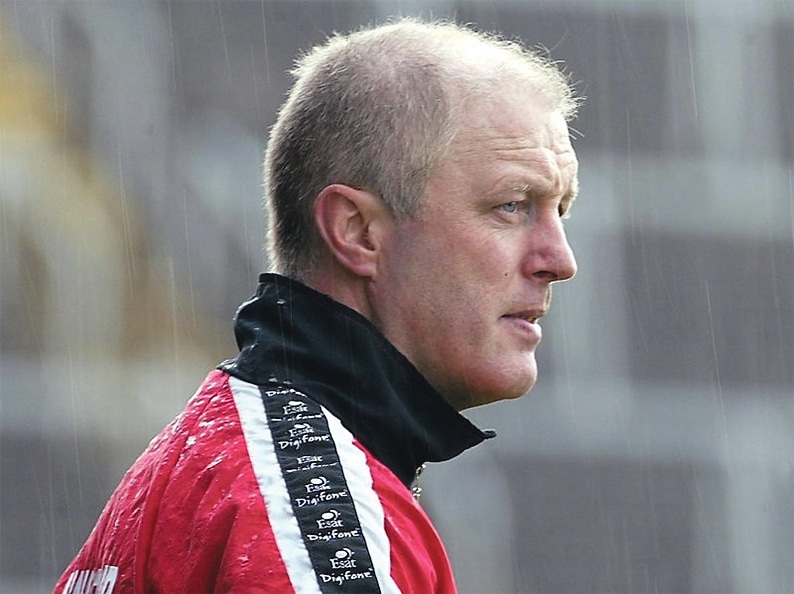 Larry Tompkins
Originally hailing from county Kildare, Larry Tompkins managed an amazing haul of county Junior B, Junior A and Intermediate titles in successive seasons with his native Eadestown. He went on to play minor, under 21 and senior football for Kildare, before relocating to New York in the mid 1980s where he would play for the Donegal club. It briefly looked like Tompkins' intercounty career was over when a widely derided decision by the Kildare county board to stop paying for his return flights home, rendered him unable to represent his native county. A number of opportunistic and persistent Castlehaven natives based in New York managed to persuade their teammate to line out for the Union Hall club for the 1987 championship.
Cork manager, Billy Morgan had played against Tompkins in New York, and wasted no time in drafting his old adversary into the Cork panel. The impact made for his adopted club and county was nothing short of astounding. Over the ensuing years, he won two County Championships and three Munster Club Championships in Castlehaven colours. As a key component in Cork football's golden era he won six Munster Football Championships, one National League Title, three All Star Awards and two All Ireland titles. He was also named at Centre Forward in the Cork Team of the Millennium. Larry Tompkins was widely credited with being a driving force in Billy Morgan's mission to change the culture and internal mindset of the Cork Senior Football team. His gruelling lunchtime runs in the Vernon Mount dirt bike course are the subject of many local yarns. Tompkins's career longevity, freakish ability to recover quickly from injury and willingness to play through the pain barrier are oft discussed. He managed to play inter-county football until the age of 33, despite experiencing two cruciate knee ligament injuries and severe hamstring injuries earlier in his career.
Immediately after the conclusion of his playing career in 1996, Larry Tompkins succeeded Billy Morgan as Bainisteoir of the Cork Senior Football Team. After several of his teammates from the Morgan era followed him into retirement, the early years of Tompkins' tenure served as a rebuilding phase for Cork. Over the coming years, he successfully introduced a series of exciting young players such as Anthony Lynch, Eoin Sexton, Sean Og O Hailpin, Nicholas Murphy, Micheal Ó Croinin, Phillip Clifford, Graham Canty, John Miskella, Alan Quirke, Fionan Murray and Brendan Jer O'Sullivan into the Cork senior setup. Despite early championship exists in 1997 and 1998, 1999 represented a high point for Tompkins' Cork side with a Munster Championship victory and an All Ireland final appearance against Meath. Another Munster Championship victory followed in 2002. Although Tompkins departed his role at the conclusion of the 2003 season it is worth noting that seven years later many of the players that he introduced to the intercounty game were still key men for Conor Counihan's 2010 All Ireland winning side.
John Caulfield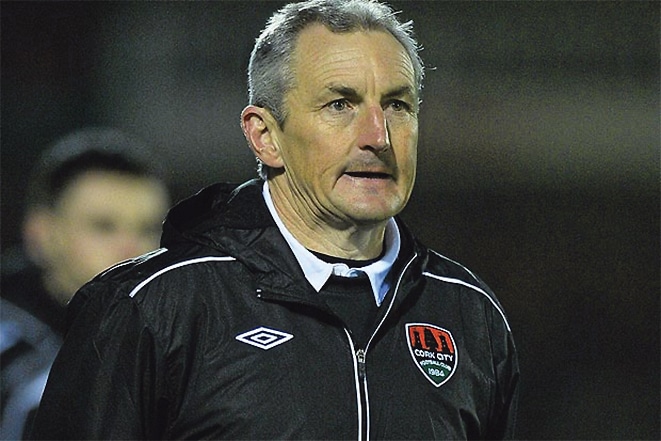 After John Caulfield's arrival in 1985, few would have envisaged the impact that West Cork's newest resident would have on soccer in Cork. Born in New York, raised in Roscommon and introduced to the League of Ireland in an Athlone Town shirt, John Caulfield came to Ballineen and Enniskean to work as a manager in Soundstore. After a season playing in the Munster Senior League, he made the move to Cork City FC in 1986. After netting the club's first ever hat trick, John Caulfield would go on to enjoy a stellar 15-year League of Ireland career and he eventually retired as the club's all-time leading goal scorer in 2001. Over the course of his time with the club, Caulfield won one League of Ireland title, one FAI Cup, three League Cups, and eleven Munster Senior Cups. A tough, quick and clinical striker, the fact that he managed to top the League of Ireland goal scoring charts on two occasions in an era of Big Centre forwards and long ball football is a testament to his undoubted quality.
Upon the conclusion of his League of Ireland career, he obtained a management position with Munster Senior League sleeping giant Avondale United. He quickly transformed a struggling first division side into a star-studded outfit that dominated the local and national amateur football scene like no team before or since. He followed this up with a highly productive spell in charge of UCC. In November 2013, John Caulfield was appointed as manager of Cork City FC. The appointment had an air of inevitability to it, and he departed the amateur game as arguably the most successful manager that the Munster Senior League has ever seen. The main objective and expectation of Cork City prior to his arrival was Premier Division survival. Over the course of his five-and-a-half year tenure John Caulfield's Cork City never finished a season below second place in the Premier Division. He won one League of Ireland Premier Division title, two FAI Cups and three President's cups. An admirable haul by any standards and a feat unmatched on Leeside since the Cork Athletic and Cork United sides of the 1940's and 1950's! Although his robust and direct style of football meant that he had no shortage of detractors on Leeside, John Caulfield was a spectacular success. He left Cork City by mutual consent in May 2019, and many still view his departure as a turning point in the decline of the club which today sits in lower half of the first division table.
Although it is easy to wax lyrical about his contribution to League of Ireland soccer in Cork, this piece would not be complete without highlighting John Caulfield's contribution to sport in West Cork. It is widely known that he is incredibly generous with his time when it comes to assisting with the coaching of local teams, aiding the fundraising efforts of local clubs and assisting with coaching West Cork Interleague teams. In Ballineen and Enniskean, he has represented the St Mary's footballers with distinction. He has also played senior divisional football with Carbery, and represented the Cork junior team at inter-county level.