Dr. Rosari Kingston PhD, M.Sc (Herbal medicine) is a medical herbalist practising in Dr. O'Reilly's integrative clinical practice in Clonakilty, Co. Cork as well as Church Cross, Skibbereen. Dr. Kingston's area of research are the healing modalities present in Irish vernacular medicine and she incorporates them, where possible, into her clinical practice. In her clinical practise she specialises in infertility and digestive issues.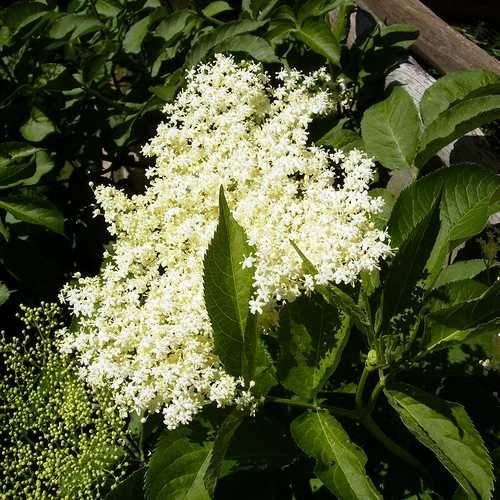 The elder tree, Sambucus nigra, is one of the most well-known and useful trees to be found in the hedgerows of the Irish countryside, even though it may be potentially invasive in the US. In late May and early June, the flattish, creamy flowers form a wall of white wherever this tree is grown. The German Commission E monographs, which are a guide to the therapeutic use of plants, state that Sambucus nigra is approved use in coughs, bronchitis and colds. The popular medicine for colds and 'flu, called Sambucol is made from the fruit of this tree, yet, we have no commercial plantations of this tree in Ireland, where it grows like a weed.
The flowers are followed, in September, by the berry. All parts of this tree may be used in some form or another, but it is unsafe to eat the stems, roots, and green berries of Sambucus nigra, as they can cause severe digestive upset for some people. Also, the ripe berries need to be cooked before eating as the uncooked berry can cause an upset stomach.
Traditionally, in Ireland, a tea was made from the fresh flowers and in an excerpt from the National Folklore Schools Collection (NFCS 0003: 192), from 1938, we learn from Ita McDonagh Co Galway that, "The elderflower and peppermint, taken in hot infusions frequently, is a great remedy for colds and influenza." This advice is as good today as it was in 1938, as elderflowers and berries are indispensable during the winter.They are beneficial in treating feverish colds or 'flu, especially the type that is accompanied by a runny nose. Elderflower and berry are also effective against different strains of the influenza virus due to its antiviral properties, but it is a more effective remedy if yarrow and peppermint are added to it.
It is very easy to make a herbal infusion, and this is how to make one litre.
Pick 200 grm of elderflower.
Shake gently to get rid of any insects that may be on the flower.
Chop up finely not too finely.
Boil one litre of water
When the water has boiled, let it cool for 60-90 seconds and then pour over the chopped elderflowers.
Cover the 'tea' and infuse for 10 minutes.
Strain and put the discarded flower heads on the compost heap.
Drink tea hot, or if taking it as a summer drink, add carbonated water to it to taste.
Elderflower cordial is a refreshing drink that is easily made. The flowers for this cordial are best collected when some of the flowers are open but others are still in bud.
This is the Mary Berry recipe for elderflower cordial but there are many variations.
Ingredients: 
25 elderflowers
1.5 kg castor sugar
2 lemons
50 grm citric acid
2 Campden tablets
Method:
Bring the sugar and 1.5 litres of water to boil in a large saucepan. Stir until sugar is dissolved and leave to cool.
Slice the lemons thinly and place in a large and very, clean bucket.
Add the elderflower heads to the same bucket with the citric acid and Campden tablets (Keep head well away from fumes of Campden tablets. The fumes can be quite irritating)
Pour the sugar syrup into the bucket and cover it loosely with a clean cloth.
Leave 25–48 hours and then strain through muslin or a sieve.
Bottle and store in fridge.
Dilute at a ratio of one part cordial to five parts still/sparkling water.
Elderflowers can also be frozen, and this is done by placing 20-30 flower heads in a bag. When needed do not defrost but add directly to boiling water if making an infusion, or to the hot sugar syrup if making a cordial.
Elderflowers can also be added to syrups but be careful not to add them when the syrup is very hot. They shrivel very easily. A better approach is to make a strong tea and use the tea as the basis for the syrup. This syrup is delicious poured over ice cream.
Elderflowers can also be used in a variation of a lemon drizzle cake. Use the standard Victoria sandwich recipe, which is:
Ingredients:
200 grm caster sugar
200 grm butter
4 eggs
200grm self-raising flour
2 tablespoon baking powder
Some milk
Method:
Blitz sugar and butter in mixer until creamy. 
Add eggs. 
Beat again until the scrambled egg look disappears.
Add flour and baking powder and blitz again
Add enough milk to form a dropping consistency.
Prepare two cake tins by greasing them well. 
Place 3-4 elderflowers in the base of the tins and spoon the batter over them
Bake in oven at 170 degree C for approx. 20 mins or until the edge of the cake comes in from the side of the tin.
Remove from oven, leave in tins and pour hot elderflower syrup over the cakes.
Leave to cool before removing cakes from tin and serve with cream or ice cream
Happy foraging for elderflowers this June.