Erected by a public subscription organised by the Bandon Athletic Club and expertly crafted by Carrigaline's Eamonn Casey, a plaque in Allen Square in Bandon pays homage to a long forgotten athlete from Ballyangly by the name of John Charles Lordan. John joins an illustrious list of famous Lordan's that includes the jockey Wayne Lordan, Cillian and Cathal Lordan of Cork City FC fame and English actress Elaine Lordan (perhaps better known to Irish TV audiences as Lynne Hobbs in Eastenders). Aside from his love of sport, sharing the same surname, one that is relatively obscure outside of West Cork, piqued an interest in this overlooked sporting great for Paul Lordan, who shares his findings here.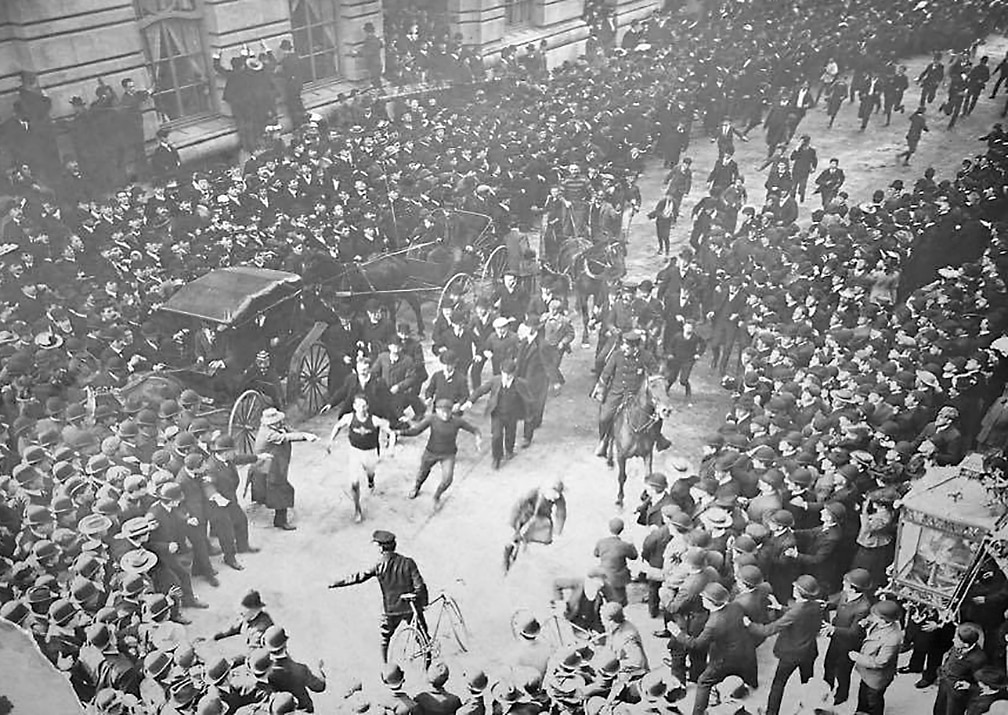 Like many of those born in West Cork in the 19th and 20th centuries, John Lordan emigrated to the United States once he reached adulthood. He settled in Boston, Massachusetts and resided in the Cambridge area. Cambridge was something of a fertile breeding for distance runners at this time. Lordan was the first ever student of fellow Cambridge resident and nationally renowned coach, Frank 'Tad' Gormley. Gormley was an extremely interesting character in his own right. He started his sporting career as a professional boxer, but quickly realised that his coaching ability far exceeded his in ring capabilities. Gormley would go on to have an illustrious college coaching career in both track and field, and basketball. He was elected to the National Athletic Trainers' Association Hall of Fame, the Louisiana Sports Hall of Fame, the Greater New Orleans Sports Hall of Fame and the Louisiana Athletic Trainers' Hall of Fame. City Park stadium in New Orleans was also renamed Tad Gormley stadium in his honour in 1957. While starting out as a coach, Gormley coached Timothy Ford of the Hampshire Athletic club to victory in the 1906 Boston marathon. However, his earliest sporting achievement occurred in 1903 when his first protege John C. Lordan, secured a momentous victory in the Boston Marathon.
Despite the negative headlines brought about by the tragic events of the Boston Marathon bombing in 2013, the Boston Marathon is better known as being the world's oldest annual marathon. Given Massachusetts' significant Irish immigrant population, it is unsurprising that the marathon has traditionally attracted a lot of interest from Irish athletes since its inception in 1897. Before his victory in 1903, John Lordan competed in the 1901 and 1902 events, finishing fifth and third respectively. Despite this, his victory still came as something of a surprise to many commentators. The pre-race favourites included a slew of future Olympians such as Sammy Mellor Jr (the 1902 Boston Marathon Champion), Michael Spring (who would go on to win the 1904 Boston Marathon), and Jack Caffrey (the 1900 and 1901 Boston Marathon Champion). Lordan struggled with illness in the run up to the event and was allegedly advised against competing by a doctor on the day of the race. This fact, coupled with a less than ideal training regime (Lordan could only train in the evenings after a long shift at the Pump Manufacturing Company of East Cambridge), meant that his victory was rightly lauded as a remarkable achievement.
Following his victory, John Lordan was selected to compete in the 1904 Olympic Games in Saint Louis and was amongst the favourites to take gold in the marathon. He represented a rather sizable United States Olympic team, and would go on to participate in a race regarded by many as being one of the most bizarre in Olympic history. Although the 1904 Olympic Games proved to be an anti-climactic affair for Lordan, his forced withdrawal after less than 10 miles would prove to be decidedly less newsworthy than the fates that befell some of his competitors in the field. The first participant to cross the finish line was an American called Fred Lorz. However, he was later duly disqualified after it transpired that he had only reached his destination with the assistance of a motorcar. Another American, William Garcia was discovered lying on the track with severe internal injuries, said to be caused by breathing in clouds of dust kicked up by the cars on hand to transport the race officials. Of the 32 participants that started the race, only a mere 14 athletes managed to complete it. The eventual winner was Thomas Hicks, a friend and neighbour of Lordan's from the Cambridge area. His victory was considered to be quite controversial. With only 10 miles remaining, Hicks' support team had to intervene to prevent him from dropping out of the race due to exhaustion. In coming to his aid, they gave him several doses of strychnine mixed with brandy in order to see him through to the end of the race. Strychnine would later be classified as a banned substance. In the end, the strychnine and brandy cocktail was not sufficient, and his support team had to help him across the finish line. Alarmingly, it was said that Hicks lost eight pounds over the course of the race.
John Lordan continued to compete as a long distance runner in the United States until 1910, and remained in the Boston area for the rest of his life. His improbable Boston Marathon victory, against seemingly insurmountable odds ensures that he is rightly regarded amongst the very finest distance runners in Irish athletic history.