It's a sure sign of going stir crazy when you get super excited about potato cakes. This past month has left me feeling almost rudderless; apart from our Monday shop painting stints there's very little structure to our days except for mealtimes
It's a tricky time of the year when the days are long and grey. The bright days are fine – I hop up and get going; but on the wet ones I have to keep reminding myself that there's no such thing as bad weather, just bad clothing.
Try telling that to the chickens though who are miserably huddled in their muddy run, fed up with wading in muck, having eaten anything that had a semblance of green already. They are missing their daily buckets of yummy food scraps that usually come back from the shop. The time is coming when they are going to revolt and hop the fence of the chicken run, as it looks so delightfully verdant on the other side.
Our new glasshouse is up and ready to go, the seeds are ordered and in a couple more weeks, it'll be time to start sowing again. I'm very excited but super cautious about beginning in the garden too early though, as very cold spells can negate any head start.
One thing I have been enjoying is playing in the kitchen. Working my way through all the odd food in our pantry and trying out new recipes. Converting left overs is a great way to be creative. We had a mound of left over mashed potatoes last week and I made
these crispy potato cakes. I must say we were impressed. The perfect way to tart up mashed spuds
The ingredient list is short – left over mash, onion, garlic, some kind of melty cheese and breadcrumbs.
I used panko breadcrumbs (which had been sitting patiently in our pantry). Panko are Japanese style breadcrumbs made from crust-less white bread. These breadcrumbs are flakier and drier than normal breadcrumbs and, as a result, absorb less oil; think of trying to mop up a spill with a dry cloth – it's not very absorbent. Because they are so dry they cook up super crispy and they have an incredible long shelf life – I guess as there's no moisture there's nothing to spoil but for sure they will keep happily in a sealed bag in a dry place so they are pretty handy. We sell them in our shop, which is currently closed until the end of February, but the little Asian shop in Spiller's Lane also have a good supply.
Any cheese that can be grated and melts will work in this recipe. I used smoked scamorza, which is a mild semi-hard mozzarella-type cheese but cheddar, emmental, gruyere or gouda will all bring their own creamy addition
Crispy Potato Cakes
Serves 3-4 people
Ingredients:
• 450g mashed potato
• 1 onion – peeled and chopped
• 2 cloves garlic- peeled and finely chopped
• 150g smoked scamorza or other melty cheese – grated
• 150g panko bread crumbs
• 50g flour
• 1-2 eggs
• Oil for frying
Method:
Heat a small frying pan and add 2tbs olive oil and the chopped onions. Cook on a medium heat without browning for five minutes. Season with a little salt, then stir in the chopped garlic and cook for one-two minutes longer.
Tip the cooked onions mix onto the mashed potato, then mix together and add in the grated cheese. Mix well with your hands, giving it all a good squish together. Form the potato mix into small balls then flatten slightly. I didn't add any salt, as the mash was already seasoned but taste your mix to check
Line up three bowls: One with flour, one with beaten egg, and one with the panko breadcrumbs. Taking the potato balls one at a time, turn them first in the flour, then in the egg and finally in the breadcrumbs. Turn until the breadcrumbs cover the potato. Do this to each potato cake. At this stage you could pause and put the potato cakes in the fridge for later but it's perfectly fine to cook them immediately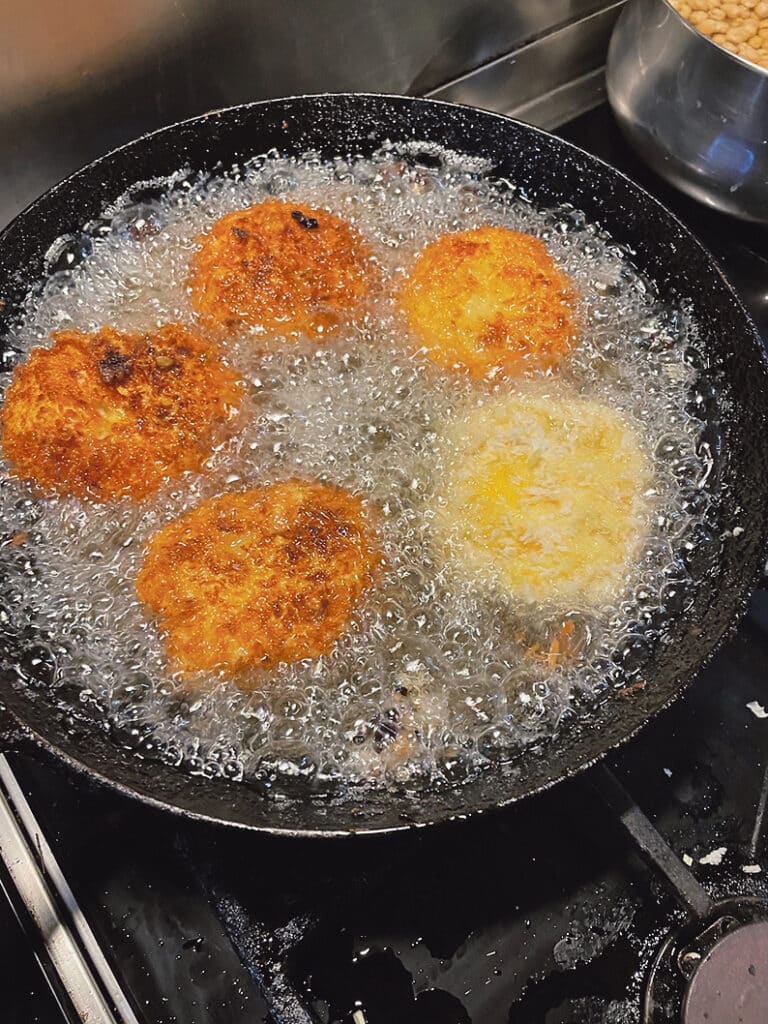 Put 2cms vegetable/cooking oil in a frying pan. The pan should not be too shallow – the oil should not come more than one third up the sides. Heat the oil then slip four or five potato cakes in at a time. Keep the heat on medium. If the potato cakes are browning very quickly reduce the heat. After a couple of minutes flip the potato cakes over and cook the other side. You'll need to cook these in a couple of batches so have a warm plate ready to receive them.
Perfect with some salad and salsa or just plain mayo for dunking.
We hope to see you one all one day soon.
Happy February!
Karen
Lettercollum Kitchen Project
22 Connolly Street, Clonakilty
www.lettercollum.ie
karen@lettercollum.ie