For August, I have a short little treat for legs enthusiasts. We are going back to the specialised home training catalogue and will be looking into strengthening the calf muscles. Besides looking incredibly good, a strong calf can also help you run faster and lift better – and look like you don't skip leg day. So read on if you want your legs to look gorgeous this autumn.
To optimise the exercises at home, these items can help: a big book/books (that you don't mind being stepped on); a step; and of course if you own any weights: Kettlebells or dumbbells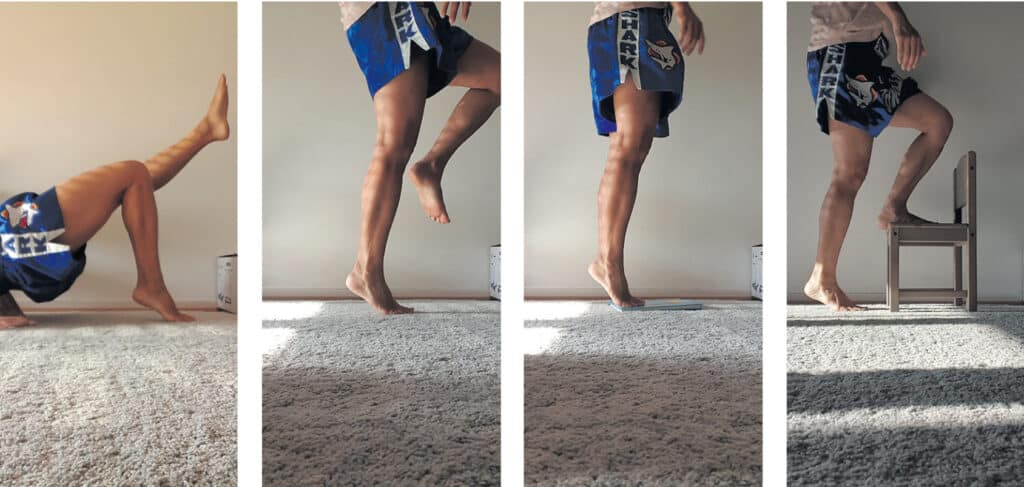 1.Exercise: Heel raises
This is a great beginner drill to this area of the legs. Stand on the floor, feet together and lift heels from the floor and gently lower them to the floor again. You can add weights to hold in your hands to get more out of the exercise.
2.Single leg supported Heel raise
Put a stack of books or a step up/box in front of you. Put one foot on the step up. Lift the other heel from the floor while pushing downwards with your toes. Gently lower yourself to the floor. You can add weights to hold in your hands for this exercise as well.
3.Single leg heel raise
Stand on one leg (lift the other leg, bend by the knee in front of you). Hands by hips for balance. Lift the heel from the floor, while pushing the toes downwards. Gently lower yourself after. As this exercise also targets core, glutes, hamstrings and balance, it is not advised to use weights.
4.Single leg bridge heel raise
Lie on your back with knees bend, as to start a hip bridge/ hip thrust. Extend your left leg by lifting up your foot. Raise your right heel from the floor and lower down gently afterwards. Be careful not to drop your hip or use your glutes and quads to lift with. This exercise is about the calf muscles (but you will get benefits in both core and glutes).
One thing about the calf muscles is they are notoriously hard to grow. They are used to being worked every day; every time we take a step, be it walking or running. So to get the most out of these exercises: Don't rush! Count two seconds lifting up the heel. Hold one sec at the top and count two seconds lower down.
Do between 20 and 50 reps two to three times per week. For example, you could do 10-15 of each exercise here a couple of times per week.
I hope you found these exercises useful and the instructions easy to follow.
Comments or questions are as usual welcome at taniasfitnesskitchen@gmail.com
You are also welcome to follow me on Instagram for more tips and program inspiration and to get a look into my own training and life as a new runner www.instagram.com/trainwithadane