As I start this new column the future seems to be more fragile than ever. In a world that is still struggling with the Covid pandemic, the thought of trying to do something about the ever present Climate Crisis can feel pointless and even overwhelming, but never has the adage 'think globally, act locally' been more relevant.
A big driver of change should be local food production. The present global agri-business model is worth a staggering 24 trillion sterling every year, but the reality is that this money is concentrated in the hands of a very small number of very large and powerful organisations. They control everything, from the seeds we grow, to the oil that drives the tractors and the markets that sell the food. Your local farmer gets less of the cut year after year
It would be easy to write a whole article on the problems of modern day agriculture and food production but the bottom line is that it is a major cause of carbon emissions, loss of biodiversity and climate change. Yet it could be so different.There are lots of young and not-so-young people who are making a small living, on sometimes small patches of land, growing in sustainable ways, working with nature and supplying their local communities with healthy food, grown with complete traceability, low carbon footprint and no food miles.
Over the next few months, I would like to introduce you to some of them, tell their fascinating stories and where you can buy their produce.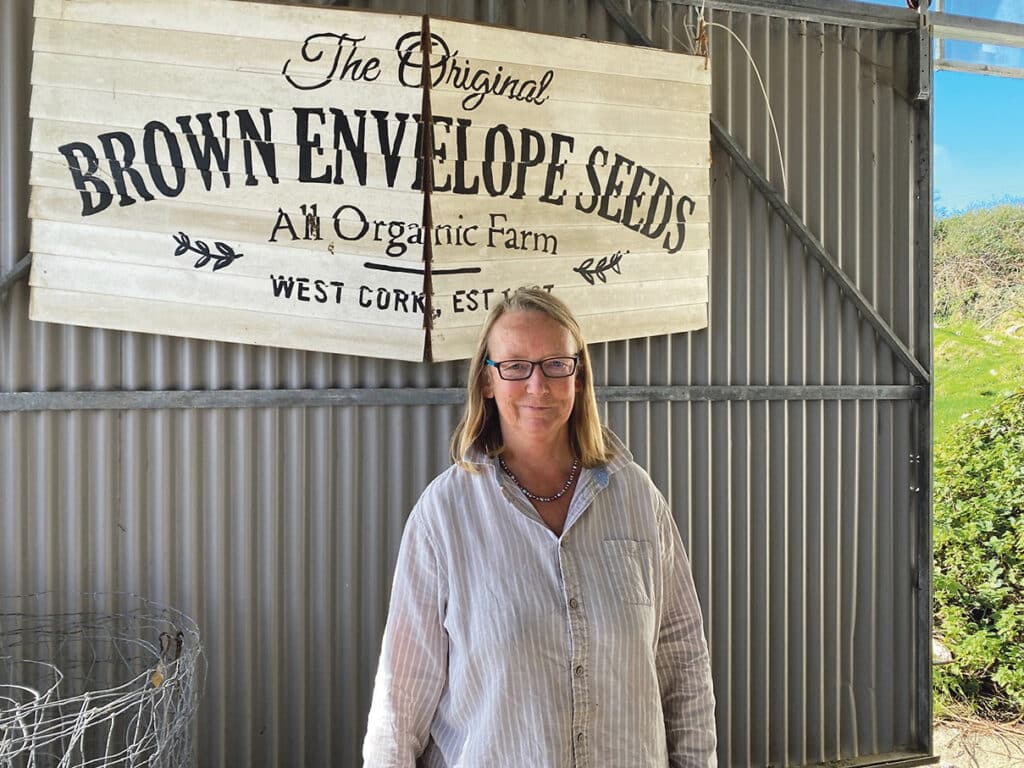 For this issue I spoke to Madeline McKeever who founded and runs Brown Envelope seeds. All foods start with seeds, even food for livestock, so where could be a more appropriate place to start.
Madeline was born and brought up on a mainly beef farm in Co Meath. The middle daughter of three, the tomboy, she loved being out on the farm and remembers always wanting a horse. After boarding school she went to Trinity, initially to study medicine; but she changed tack and got a degree in Botany instead. For her masters she studied Vegetation History concentrating on climate change at the end of the last ice age. Perhaps this was unconscious preparation for things to come!
With little prospect of employment in the 1980s, Madeline travelled to America, ending up on an organic farm in Maine. Here she learned organic farming in the summer and continuous cover forestry in the winter. A trip to Johnny's Seeds in Maine during that time proved to be an inspiration that she drew on later.
She married in 1986 and moved to a small farm in West Cork in 1987.
They started dairy farming with a herd or 12 beautiful Jersey cows. Madeline wanted to make cheese but with two small daughters and the end of her marriage, it became obvious that, logistically and economically, dairying on that small scale was unviable. She stopped milking in 1999.
Turning to beef farming and planting trees, she had time to think about what to do next. Around this time, Madeline and I were part of Growing Awareness, a group organising conferences supporting Organic food production, and from this, we started the Skibbereen Farmers Market. Taking on one of the first few stalls, Madeline had very little to sell and the idea of Brown Envelope seeds took hold. She was growing vegetables and saving seeds for herself so this was just the next step.
From here she obtained her Organic licence and, whilst registering as a seed producer with the Department of Agriculture, she discovered that no one else in Ireland was actually growing organic seeds, apart from the Irish Seed Savers Association – it seemed like an ideal business opportunity.
Working with little help, she gradually built up the business; one of her daughters, Holly, came home to help for a while, but she has recently been elected to the Dáil, making her mum very proud.
Madeline has always concentrated on growing open-pollinated vegetable varieties, that if you had the time and energy, would produce an interesting and varied year round diet in Ireland. But she loves experimenting and you will always find unusual and tempting additions to the catalogue, as well as a very comprehensive list of tomato varieties; my particular favourite.
Madeline's latest exciting innovation is the creation of a market place website, selling a range of organic and chemical free herb and vegetable seeds from Brown Envelope and various other seed producers across Ireland. This is as a response to Brexit, Covid, and the consolidation of the international seed industry. The aim of this multi-vendor site is to offer a better choice of quality chemical free seeds for growers and gardeners. Madeline's seeds represent the start of a resilient local food system and you can buy her seeds on www.seedie.ie