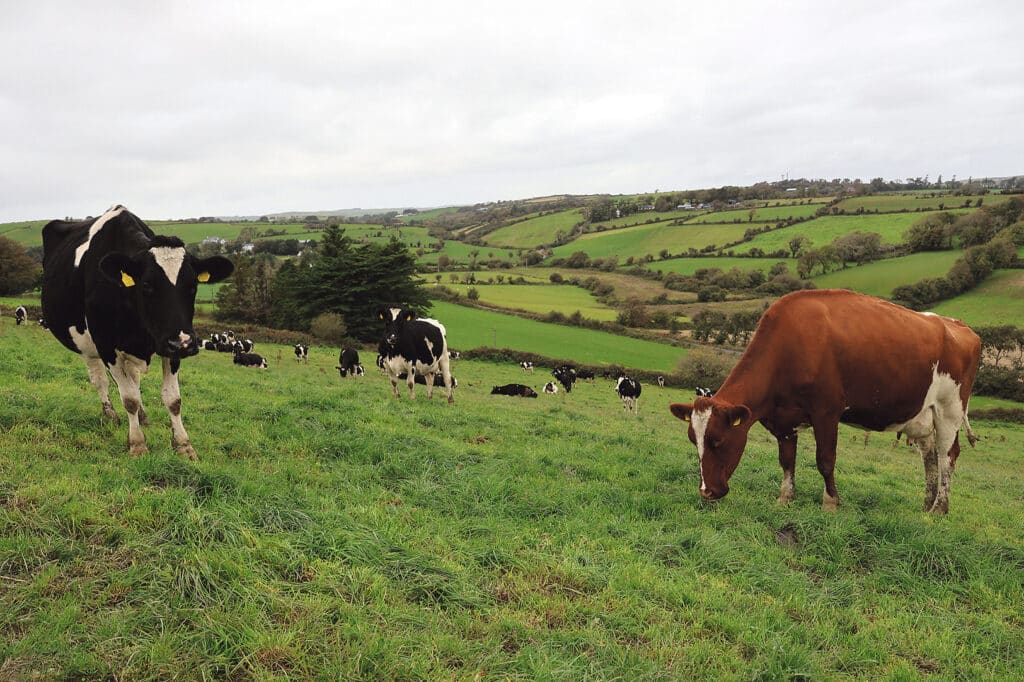 After such a dry summer it was inevitable that we'd get enough rain at some point to balance out the annual rainfall. From the middle of October heavy downpours signalled the onset of housing stock and the wind down to the grazing season for the year began.
I housed a number of cattle early in the month in advance of yet another TB test. There's enough to be done on the days involved so it's easier to have cattle either in or convenient to the yard. To stretch the grazing on the home ground, cows have been put into smaller groups and a number remained in after testing. These mainly consisted of cows that aren't in calf or those with older calves that will be weaned first. I also kept in a group of younger cows where either they or their calf had a tendency for a bit of extra speed. In a bigger group animals like that tend to follow the crowd but, as numbers reduce, the influence of a wilder animal can increase, so it made sense to reduce their proportion in the grazing groups. I prefer to have smaller groups at this time of year because if the weather goes against you ground tends to hold up better.
Ration
A bunch of weaned heifer calves have gone back to grass and the current plan is to keep them out as long as possible. For now it's only the poorest calves that are on ration in an effort to get them back on track; they will be joined on ration sooner rather than later by the bull calves that are inside already. Ration prices have risen by €100 to €120/ton since this time last year so, like most other inputs that have risen in price, more consideration has to be given to who gets it or not.
It looks like I'll be rationing the ration for the winter. Saying that, it's not part of the daily diet anyway. As I run a young bull system, it will remain central to their diet but this year's heifer calves might only get a kilo a week. They like it but don't need it and my main reason for letting them know what it's like, is for ease of management. A small bit in a bucket and they'll follow me where I need them to go. Cows might only get it if they are being finished, to get a fat cover on them, or if they are a heifer after calving and they get a handful as a treat, again as a docility measure and one I picked up on a visit to the Beefmaster foundation herd owned by the Lasater family in Colorado in 2014. The herd was established by my hosts' grandfather in the 1920s and has been a closed herd since 1937. That means that no bulls, cows, frozen semen or embryos – no outside genetic material – have been introduced into the herd since. The 600-cow herd has operated on a survival of the fittest breeding model that largely focused on six key traits. Disposition, fertility, hardiness, milk production, confirmation and weight. While there we drove through a 200-acre paddock and all his heifers followed us, all because we had a small container of ration in the truck.
Their diet was all grass but they knew what the cake, as he called it, was about. His reasoning was he couldn't hire people to do that work anymore so, rather than round up the cattle, he trained them to follow him.
In order to do this every year at weaning he kept his calves in the yard and he would get a chair and sit in the yard and hold the feed in his hand. If a calf ate it for three days in a row, they were left back to the paddock and any bull or heifer that wouldn't, wasn't retained for breeding. One of his cows wandered over and stuck her head into the cab to see and I was taken to another paddock where I was able to hand feed his breeding bulls. This wasn't a few pet bulls in a corner field near the yard either, this was desolate open grazing country with the Rocky Mountains in the distance.
At the TB test, I was dealing with a bunch of heifers with disposition issues, and memories of that visit made me want to double down on making farm life easier in the future. Now it's not all bad, we've made a big effort to weed out wilder stock and that was evident over the two days too. About 90 per cent of the herd is relatively quiet and easy to manage while 10 per cent are the other extreme. Those can mainly be traced back to one AI sire we used a few years ago. Lots of progress had been made on that point in terms of breeding quieter stock so hopefully that setback is nearly rectified.