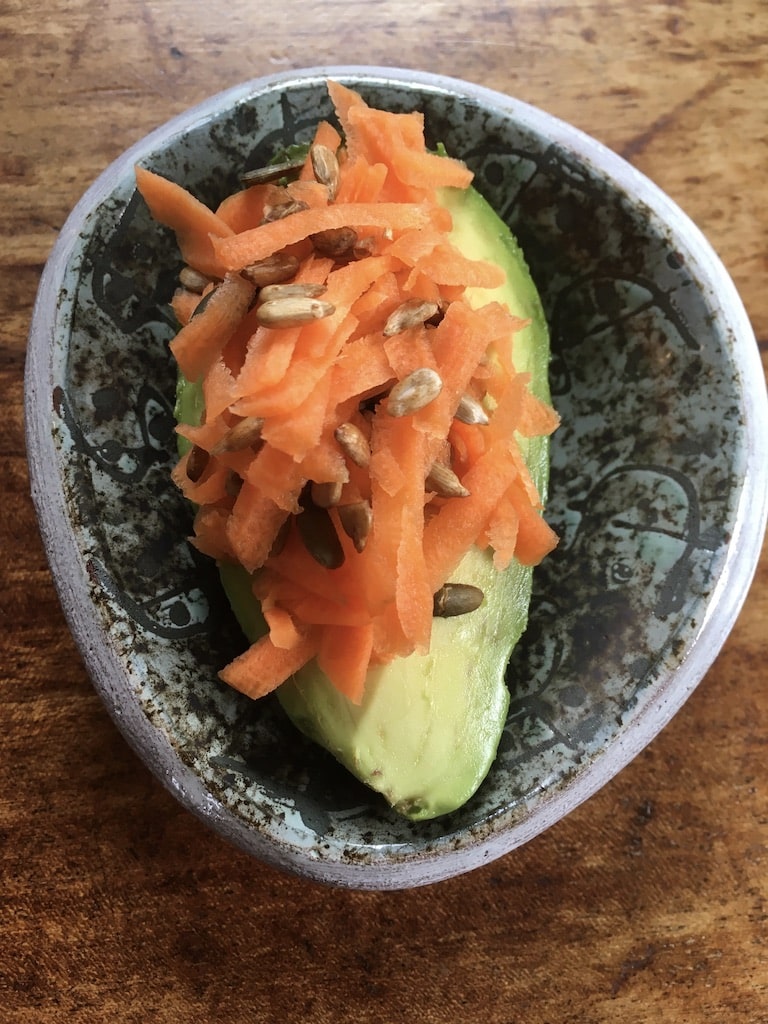 This is just what we need at this time, carrot salad elevated to a vegan prawn cocktail status. It's guaranteed to cheer up the day and boost our immune systems.
This is a rehash of a salad that we've been eating for years but re-assembled. The carrots and avocado are a great source of vitamin C and antioxidants and the toasted seeds provide omega 3s and crunch.
I enjoy eating this dressed with a little vinaigrette but a drizzle of olive oil and squeeze of lemon juice would be good too.
Ingredients:
1 ripe avocado
2 carrots
20g sunflower seeds
1 tsp soya sauce or tamari
1 tsp Dijon vinegar
1 tbs vinegar – your best
3-4 tbs extra virgin olive oil
Method:
Carefully split a just ripe avocado in half and remove the pit. Peel each half – the skin should peel back with very little assistance with a knife. Just nick the skin with a knife and with a bit of luck the skin peel back by hand. Put each half in a small bowl.
Peel and grate the carrots then pile the carrots on the avocado
Heat a dry pan and gently toast the sunflower seeds then toss together with a little soya/tamari sauce.
Whisk the vinegar together with the vinegar using a fork then slowly whisk in the olive oil Season with a little salt or a few drops of soya/tamari sauce
Scatter the seeds over the carrots then drizzle over a little vinaigrette
Any leftover vinaigrette can be stored in the fridge – jam jars with lids or recycled mozzarella tubs work well here.