If there was ever a summer for family picnics, it's got to be this summer. After being cooped up indoors for most of the year, we're ready to get outside, to socialise (safely), and to share these tried-and-true picnic menus that please eaters of all ages. And if you are in Bantry and looking for picnic bits, call in to our new deli-shop-bakery, which we have extended into the space our cafe used to be in, as we have everything you need for a great lunch out!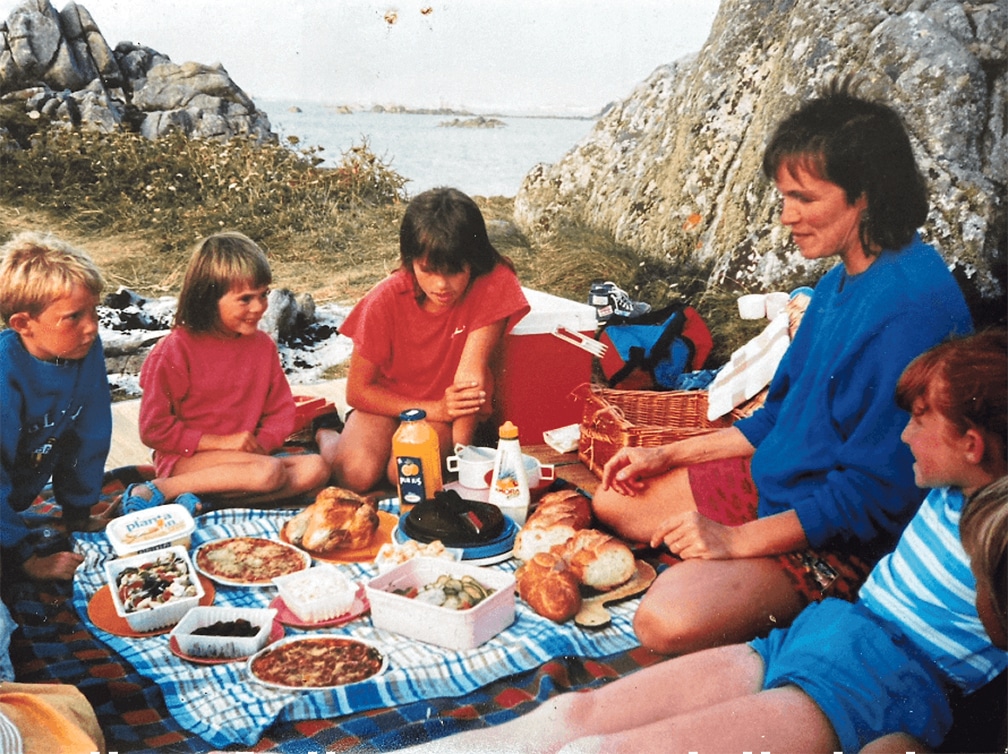 There's so much to love about picnics. They're highly adaptable for any occasion and extremely family-friendly. They can be as fancy as an artisan cheese board or as simple as a cheese sandwich.
You could even go the 'whole roast chicken route', as demonstrated in the photo from a picnic we shared with our mom and extended family in the late '80s.
"This is one of our strongest memories," Rachel says. "Recently we recreated a (more extravagant) version of our childhood picnics. We met in Derreen Gardens in Kerry to spend time with our sister who we hadn't seen during the most recent lockdown. She roasted an organic chicken and my niece made a really tasty, simple pickled cucumber. We brought focaccia from the bakery in Organico, and there was hummus and carrot sticks, Keogh's Crisps, pickled gherkins, boiled eggs from our chickens, and a selection of cheeses. For dessert Hannah picked up some beautiful strawberry custard tarts from Maison Gourmet, the French bakery in Kenmare."
From a health perspective, getting outside for a picnic can offer loads of benefits. Time spent outdoors has a way of calming us and reducing stress and anxiety (yes, please!), and making us feel happier…
Most of us have experienced that uplift in mood when you finally get to feel the sun on your face after being trapped indoors for several rainy days. A 2018 report looking into the links between seasonal changes in mood suggests a scientific explanation for that mood boost, putting it down to the sun's potential ability to stimulate serotonin production when it hits our skin.
It's known that sunlight increases nitric oxide in the body, which helps lower blood pressure and protect against insulin resistance. (Just make sure to use a natural mineral-based sunscreen so the risks of sun exposure don't outweigh the benefits. Ask in your local Healthfood Shop for the best one, or check out Green People's range on our website, we think they are great)
Spending time in nature can also counteract the 'fight-or-flight' response by activating your body's parasympathetic system, also known as the 'rest-and-digest system'…which is perfect for appreciating the joys of a good picnic.
If you get out for picnics this summer, packing your own is the way to go. Not only is it more affordable than buying takeaway, but it cuts down on the excess packaging and single-use plastic that have become a significant source of litter during the pandemic.
When it comes to packing and transporting a picnic, we love these reusable food and drink storage containers from Cheeki, Black & Blum, and Stasher, and If it's an alternative to cling film and plastic food bags you're looking for, we have compostable single-use bags, compostable paper sandwich and snack bags, and beeswax reusable food wraps, all on our webshop and instore in Bantry.
For us, as a family, a picnic isn't complete without a tuna fish rice salad. Stir together cooked rice (ideally short grain), with small diced carrot, cucumber, pickled gherkins, chopped chives and parsley, tinned tuna, and sweet corn. We always use Shines Tuna, caught off Ireland in a sustainable fashion. Tuna is a bit like chicken – eat less of it and eat really good quality, or don't eat it at all.
For the dressing, mix a few spoonfuls of mayonnaise (we stock some great organic mayos made with good healthy oils) and yoghurt, black pepper and salt and a little cider vinegar. Adjust seasonings to taste. Rachel says she thinks the addition of a little diced cheddar is a recent one, but these details may be argued between us! Now, get out there and make the most of the picnic weather days every chance you get… fingers crossed this summer is filled with them.
And as always, if there's anything specific you're looking for that you can't find in the online shop, let us know (info@organico.ie) and we'll see what we can do to source it for you.