Looking out of the glasshouse the other day, thinking about which recipe I could write this month, it came to me how much tastier our lives would be if everyone could grow their own salad and herbs.
I know this may sound problematic for people that live in small spaces and don't have gardens but it's actually very possible.
Salad and herbs will grow happily in pots on window sills, patios or small garden borders and the flavour is going to be so superior to those that we find in the supermarkets in plastic bags. For sure these bags look very attractive but looks aren't everything and generally they don't really taste of much.
All that is needed to grow your own are containers – buckets or large plant pots for salad leaves and rocket, plant pots for herbs, and some decent compost. Like everything in our lives we generally get what we pay for so it's worth investing in a decent bag of compost, which will contain more nutrients and assist better drainage than the cheap stuff which tends to clump.
Seeds are widely available but unless you are getting together a seed share with friends it'll be a good idea to buy a packet of mixed salad leaves and some rocket seeds. These both grow very well in containers and make excellent cut and come again crops. Cut-and-come-again meaning that some of the small leaves are harvested and the remaining leaves have room to grow and so it goes on. Each pot should give about six weeks picking. Usually we sow salad and rocket seeds again as soon as we start picking the previous crop. This always ensures a continuous supply.
To begin, put a few stones at the bottom of the pot – this helps drainage, then fill with compost. Water the compost well – it always seems to arrive very dry. Sprinkle a few seeds on top, scatter with a little more compost, pat gently and sprinkle with a little more water. Put somewhere warm and sunny. This could be your windowsill, porch or outside. After five to seven days you will see the seeds popping up. Maybe longer if the seeds are outside as it's not very warm yet. Water every day or two – this will depend on the weather. If the sun is belting through the surface will dry quickly but if it's a damp old day it might not need anything.
Growing herbs from seed is of course possible but if you live alone or are a small family you won't need a lot. Here is a very handy 'cheat' – buy a pot of herbs from the supermarket. The pots that these plants are sold in don't have the space or nutrients for an extended growing period but if you put these plants into a bigger pot with good quality compost they will thrive and you'll be able to pick away for the summer.
The one thing that these plants will thrive on is continuity of care. They like to be watered well but not drowned and they definitely don't like to have 'soggy feet', which means the surface is continuously damp but the roots are dry. Seeds won't germinate if they are too dry but if you water them too much they'll rot so be sure to pick the middle ground.
It really isn't complicated and as you will be picking these leaves regularly you're sure to remember to look after them!
Here's a tasty recipe for a Carrot and Cashew Pilaf with Crispy Onions. It's perfect spring food and there are always plenty of carrots!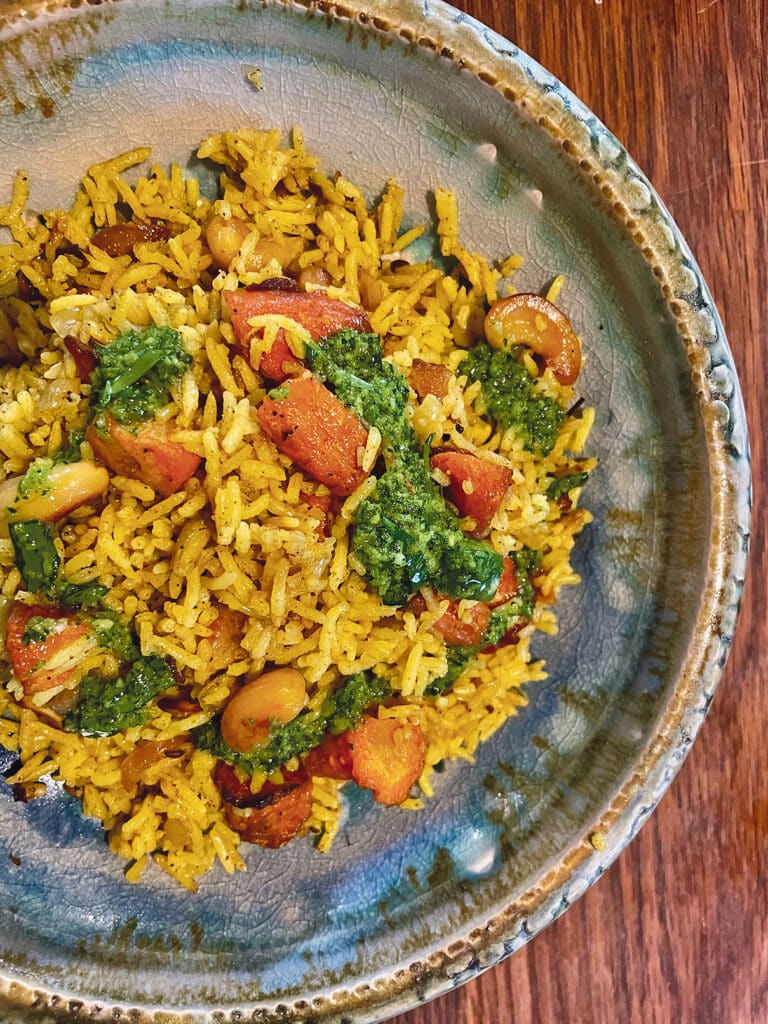 Roasted Carrot and Cashew Pilaf with Crispy Onions/Coriander Chilli sauce
Ingredients:
• 700g carrots
• 1 tsp cumin seeds
• 300g Basmati rice
• 100g cashew nuts
• 2 onions
• 75g butter or 75mls olive oil
• 1tsp ground coriander
• 4-5cms cinnamon stick
• half tsp turmeric
• half tsp ground allspice
• half tsp salt
• 450mls vegetable stock
• Vegetable oil to fry the onions
• handful of chopped coriander
Method:
Pre heat the oven to 200c. Peel and chop the carrots into equal sized chunks – I like to chop on the diagonal as the more carrot exposed to the heat the better the flavour. Toss in a little oil together with a little salt and the cumin seeds. Tip into a pan. They need to lay in a single layer. Roast for 15mins then give the pan a shake and roast for a further 15 mins. The carrots should be just tender.
Measure the rice and cover with cold water and put aside.
Heat a pan, add a dribble of oil and the cashew nuts. Cook the cashews, stirring continuously until they take a little colour then remove from the pan and put aside.
Peel and chop the onions.
Melt the butter or heat the oil gently in a pot that has a close fitting lid – you'll need the lid later. Add the cashew nuts and stir until they take a little colour then remove and put aside. Add the ground coriander, allspice and cinnamon stick to the butter/oil and cook gently for a minute then stir in the onions. Season with a little salt. Cook until the onions have softened but don't let them brown.
Rinse the rice in a sieve under a running tap, shake off the excess water then stir into the onions. Cook for one minute. Add the stock and bring to the boil. Taste and add more salt if you think it needs it then turn the heat down and cover with the lid. Bring to the boil then turn down to the lowest simmer then cook for 12 minutes. Turn the heat off but don't open the lid, just leave the pilaf to relax for a further five-ten minutes.
Stir in the roasted carrots and cashew nuts and serve with a little coriander chilli sauce.
Coriander Chilli Sauce
Ingredients:
• 1 bunch fresh coriander
• 1-2 cloves garlic
• 2 green chillies
• Pinch ground cumin
• Salt
• 50mls Olive oil
Method:
Peel the garlic and roughly chop. Remove some or all of the seeds from the chillies, depending on how much heat you like. Roughly chop the coriander
Buzz all the ingredients together. Season with salt.